Here's Why Everyone Is Talking About #AGoodGame (& Why You Need To Know About It)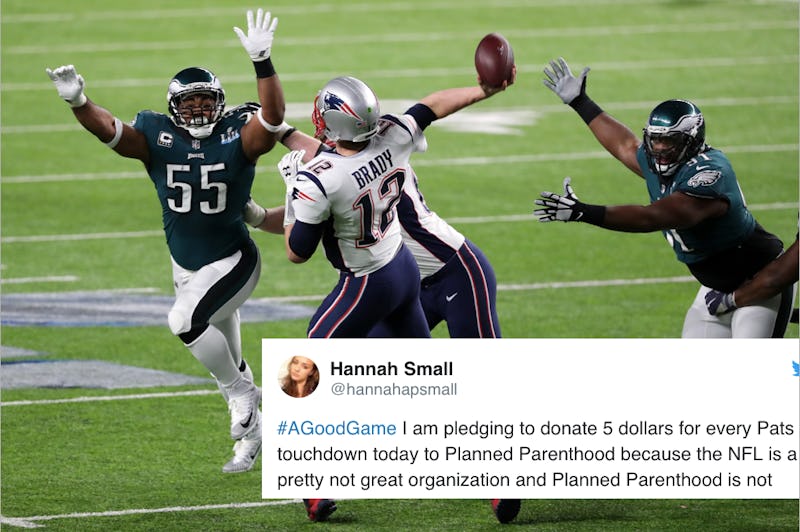 Streeter Lecka/Getty Images Sport/Getty Images
Uncomfortable with New England Patriots quarterback Tom Brady's friendship with President Donald Trump, some Patriots fans have come up with a creative way to respond. With the Twitter hashtag #AGoodGame, an anti-Trump Super Bowl charity drive started by comedian Josh Gondelman and his friend Emma Sandoe, the two are trying to channel political frustrations into an opportunity to focus outward.
Since Trump entered the political arena, many of his allies have had to battle in the court of public opinion. While the jury is still out on exactly how close the real-estate mogul and famed New England quarterback are or were, many Democratic Patriots fans have taken issue with the supposed alliance.
"If you have political Patriots fan ambivalence, maybe pledge a little money to a good cause when they score using the hashtag: #AGoodGame," Gondelman, a writer for Last Week Tonight With John Oliver, tweeted in February of 2017, his first mention of the hashtag. From there, the initiative took off. While it's impossible to know exactly how many dollars were raised in the hashtag's first go-round, it did rocket around social media, receiving mentions from names like Trevor Noah and Boston Mayor Marty Walsh.
"It came from the idea of wanting to enjoy the football game but also reservations about the Patriots brass politics and the NFL in general," Gondelman told Esquire writer Luke O'Neil. "I want to watch, it's a nice excuse to visit my family—I live in New York—to see my parents and my sister. But I also feel weird carrying a banner for this team without doing anything to acknowledging it."
The basic idea for the movement is for participants to decide on a charity or nonprofit he or she will donate to for every point either team makes. Or, instead of points, a participant might choose to donate every touchdown or field goal, and so on. The rules are loose. Similarly, you don't have to be a Patriots fan to support #AGoodGame — Eagles fans are welcome to get on board, too.
"You may decide to pledge a certain amount per point, or different amounts for touchdowns, field goals, or just awesome plays," the pair said on AGoodGame.com, the website set up to bolster the movement. According to the site, last year's round raised over $100,000.
On Twitter, pledges have arrived in all shape and form. "I can't watch, but I'm giving $5 for every minute [Justin Timberlake] performs to Black Women's Blueprint Inc," tweeted user Aurora De Lucia, referencing 2018's Super Bowl Halftime headliner.
In the same creative vein, user Liz Welch announced, "For #AGoodGame I'm re-upping my @ACLU membership and donating to @PPact in an amount equal to what pizza, beer and chicken wings would have cost me." The variations are seemingly endless.
Among organizations mentioned in people's pledges were Planned Parenthood, a litany of anti-domestic violence nonprofits, the National Immigration Law Center, the Southern Poverty Law Center, and the Hispanic Federation. Tweets announcing and updating pledges continued to flow in throughout Sunday's big game.
As for Gondelman, he tweeted that this year he would be donating per Patriots touchdown and field goal. "I'm pledging $100/Pats TD and $50/FG to the Loyola Immigrant Justice Clinic," he said. Earlier in January, Sandoe announce she was committing to a per-point plan, tweeting, "I'm planning on donating $5 for every point the Patriots score to @splcenter. #AGoodGame."
While the Super Bowl triggers intense rivalries among fans of the NFL's various times, #AGoodGame seeks to shift the antagonism into productivity. And in a time when the United States sometimes feels more divided than ever, a bit of unity is a welcome change from near-constant infighting.