What Is Acosta's Stance On Minimum Wage?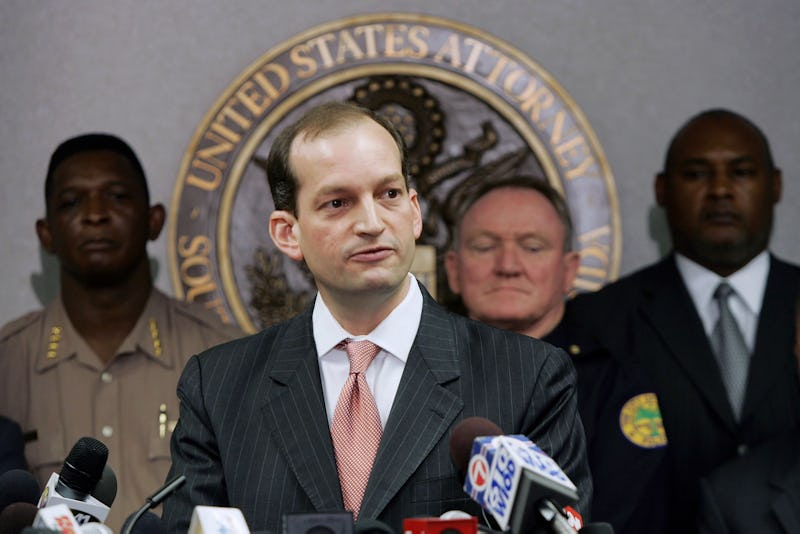 Joe Raedle/Getty Images News/Getty Images
It has been an eventful week for the White House regarding the future Secretary of Labor. First, President Donald Trump's initial nominee, CKE Restaurants CEO Andrew Puzder, withdrew his nomination on Wednesday because of concerns that he likely wouldn't get the necessary Senate votes to be confirmed. A day later, Trump announced his replacement choice of Alexander Acosta, a Florida law school dean. Given Trump's former pick's stance against, you may be wondering what Acosta thinks about minimum wage.
However, Acosta isn't as vocal as Puzder when it comes to minimum wage. He hasn't spoken about it publicly, so it may take some time to discover his stance. Puzder was described as an outspoken critic of worker protections President Barack Obama had enacted during his presidency.
Considering Acosta has been confirmed by the Senate three times for previous roles, it's highly likely that his confirmation as Labor secretary will go much smoother than Puzder's. A graduate of Harvard, he served as the first Hispanic assistant attorney general for the Justice Department's Civil Rights division under President George W. Bush, U.S. attorney for the Southern District of Florida, and was a member of the National Labor Relations Board, according to the LA Times. The NLRB is an independent agency whose members are appointed by the president and is concerned with labor issues like collective bargaining and union disputes.
Although his experience in the Justice Department is signifiant, The Atlantic notes that under the Bush administration, the department was criticized for the unlawful firing of U.S. attorneys. Acosta denied knowledge of his superior's wrongdoing.
CBS reports that Acosta participated in or issued more than 125 opinions during his year on the NLRB. In 2009, he became dean at Florida International University College of Law in Miami. Acosta is also the chairman of U.S. Century Bank, Florida's largest domestically-owned Hispanic bank, according to CBS.
According to The Washington Post, Acosta may be interested in some of the regulations that Trump has vehemently disavowed. In 2010 the FIU Law published his article where he urged the NLRB to issue rules, saying "Rulemaking is a better, more democratic, more stable, more transparent, and more modern path for quasi-legislative enactments."
Acosta would be the first Latino cabinet member, if confirmed. That's an important point to make considering Trump's cabinet is light on diversity overall. The current nominees and confirmations are largely white men, with the exception of some women and Ben Carson.
For now, we'll have to wait to see if minimum wage comes up at Acosta's Senate confirmation hearing to find out what he thinks about it.