Amazon Just Made It Super Easy To Donate To Charity While Holiday Shopping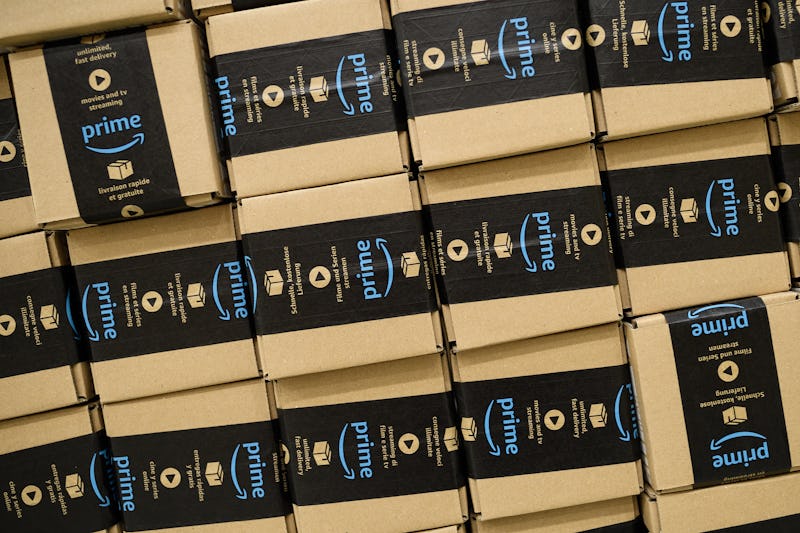 Leon Neal/Getty Images News/Getty Images
The holiday season is officially here, which means it's time for Christmas music, hot chocolate, and lots of shopping. Unfortunately, we all know too well that between overcrowded stores, long lines, and cranky customers, it's easy to forget the real reason for the season. The good news: everyone's favorite web retailer, Amazon, is here to get us back into the spirit of the holidays with their AmazonSmile program. But, what is AmazonSmile? Simply put, it's the best way to buy gifts for your loved ones and give back to your favorite charities at the same time.
You know when you're checking out at a store and the cashier asks if you want to donate to a specific charity with your purchase? AmazonSmile is basically like that, except it's even more convenient (and not just because you can donate and shop from the comfort of your cozy bed). Here's how it works: Instead of shopping at Amazon.com, you would shop at smile.amazon.com. The AmazonSmile site offers the same prices and selection as Amazon.com; the only difference is that when you shop on smile.amazon.com, Amazon donates a portion of your purchase to a charitable organization. Even better? You get to pick which charitable organization you want to donate to, so your donation automatically becomes a little more heartfelt and meaningful for you.
The first time you go to the AmazonSmile site, you'll notice the option to select a charity of your choice. There are currently almost one million organizations listed that you can choose from, so almost anything you can think of is probably there, whether you want to donate towards cancer research, youths in need, rescued animals, or a specific disease. On your first visit, pick the charity that speaks to you the most. The site will remember your choice, and donate 0.5 percent of your purchase to that charity. All eligible purchases say "Eligible for AmazonSmile donation" on product page, so be on the lookout for that when shopping. The more often you shop and the more you spend, the more you donate... which is the perfect excuse to buy a little gift for yourself (just saying!).
Of course, you don't always have to donate to the same charity every time you shop. If you want to switch it up, go to the AmazonSmile site, click on Your Account, and look for the "Change Your Charity" button. From there, you can choose a different organization. This gives you the freedom to donate to causes that are more personal to you, which always feels a bit more meaningful and important than donating to a charity you aren't familiar with. You can keep track of your donations whenever you're on the AmazonSmile site and logged in - the homepage has a section that shows you how much you've donated in dollar amounts and reminds you which charity you're currently donating to.
The most important thing to remember here? You can't take advantage of the AmazonSmile program if you're on Amazon.com - you have to make sure you're shopping on smile.amazon.com. The AmazonSmile site looks exactly the same as the regular Amazon site and offers the same deals and products, so it won't be difficult to navigate at all. The only downside? Not every single product you'll see on that site is eligible for the donation. Make sure you're looking for the "Eligible for AmazonSmile donation" button on the product page, even if you're on smile.amazon.com. If that button isn't there, you won't be making a donation.
Honestly, this is just one more reason to stay home and shop online instead of venturing to the mall this year. AmazonSmile offers an amazing selection of gift options with the added bonus of giving back this holiday season. Sure, 0.5 percent doesn't sound like a lot, but not everyone can afford to donate hundreds of dollars, so this makes a good deed accessible to everyone. So, I don't know about you, but I'll definitely be spending this December avoiding crazy lines and searching AmazonSmile instead. Happy shopping!