Apolo Anton Ohno Fans Are Going To Love What He's Up To Now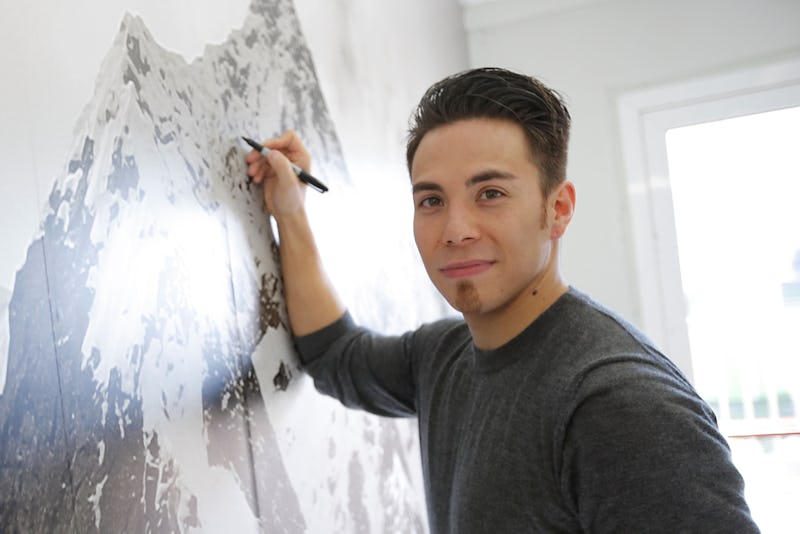 Joe Scarnici/Getty Images Sport/Getty Images
As the most medaled American winter Olympian in history, it's no surprise that people are often wondering what Apolo Anton Ohio is doing now. What he is doing, though, might honestly surprise you. The retired speed skater says he's thinking about writing a cookbook in the future. Really.
Widely regarded as the very face of speed skating, Ohno has won the most medals of any U.S. athlete in Winter Olympics history. And his drive to achieve excellence has followed him into retirement from the sport that made him famous.
Although he hasn't competed since 2010, Ohno was employed in a different arena during the subsequent winter Olympics in Sochi — as a sports commentator for the speed skating competitions — and he'll be back for round two at the upcoming games in Pyeongchang.
Ohno says the Olympic games have a special purpose, serving as a "unifying experience for all of us as Americans." He also says he loves being a commentator, since it provides an opportunity to "transfer my knowledge and understanding of how the sport works into something easier to understand."
Of course, certain television viewers may know Ohno better from his work off the rink. In 2007, Ohno competed for the first time on the reality TV show Dancing With The Stars. He and his dance partner Julianne Hough walked away with the dancing competition's gold medal equivalent — the mirror ball trophy. Ohno also came back for the show's all-stars rematch in 2012, but, alas, did not emerge as that season's winner.
More recently, Ohno has been working as a host of NBC's Spartan: Ultimate Challenge — he's also been featured as a guest judge on Project Runway, and he hosted Minute to Win It on the Gameshow Network for a season.
And in case that weren't enough, Ohno's also written an autobiography entitled Zero Regrets: Be Greater Than Yesterday. It made it to the New York Times bestseller list, the publishing's world's gold medal standard. (It seems a trend is emerging here.)
As for that cookbook, it doesn't seem like he's on his well on his way with it, but when asked by Sports Illustrated if he would write a book, he said he'd consider a cookbook. Ohno has been partnering with Hershey to release their "Gold Bar" — as he told SI:
I love chocolate. I wouldn't even call it a weakness, it's fun and it should be enjoyed.
Ohno has also been involved with charity work, serving as a spokesman in 2010 for SeeYourImpact.org. The charitable organization allows donors to give money to causes they support, and then follow up to "see" how that donation has had a practical impact.
That's just one of several charities Ohno has been involved with over the years, including work with the Ronald McDonald House and raising money for elderly Japanese residents in California with no access to health care. He's also shared his personal message of optimism with the organization Ray of Hope.
Recently, Ohno commented on the scandal involving former U.S. Gymanstics doctor Larry Nassar and his rampant sexual assault of patients, including Olympic gymnasts. Speaking of Aly Raisman, one of several gold medalist Olympians abused by Nassar, Ohno told Life and Style:
I'm proud of Aly. I'm proud of the entire gymnastics team. I can only imagine how painful and difficult it was, but she's strong.
Ohno said the gymnast had his support and said that "what they're doing is incredible."
Fans of Ohno might get to see him in more than just his commentator role during the 2018 Winter Olympics. Ohno is starring in commercials for Hershey, so he'll be showing up in ads during the games as well.
Ohno had unparalleled success as a Winter Olympian. And it seems his time off the ice is following a similar trajectory.