This Is What Balayage Actually Does To Your Hair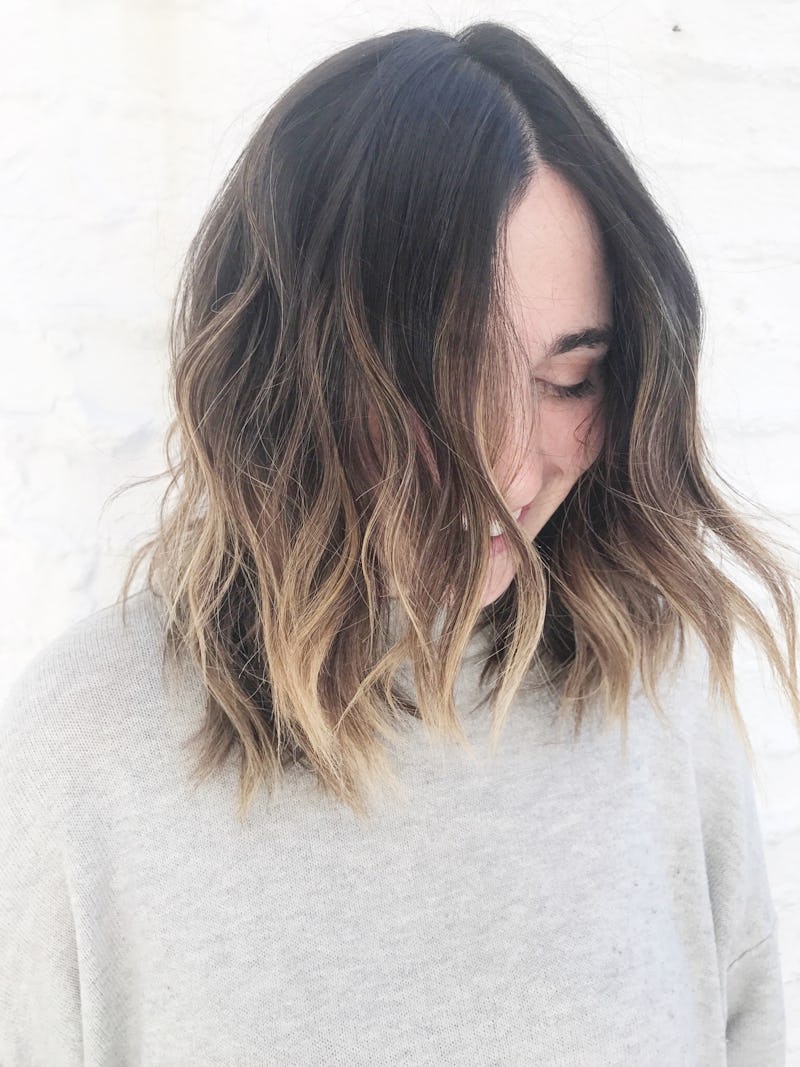 Mikhayela Curry
2016 was a mess of a year — and believe me, not even my hair was spared by it's wrath. After harsh bleaching, misplaced highlights, and insane breakage, I found myself throwing in the towel. One day after work, I walked into a salon and told a stylist to just dye my hair black. Yes, really. It was dramatic (and fun, so whatever).
Though I loved the dark side, I never fully felt like myself with the look and decided it was time to lighten up in 2017. While doing some research I looked more into the process of "balayage" — a french term that literally means "to sweep". After looking around, I met up with Justin Anderson, the hair color pro from Chris McMillan Salon and Creative Director of dpHUE to add life to my dark locks.
Guys, let me just say — when it comes to hair color skills, Justin Anderson is a Beyonce shining above a sea of Michelles and Kellys. He's so talented at what he does, you kind of feel like you should be asking for his autograph when he's done. Even if you don't know his name yet, your Pinterest hair inspo board knows his work. In one quick visit, he took me to a place it would have taken other stylists ages to get to. Basically, I'm shook.
In addition to giving my hair fresh life, Anderson also gave me the lowdown on everything you need to know about this color treatment — from who it's right for to how to care for it. So if you've been at all interested, read up and get ready to book yourself at your local salon.
Here's everything you should know before you commit to the trend.
1. It's The Ultimate Lazy Girl Hairstyle
If you're looking for a fresh look that doesn't require too much thought or attention, this is the perfect change to make.
"It's right for the girl who doesn't wanna spend too much time in the salon — it's great low-maintenance hair," explains Anderson.
As someone who's preferred getting ready routine is 20 minutes or less, I'm always looking for a color that's going to look great even when I don't give my hair the time it deserves, and this look is it. So how do you style this fresh and light look? It's so easy, it'll blow your mind. Just keep heat styling low to avoid additional damage and add some oil back to your hair to give it some strength.
$35, shopdphue.com
Anderson suggests DPhue's Argan Oil. "It's clear and lightweight enough that it won't dull out highlighted hair."
2. It Actually Won't Break The Bank
$24, ulta.com
I tend to shy away from getting lighter colors on my hair because the cost of upkeep can be so expensive. But Anderson explains that this process tends to cost the same as your highlights, and requires way less maintenance on your end.
"It makes it really easy for the grow out — you're not a slave to going back to the salon to get it retouched," explains Anderson, who also says you can grow this style out for six months before having to get a touch up."
So what should you do to keep your light color fresh between visits? Anderson recommends using a purple shampoo to stay bright.
"Use a purple pigmented shampoo like dpHUE Cool Blonde to eliminate any brassy tones and keep your blonde bright."
3. It's The Subtle Statement That's Here To Stay
In my opinion, it's definitely worth a try. It's a color than you can really make your own too, depending on your natural root.
"The lighter your roots are, the lighter your ends can go," says Anderson, who explains that this look can really work on anyone.
So should you invest in this subtle and sunny look? Anderson thinks so. "It's gonna stick around, it's all about being natural."
Personally, I think this look is something that anyone could try out. It's fresh, it's fun, and it's insanely easy to take care of. You can also trust that the investment is worth it, since the color itself can grow out and be touched up when you're ready for it. With all that knowledge in my hand and a fresh new look on my head, I just have one more question — Justin Anderson, can I have your autograph?