Beyonce's Tiny New Tattoo Could Symbolize Something Major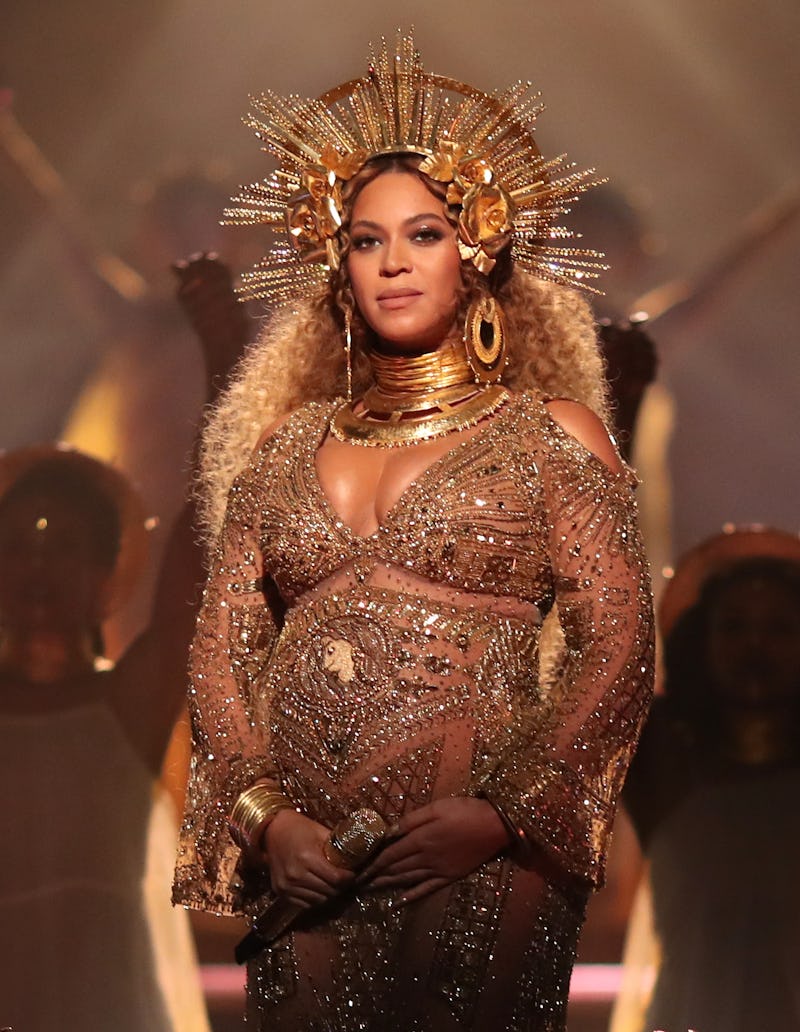 Christopher Polk/Getty Images Entertainment/Getty Images
Beyonce's epic Instagram feed is a fashion and beauty wonderland. The singer, mother of three, and all-around legend posts photos of herself on vacation or draped in stunning couture. In a recent series of pics, Bey was dripping in gold jewelry — but the Beyhive noticed something else. Beyonce has a new finger tattoo.
It's tiny and it's minimalist, but Beyonce's latest ink could have an extremely powerful meaning.
Bey now has three delicate dots tattooed on her ring finger. And while the queen hasn't come out and said anything about it directly, one can only assume that the dots are a reference to her three children — daughter Blue Ivy, who is 5, and newborn twins Rumi and Sir, who made their grand arrival this summer. It seems like a logical conclusion and a fitting tribute to her brood of three with rapper and husband Jay Z.
If the Internet's interpretation of her tattoo is correct, it's such a lovely sentiment. The three dots keeps her babies close to her at all times — in spirit, in heart, and in mind.
In the photo revealing the tattoo, Bey is showing off a pastel pink manicure, with her nails filed to a dagger-like point. The dangerous shape is totally tempered by the soft, pretty hue of her polish. She is also gripping a strand of gold chains, with her dot-dot-dot tattoo in full view. Many commenters assume the chain belongs to Jay Z.
Beyonce isn't heavily tattooed, as is the case for many of her pop peers like Rihanna and Lady Gaga. But Refinery 29 did go deep about one of her tattoos and its significance to her work and her life. Apparently, Bey recently refreshed the "4" tattoo that both she and Jay have on their fingers, upgrading it to a "J." Now, it appears that she is including her brood in the same area, keeping her family-related tattoos in close proximity. The placement of her ink flows.
The rest of the photo shoot was fun and featured Bey in full-on model mode, rocking lots of bling, accessories, and fab clothes. But of course the Internet went wild over Bey's ink. Below are some of the comments and thoughts fans shared in the comments of the post.
Some fans were all about that Team Carter love. Others were feeling the jewelry and the tattoo. There was a lot going on and plenty to process in what is anything but a simple Insta post.
The Beyhive can speculate all day and all night about the meaning behind the three dots. But fans want to know the exact meaning and nature of the dots from Queen Bey herself.
A few fans actually commented that they have the same tattoo as Bey. Now that's a cosmic (and permanent) connection.
It's very possible that Beyonce will never reveal the meaning behind her three dot tattoo. She might prefer to keep the significance close to the vest, which is entirely her right. But that won't stop fans from sharing their hypotheses about what it represents in an ultimate display of fan fiction.
We can also expect to see members of The Beyhive taking inspo from her ink and getting their own dots to mark special occasions, family members, children, or events. Beyonce may have just unwittingly sparked a new tattoo trend. After all, she is an iconic trendsetter.