This Olympic Legend Joked About Drunk Skiing. Now He Gets Paid To Talk About... Skiing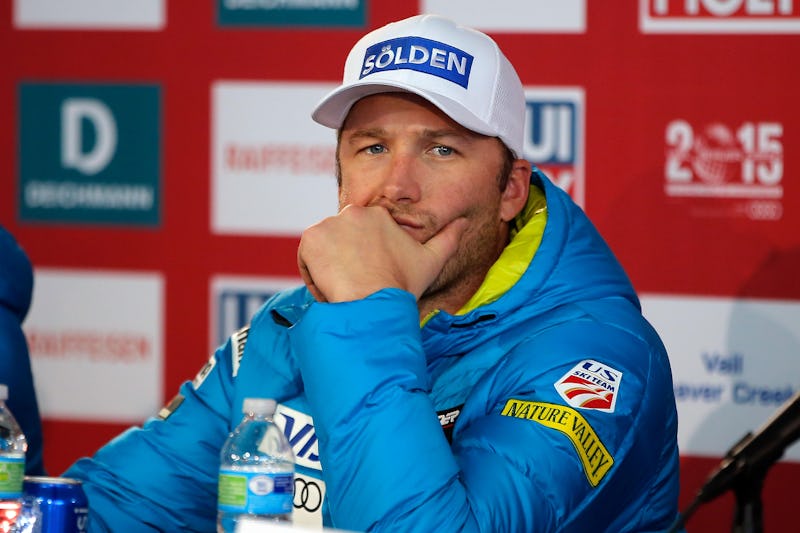 Doug Pensinger/Getty Images Sport/Getty Images
The most decorated U.S. Olympic skier retired from the sport last November, but he hasn't stepped away from its culture. What Bode Miller is doing now is helping explain the sport to Americans watching at the 2018 PyeongChang Games at home, in his capacity as a skiing analyst for NBC.
"I think half the people watching it will not have seen a World Cup race or a ski race since the last Olympics, which is four years ago," Miller told CBS Sports. "The Europeans are very educated and it's part of their culture and they love it that way. A lot of Americans don't really understand and it only becomes about winning medals."
The skier has a lot of history with press coverage himself, both positive and negative. According to interviews he's given in the run-up to the games, it seems Miller is hoping to have a positive impact on how American viewers absorb and understand a sport that he's devoted most of his life to at this point.
Most notoriously, Miller was blasted in the press after his 0-for-5 Alpine showing at the 2006 Turin Games, where he did not medal. In the build-up to the Games, he had been touted as a favorite, having been featured in a Nike campaign that urged viewers to "Join Bode." After he failed to place, though, commentators zeroed in on what many considered to be a bad attitude in the face of failure on Miller's part.
"It's not the winning, it's the trying," Sally Jenkins wrote in The Washington Post at the time. "The point is that he acted like he didn't try, and didn't care." After failing to perform as well as had been expected, people considered Miller's response to be pretty flippant. "It's been an awesome two weeks," Miller told the Associated Press at the time. "I got to party and socialize at an Olympic level."
At the time, his interest in partying was already dominating the press. Just a few weeks earlier, during an interview with 60 Minutes, the Olympian appeared to admit to having skied while intoxicated in the past. "There have been times when I've been in really tough shape at the top of the course," he said in the interview.
According to the AP, Miller said in that same interview, "If you ever tried to ski when you're wasted, it's not easy." The reported joke didn't land well with sponsors, and it fueled criticism after Miller's poor 2006 showing. In the fallout from those reported remarks, he left Team USA for two years and competed as an independent entity, which he notoriously dubbed "Team America."
Still, Miller holds one gold, three silver, and two bronze Olympic medals. At the 2014 Sochi Games, he became the oldest alpine skier to medal in Olympic history.
According to Reuters, Miller expects alpine ski racer Mikaela Shiffrin to do particularly well at PyeongChang. "I think she's maybe the best ski racer I've ever seen, male or female. She's so balanced, dynamic, intense and focused, so for me, I think she's got a chance in any event she skis in," he told the news outlet.
As for his analysis, he has said that he thinks he breaks from the mold than his predecessors. "I think I commentate in a slightly different fashion than some of the previous commentators, who were really focused on talking about the racer as they came down and sort of saying that was a good turn or this is a bad turn or this is crappy skiing,'" Miller said in an interview with USA Today Sports. "I'm more talking broad strokes, about the type of skier and how they are likely to win or the challenges they're facing on the hill. So it's a bit more conversational."
Miller, with or without his controversies, has demonstrated that he knows his sport, top to bottom. If he finds that he enjoys analyzing it for the public, this might not be the last you hear of him.