Busy Brain Syndrome Is An Actual Thing & Could Be Keeping You Up At Night
by Katy Parker-Shorthouse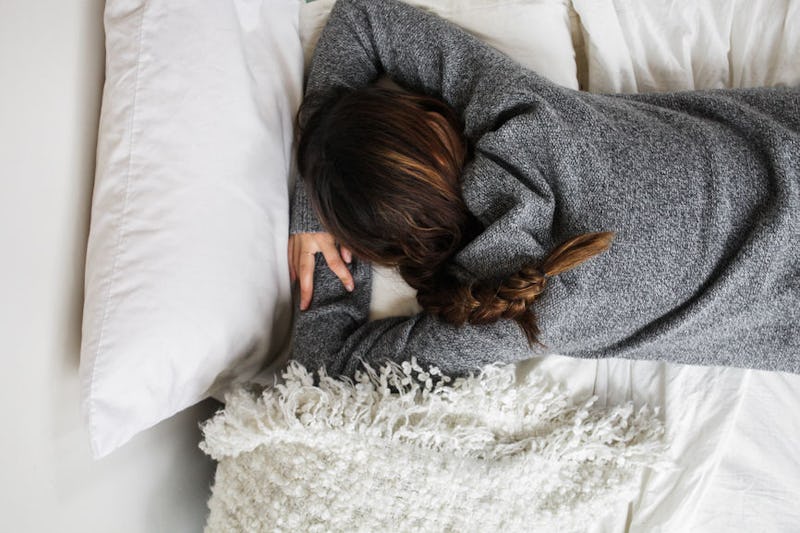 Treasures and Travel/Stocksy
We have increasingly busy lives, and when your day is rammed full of hectic commutes, endless emails, high-pressure meetings, and lively social engagements, it can be so hard to switch off when the time comes for bed. Experts have called this "busy brain syndrome". But what is busy brain syndrome? Here's an explainer along with five ways to combat it when you're trying to sleep.
When we spend all day dashing around, and then spend our sitting-down time flicking through Instagram and catching up on one of our million WhatsApp threads, we are overloading our brain on an extreme level — meaning that when we do finally change gear and try and settle down a solid night's sleep, we can sometimes feel overly stimulated and wired. Busybrainsyndrome.com (a real website, I promise) states that our constant engagement in the digital world means "our senses are constantly bombarded from all directions", leading to over-stimulation and our brains running "out of processing bandwidth."
In the daytime, when you're sat at your desk, this "busyness" of the mind can result in you finding it hard to focus and switching from task to task without getting anything done, while that impending deadline looms ever closer and your stress levels continue to rise. It can leave you feeling paralysed by indecision about which task to tackle first resulting in you having an immensely unproductive morning, which is really the last thing you need.
At night, even if you watch your fave trash TV show before bed and wind down with a hot bath, you might find yourself lying there finding it simply impossible to sleep. Your mind is whirring over that meeting that didn't go as well as you hoped; the comment your friend might have interpreted the wrong way; the long to-do list you need to get on top of tomorrow; what on earth you're going to wear a pal's party at the weekend.
The good news is there are things you can do to ease the pain of busy brain. Read on for five solutions to help you sleep.