Cardi B Revealed When Her Album's Coming Out & It's Sooner Than You Think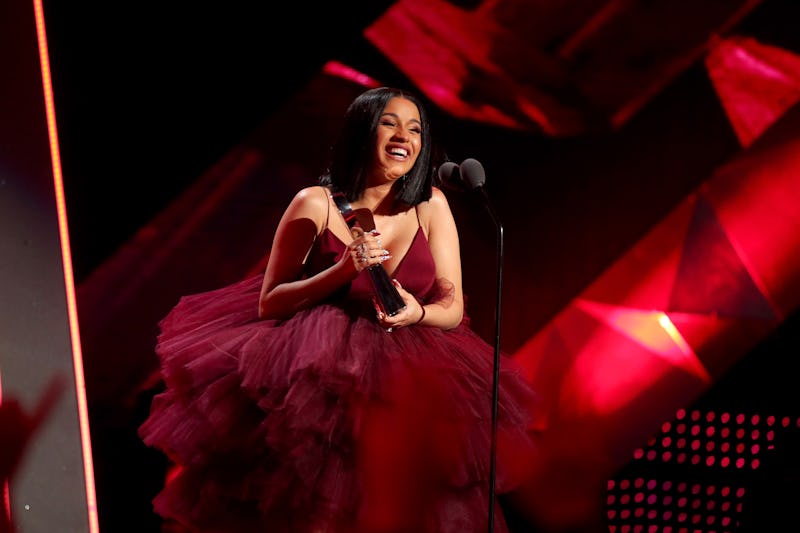 Christopher Polk/Getty Images Entertainment/Getty Images
It's finally official. On Instagram on Monday, rapper Cardi B revealed her debut album release date. Invasion of Privacy will be dropping on April 6. And to break the much-anticipated news, the singer shared a photograph of the album's cover, which features her decked out in a black-and-white checkered ensemble.
According to Rolling Stone, the album, for which the track list has not yet been released, is the first for Cardi B. The rapper described the pressure she felt to felt to create a momentous first album during an interview with the magazine in October 2017.
I got six, seven solid songs that I like, but I wonder if a month from now, I'm going to change my mind. It's not as fun to do music… My mind doesn't flow as free 'cause I have so much on my mind.
She also echoed similar sentiments to The Breakfast Club in September 2017, sharing how she feels like she is competing with herself to create the best songs possible. "I wanted to drop [in November] ... Every single time I think I got all the 10 songs I'm like, I'm buggin,'" she said. "These ain't it. It's just like, d*mn I'm competing with myself. I'm competing with the goddamn No. 2 record [on the Billboard Hot 100] and stuff."
Cardi B became especially well-known in 2017 following the success of her single, "Bodak Yellow." The song was released on July 16, 2017 and constituted Cardi's B's first single on a major record label (Atlantic Records). It was at the top of the U.S. Billboard Top 100 for three weeks and even won Single of the Year at the 2017 BET Hip Hop Awards. In fact, "Bodak Yellow" was nominated for Best Rap Performance and Best Rap Song at the 60th Annual Grammy Awards.
As Rolling Stone reported, in addition to "Bodak Yellow," Cardi B has also had a variety of other popular singles, including "MotorSport" and "Bartier Cardi," which were released in October 2017 and December 2017, respectively. Moreover, Cardi B has also served as a guest collaborator on Bruno Mars' popular "Finesse (Remix)" and G-Eazy's "No Limit."
In addition to her singles, the rapper has previously released two mixtapes, according to Consequence of Sound. The first mixtape, Gangsta B*tch Music, Vol. 1, was released in March 2016 and the second, Gangsta B*tch Music, Vol. 2, followed in January 2017.
2018 is already looking to be a very successful year for Cardi B as well. The rapper recently won Best New Artist at the iHeartRadio Music Awards on March 11. On top of that, she will be performing on Saturday Night Live (SNL) on April 7, the day after her album debuts, and will be headed on tour with Bruno Mars later this year.
When discussing her whirlwind success with Vice in February 2018, Cardi B described how she believes her unique personality really helped propel her forward:
My personality saved me ... My personality was what got people watching me. I didn't even want to be a rapper because I didn't have no management, no money, and I didn't want to waste my time. I wasn't even thinking about dreams. It's hard to think about fulfilling your dream when you got so much responsibility. Your responsibilities come first. So I always had a realistic goal. I have so many friends that have been rapping their whole life and they never went nowhere, so what made me think that I could do it.
The announcement of Cardi B's debut album release date is no doubt absolutely thrilling fans, who were exhilarated that the singer is finally releasing a full length record. 2018 looks like it's going to continue to be a momentous year for the artist, who's already become the first solo woman rapper with a number one single in nearly two decades.