Trump Spent Easter Morning Fuming About Immigrants, Liberals, & DACA On Twitter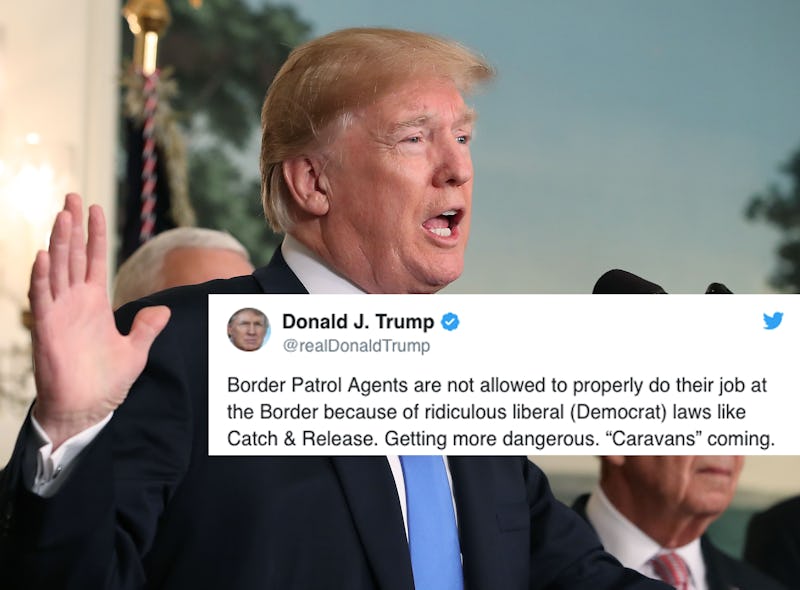 Mark Wilson/Getty Images News/Getty Images
Early Sunday, President Trump attacked the country's immigration policy, saying there are issues at the border due to "ridiculous liberal (Democrat) laws." Trump seemed to kill any potential bipartisan deal on DACA and then placed the blame squarely on what he called "catch and release" immigration laws. However, no such law exists.
Current immigration policy does include instances where immigrants arrested without papers are not detained but are allowed to await immigration court on their own recognizance. Certain versions of that policy began under Obama — framed at the time as focusing on violent criminals and those who pose national security risks — but other versions are set by the courts and by funding.
Judicial rulings limit how long immigrants can be detained (especially women and children), and Immigration and Customs Enforcement regularly has a shortage of beds to detain immigrants that are arrested without legal status in the United States. But Trump railed against those policies anyway. He wrote:
Border Patrol Agents are not allowed to properly do their job at the Border because of ridiculous liberal (Democrat) laws like Catch & Release. Getting more dangerous. "Caravans" coming. Republicans must go to Nuclear Option to pass tough laws NOW. NO MORE DACA DEAL!
The nuclear option would allow the Senate to pass an immigration bill with less than 60 votes, just a simple majority. This would allow Republicans to pass a more conservative immigration bill.
The caravan that the president's talking about is a group of Honduran immigrants organized by Pueblos Sin Fronteras, or People Without Borders, that has reportedly marched into and through Mexico with the goal of reaching the United States and seek asylum. They number in the hundreds and count on their traveling as a group to protect them.
Once they reach the United States, the Hondurans plan to ask for asylum. The Temporary Protected Status program, which allows Hondurans to stay in the United States due to the unsafe conditions in Honduras, was extended for six months in January. The Trump administration has tried to end the protective status for other nationals including Haitians and Salvadorans.
Trump went on to criticize Mexico, too, for not doing more to stop the migrants. "Mexico is doing very little, if not NOTHING, at stopping people from flowing into Mexico through their Southern Border, and then into the U.S.," Trump wrote. "They laugh at our dumb immigration laws. They must stop the big drug and people flows, or I will stop their cash cow, NAFTA. NEED WALL!"
He also made a connection to DACA, the Deferred Action for Childhood Arrivals program, which started under Obama and provided relief to young immigrants from deportation. The Trump administration has tried unsuccessfully to end it.
Trump insinuated on Twitter that the arriving migrants would try to benefit from DACA. "These big flows of people are all trying to take advantage of DACA. They want in on the act!" Trump tweeted. But no new arrival would be eligible for the program. It is not taking new applicants in its current form, and even originally, applicants had to prove they'd lived in the country since 2007.
This is not the first time the administration has gone after "catch and release" programs. In April 2017, then Homeland Security Secretary John Kelly announced that the policy had ended. "We have ended dangerous catch-and-release enforcement policies," Kelly told on a visit to the border in El Paso, Texas. But that was untrue. Even now, nonviolent offenders are often released and told to show up to a court date.
In November, the Trump administration increased the effort to end "catch and release," arresting parents who cross the border with their children, and then placing those children in foster care or detaining them separately. In February the ACLU filed suit in such a case, arguing the separation is illegal.
While there may be no "catch and release" law, Trump's attempt to end the policy completely could be devastating for women, children, and other vulnerable migrants.