Netflix's Freaky New Reality Show Experiments On A Real Person — Here's What He's Doing Now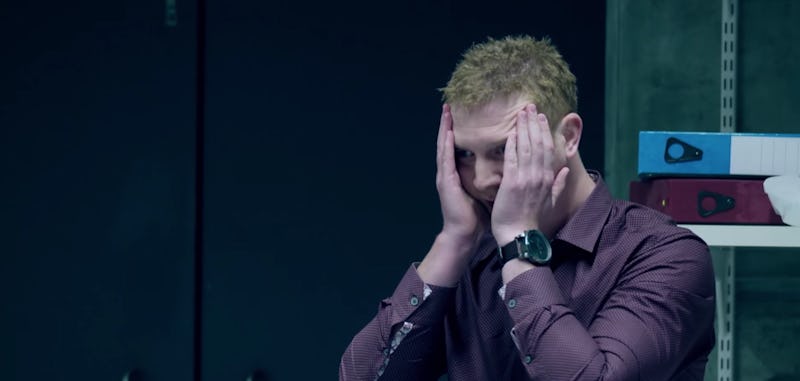 Netflix
If you've watched Netflix's newest special, Derren Brown: The Push, then you know Chris Kingston well. So well, in fact, you know he would (spoiler alert) never push you off the roof of a building, even if you threatened to ruin his life forever. Chris, of course, is the poor soul featured in psychological illusionist Brown's new special, in which Brown attempts to create just the right scenario that might convince Chris to commit murder. One might think that being put through the psychological ringer on reality television would have a lasting effect on a person, but Chris from Netflix's The Push is doing just fine now.
Kingston was 29 years old when he found himself the star of an elaborate ruse, complete with 70 actors, stunts, and a freakishly realistic dead body dummy. He unwittingly became Brown's guinea pig in an experiment to prove that humans, in the right circumstances, were capable of throwing out their morals and committing the ultimate crime by killing an innocent person. Thankfully, Kingston didn't give into peer pressure and refused to push a person off a ledge in the end. The special aired in the U.K. in 2016, outing Kingston as an almost-but-not-quite murderer, and is now being brought to international audiences via Netflix.
For many, the prospect of being psychological tortured on international television might be a bit much, but if his past reaction has proven anything, Kingston is ready to take it all in stride. Despite calling The Push and "watching myself in utter fear/stress on national television" his most embarrassing moment in an interview with Print Week, Kingston holds no hard feelings. In the same interview, he also named Brown as someone he'd like to be stuck on a desert island with (alongside Stephen Fry and Bear Grylls.) Moreover, Kingston recently promoted the special's Netflix release on Twitter, writing, "Just got notified by Netflix there may be a new program I'd be interested in.... Ermmmm yeah I have some fondness for this show, thanks."
But Kingston isn't just living off the fame of his night with Brown. He's an entrepreneur, with two companies to his name. He acts as a director of a digital printing service, Fingerprints Design, as well as a digital photography business called We Fly Drones. The company's official website says that they provide both drone photography and videography. "We provide aerial services for a wide variety of clients," reads We Fly Drones' website. The small company advertised The Push on its official Twitter page, writing, "As of today one of the directors of WeFlyDrones [sic] can be seen on Netflix's Darren Brown show, The Push. We are proud to say that the only thing we push on a regular basis is High quality services and customer satisfaction."
Why We Fly Drones is embracing such a controversial reality show experiment is easily explained: Kingston was the only contestant who did not choose to kill the man in the end. Three of the other people Brown manipulated in the very same scenario, as seen at the end of the special, took the plunge and pushed a man off a ledge to save themselves. "It's surprisingly easy to pretend to be an authority figure such as a policeman and persuade someone to do something they would never normally do," Brown told The Daily Mail. The show, then, portrays Kingston as someone with a strong grasp on his morals, even when pushed to his wits' end.
Just watching him go through an emotional rollercoaster is enough to make one want to retreat from society, and reality television, forever. Kingston, however, seems to be embracing his reality television fame, even if it is as the guy who almost became a (fake) murderer on television. It's certainly better than the alternative.