This App Connects People In Mental Health Crises With "Trained Compassionate" Professionals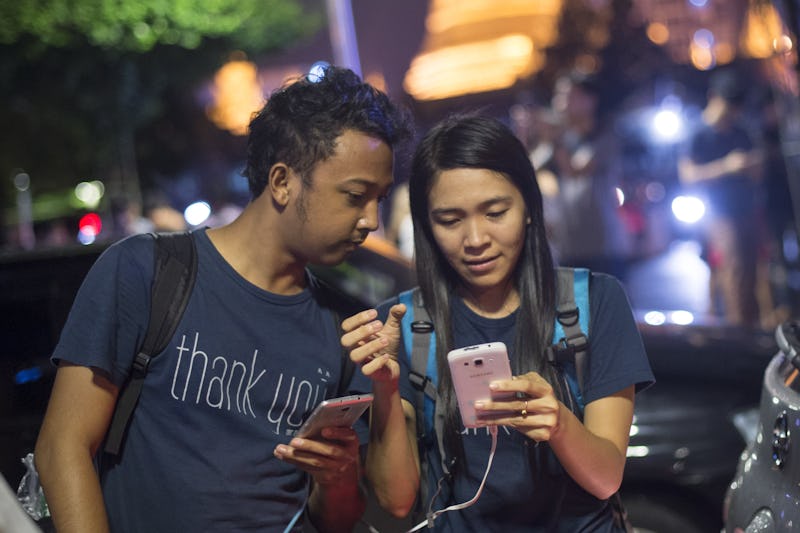 YE AUNG THU/AFP/Getty Images
A group of app developers in San Francisco are running an app called Concrn that connects people in mental health crises with trained responders. The app primarily works in the Tenderloin district of San Francisco, but its developers hope that it could serve as a model for mental health crisis management in other communities.
Concrn's developers explain the intention behind the app on its website.
We are a bold re-imagination of public services provided in non-emergency situations, bridging individuals in emotional and behavioral health crises with trained compassionate civilian responders, reducing strain on 9-1-1 and law enforcement resources.
According to TechCrunch, 80 percent of calls received by the San Francisco Police Department are related to mental health, and this app seeks to help carry some of that weight.
In the two years that it's been up and running, TechCrunch reports that the people behind Concrn have responded to more than 2,000 calls, with reports coming in at a rate of about 5-10 a day.
So, how does it work? Someone witnessing a mental health crisis either files a report in the app's interface or texts a dispatcher (415-881-8278). Then, he or she describes the incident at hand and ranks its urgency. Those making the report even have the option to upload a photo to help responders navigate the situation. Then, a trained employee or volunteer will respond on the spot and decide how best to move forward - that is, decide whether or not to contact law enforcement, and if not, try to connect the person in crisis with the appropriate services. They may also attempt to mediate the situation, depending on what's going on.
In non-emergency situations, Concrn acts as an alternative to calling 9-1-1, which may not be the most helpful thing to do in mental health crisis situations. This is especially true with homeless populations, where calling police can sometimes do more harm than good.
Suzanne Wenzel, a professor at the University of Southern California with expertise in homelessness, tells Bustle that approaching mental health crises in homeless populations without automatically involving law enforcement makes sense for a number of reasons:
Just from the standpoint of efficient and cost effective utilization of services, it would make sense that a compassionate person who is well-trained in handling mental health crises would be a better first contact for a non-violent person in need than a police officer who might not have that training.
Connecting folks with services instead of arresting them, she says, just makes sense. She also points out that people who are experiencing homelessness might have already had negative experiences with law enforcement, and that sending someone from the community to reach out might increase the chance of interpersonal connection.
Co-founder Neil Shah told Fast Company that one impetus behind the app's development stemmed from one of its founders, Jacob Savage, previously training to be a police officer. During training, he reportedly "realized that responding to mental health crises from a punitive standpoint, from the police, often did not lead to good outcomes," Shah told Fast Company.
Concrn reportedly employs seven people, and from there relies on a roster of volunteers who come from a range of backgrounds. Someone who wishes to become a responder must undergo 20 hours of training, followed by extensive period of mentorship on the streets.
It can be difficult to decide what to do when you encounter a person who seems to be having a mental health crisis. Some cities have non-emergency phone numbers, often 3-1-1, where callers are connected to dispatchers who can help navigate the situation at hand. Not every city is so well-equipped, however. There is a series of deescalation tactics that can be used, such as simply engaging with the person who seems to need help and asking them how they are doing. But the extent to which something like that is appropriate varies wildly, and safety for both parties should be the priority. An app like Concrn seeks to increase and expedite appropriate responses to precarious situations where someone's life may not be at stake.