Why Some People Are Choosing To Call MLK Day "Coretta Scott King Day" Instead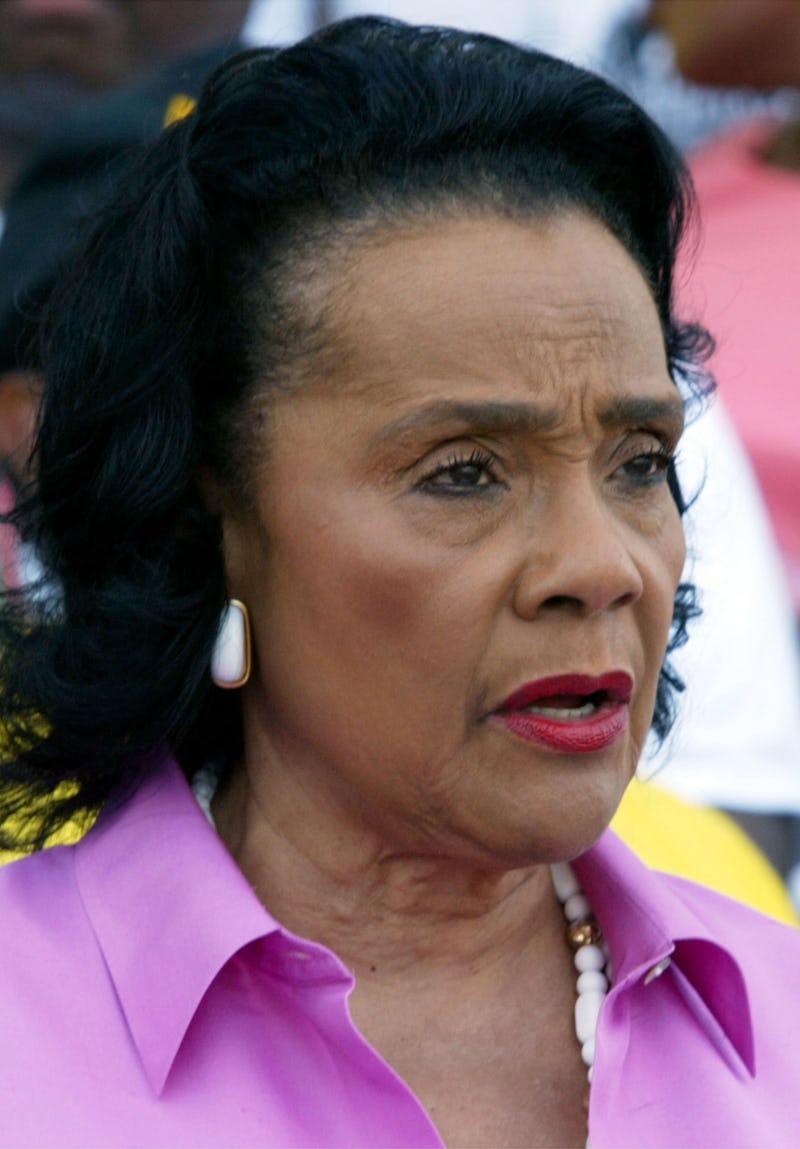 Alex Wong/Getty Images News/Getty Images
As Americans celebrate Martin Luther King Day, some are calling attention to Coretta Scott King Day as a way to commemorate the legacy of King's wife and civil rights activist. A Facebook post by Hess Stinson from Baltimore, Maryland, lays out why such a day is arguably needed.
Although there's officially no Coretta Scott King Day, there seems to be a pretty good deal of social momentum for such a thing. People in favor of it, like Stinson, say that a day like that could highlight, honor, and celebrate the sacrifices made by Coretta.
Stinson wrote:
Happy Coretta Scott King [CSK] Day. I celebrate CSK today because her roles and sacrifices for the Civil Rights Movement are seen to revolve around the death of her husband, when she was grieving long before his assassination. The Civil Rights Movement owes a great deal to her and numerous other women, who endured gendered maltreatment from within, in addition to racist and misogynistic discrimination from the outside world.
Stinson also wrote that the sacrifices made by women like Coretta were "efforts for the sake of the advancement of their people; even when the cost was their own well-being." She also shared the words of King and Coretta's daughter, Bernice King, who called Coretta "architect" King's movement. In 2016, Bernice King wrote of her mother, "What we know of my father really came from [Coretta's] resilience, her determination, her faith, her courage."
On social media, too, Twitter users shared and retweeted tweets on honoring Coretta. Former CEO of the National Association For The Advancement of Colored People, Ben Jealous, tweeted on Monday, "As we celebrate MLK, please also remember to honor the legacy of his widow Coretta Scott King. Without her advocacy there would be no King holiday and it was her courage that helped keep MLK's dream alive following his death."
In her Facebook post, Stinson also called for more understanding around Coretta's own life and commitment to racial equality. Many people may not know that in addition to being a devoted civil rights activist, Coretta was also a talented writer. She also advocated for LGBTQ rights and got arrested for opposing apartheid in South Africa in 1985.
Speaking of LGBTQ rights, Coretta openly supported the Gay and Civil Rights Act and shared the revolutionary work of black lesbian poet, Audre Lorde, to bring people's attention to homophobia. From 1963 all the way to 1990s, Coretta called for more progressive values across the United States. You might even remember one of her speeches in which she supported King's adviser and openly gay Bayard Rustin. In 1998, Coretta said, "I appeal to everyone who believes in Martin Luther King's dream to make room at the table of brother and sisterhood for lesbian and gay people."
Stinson's post may be a great reminder for people to remember the women who selflessly contribute to progressive social movements but are frequently forgotten or not adequately valued by societies. In her Facebook post, Stinson said, "Today, may I gently encourage you to learn of her specific work, to speak her name, give her thanks, and understand that Coretta Scott King's legacy is synonymous with, and the foundation of, Martin Luther King Jr.'s legacy."
The purpose of such a day, according to Stinson, is to bring Coretta out of the overlooked chapters of history. "We owe it to her to cast her out of the shadow of simply having been his wife," Stinson wrote. "Today I celebrate Coretta Scott King because like black women everywhere, she was the creator, maintainer, and continuation, of the work. Dear Mrs. Coretta, we honor you."