Dana Loesch's Net Worth Shows Her Role In The NRA Has Grown Tons Over The Years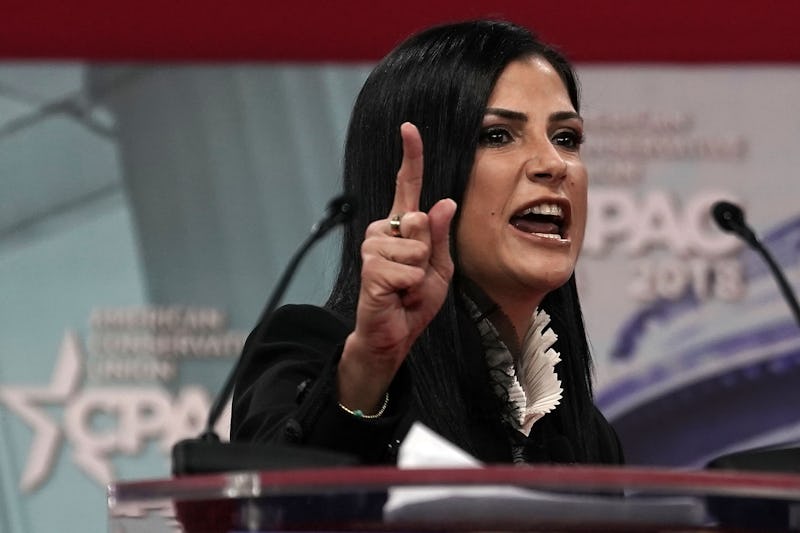 Alex Wong/Getty Images News/Getty Images
As debate about gun control continues to dominate popular and political discourse in the United States, the National Rifle Association (NRA) frequently finds itself in the news. But out of all the NRA surrogates and spokespeople, one in particular pops up quite a bit. She's made headlines in recent months, and if you're curious what Dana Loesch's net worth is, the answer is, well, a lot.
Of course, without direct access to her personal financial documents, it's impossible to know for sure, but estimates put Loesch's net worth in the realm of $2 million. According to CelebrityNetWorth.com, which tracks the financial goings-on for people who are often in the spotlight, she earns a $400,000 salary from her work with the NRA alone. Public relations isn't her only gig, however. Loesch has authored several books, and also hosts her own television show on NRA TV. On top of all that, she hosts a radio show. Any of these projects could potentially up her monthly income, ostensibly cushioning her overall net worth.
Loesch has had a storied media career, steadily working her way up the radio and television ladder. A few years ago, she prided herself as a conservative commentator willing to critique members on either side of the proverbial aisle.
"Fear is an epidemic right now in the Republican Party because Republicans are more concerned with what the headlines are going to say about them tomorrow than what their constituents are saying about them today," Loesch told Politico back in 2015. "And that's where they're making a really big mistake."
However, while she may have been more willing to criticize Republicans in 2015, in 2018 Loesch is better known for her fierce gun rights advocacy and definitively right-leaning politics. During the 2016 presidential campaign, she endorsed Ted Cruz.
"You're a godly man and, as I said, you've been consistent, so we're praying for you and we're pulling for you," Loesch told Cruz during the campaign. "I am in Iowa, and we're going to stay tuned and watch how everything unfolds."
In turn, Cruz described her in a statement to Politico as "a fearless conservative who is not afraid to confront the liberal media bias head on." He also wrote that Loesh was a "passionate fighter for liberty and an important voice for conservatives."
While Loesch has enjoyed a rather high profile in more conservative political circles over the years, she sprang into mainstream consciousness in 2017, coinciding with her work for the NRA. Frequently, Loesch appears on news networks and panels to vouch for limiting gun control, and earlier in 2018, she released a video promoting her new show on NRA TV, which many critics said sounded distinctly threatening.
The video was released only weeks after a fatal Feb. 14 Parkland, Florida shooting, where a lone gunman killed 17 people at Marjory Stoneman Douglas High School. The shooting launched a handful of teenage survivors into the spotlight as they began fighting tirelessly for increased gun control legislation.
In the video, Loesch said that she and other gun rights activists "had enough of the lies, the sanctimony, the arrogance, the hatred, the pettiness, the fake news." She proceeded to call out a series of media personalities and outlets by name, chastising what she described as their "agenda to undermine voters' will and individual liberty in America."
So to every lying member of the media; to every Hollywood phony; to the role model athletes who use their free speech to alter and undermine what our flag represents; to the politicians who would rather watch America burn than lose one ounce of their own personal power; to the late night hosts who think their opinions are the only opinions that matter; to the Joy Ann Reids, the "Morning Joes," the Mikas; to those who stain honest reporting with partisanship; to those who bring bias and propaganda to CNN, The Washington Post, and The New York Times...
She concluded the video by flipping an hour glass and declaring that their "time is running out."
Especially on Twitter, critics felt that the video suggested she was going to shoot somebody. "No, those are the anti-2A progressives in my timeline saying that, sadly," she responded to one concerned user. "Have a great Sunday."
With her penchant for grabbing attention, it's no wonder that Loesch has so many projects in various sectors of the media. With that sort of momentum, its likely that her net worth will only continue to grow.