'Love Island' Star Dani Dyer's Net Worth Proves She's A Self-Made Woman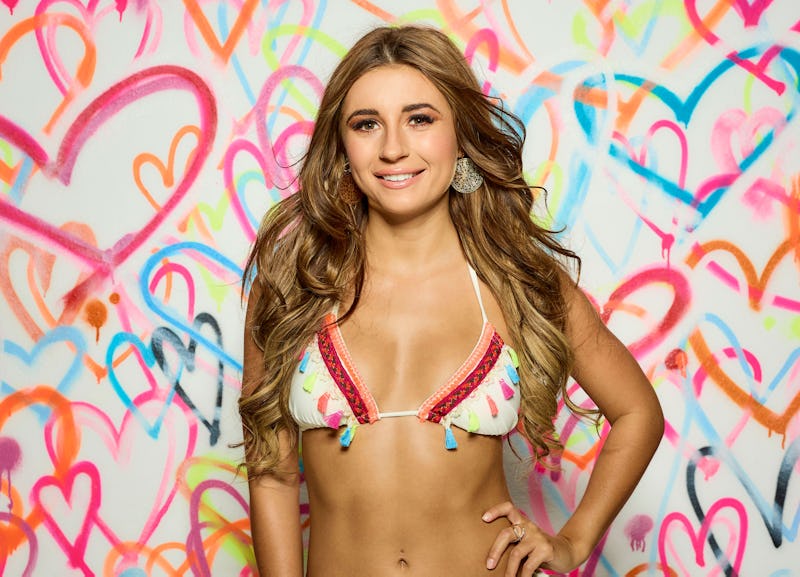 Love Island/ITV
There's £50,000 on the table for whoever wins Love Island 2018. That's a lot of money, and viewers get to decide who deserves it most. Although, as far as the contestants are concerned, you don't have to actually win the show to walk away a winner. All of last year's most popular housemates have gone on to earn small fortunes. But there's one islander this series who's already pretty comfortable financially — that's Danny Dyer's daughter. But what is Dani Dyer's net worth right now and how much more cash could she possibly earn as a result of her stint in the villa?
Well, with Eastenders Mick Carter actor Danny being her dad, the 22-year-old was perhaps always likely to go down a similar showbiz route. Dyer has already notched up some impressive acting roles, such as in Mia in short film Asylum and Joss Blake in Age of Kill. Muzul, the site dedicated to celebrity lifestyles, reports that given her background in film, Dyer's current net worth sits somewhere in the region of £200,000, with this figure expected to rise significantly after her appearance on Love Island. Pretty impressive, eh?
The young actress already has a prolific social media following, with just under 12,000 Twitter followers and over 86,000 on Instagram as of today (less than a day after her Love Island news was confirmed), giving her a solid base for influencer opportunities and sponsored content in the future. She is also already a regular in newspapers and magazines, not least because of her famous East End dad.
But once Love Island kicks off, Dyer will be more in demand than ever before, according to London-based PR Expert, Anthony Burr. He tells me: "It's a quick win for those celebrities, and a quick buck for their agents, to jump into a reality programme. That's why a show like Love Island, with its huge following, will always be coveted."
Burr went on to say that the sky's the limit for celebrities who have the determination to use their new platform for all its worth. He says young celebrities like Dyer stand to "gain hundreds of thousands of new followers on social media" which allow them to "broker better commercial deals with companies wanting to use them as ambassadors." Burr adds: "A decent stint on a show like Love Island will also pretty much guarantee more screen work, as a TV presenter, or even their own spin-off. Others use it as a platform to launch their businesses."
In order to win Love Island 2018, Dyer must be part of a couple. When asked about what she thinks are her most positive attributes, she listed her "long hair and eyes." Explaining what it is that she's looking for, she explained "personality wise I'm not a person who looks out for drama, I just want to have fun. I'd rather bring out the best in someone than the worst."
Sounds like a winning attitude, but it all depends on who she hits it off with. If Dyer does make it into the final, she has the opportunity to split the £50,000 with her winning partner, or else keep all the money for herself, adding to her already impressive net worth.
Looks like the sky's the limit if Dyer plays her cards right, and at the rate she is going, she is set to make a name for herself in the entertainment industry super fast. An appearance on one of this summer's most popular TV series will only speed up the process and hopefully add a few extra zeroes to end of her net worth. Pretty good result from a few weeks of lounging in the sun and hanging out in the celeb-filled villa on Love Island.