Here's What Former British PM David Cameron Has Been Up To Since Leaving Office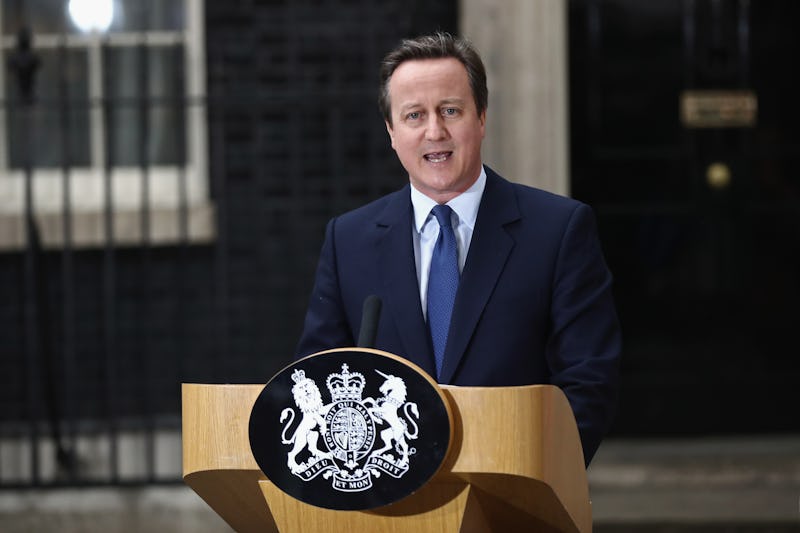 Carl Court/Getty Images News/Getty Images
Next week, President Donald Trump will visit the United Kingdom to meet with Prime Minister Theresa May, as well as the Queen. As Trump's UK visit approaches, you may wish to know a little bit more about the country's political leaders of the present and past. In fact, you may be wondering what former Prime Minister David Cameron is doing now, following his resignation from office in 2016.
Cameron left office in June 2016, after serving as prime minister for six years. His departure was precipitated by Britain's vote (by public referendum) to leave the European Union. In announcing his resignation, Cameron stated,
I was absolutely clear about my belief that Britain is stronger, safer and better off inside the EU ... But the British people made a different decision to take a different path. As such I think the country requires fresh leadership to take it in this direction.
Since leaving Downing Street, Cameron has been involved in several different endeavors. In late 2017, he started working a few days a month for the United States' First Data Corporation, a firm which specializes in electronic payments. Separately, Cameron also led an investment initiative between the United Kingdom and China, which focuses on improving transportation networks between the two countries, among other projects. Moreover, the former prime minister has also traveled around the country and world for paid speaking engagements. Indeed, throughout late 2016 and 2017, he engaged in a speaking tour across the United States and Asia.
Cameron has also become readily involved in philanthropic work. He serves as the chairman of the National Citizen Service Patrons, which is a social development program for British youth. He also acts as the president of Alzheimer's Research UK.
In an interview with the Financial Times (FT) in December 2017, Cameron explained how his work as a parliamentarian encouraged him to become involved in the fight against Alzheimer's after he left office. As Cameron explained to FT,
[While touring my constituency], I just saw care home after care home in my constituency filling up with people with dementia who were entering a world of darkness, where they'd become completely disconnected from their surroundings, their relatives, their friends and their lives ...
Cameron also explained that he is driven to work to find a cure for Alzheimer's because there is a misconception that it is an inevitable part of getting older. "So many people just think, well, dementia it's just part of ageing; it's just a natural thing that happens. It isn't," Cameron told FT. "Dementia is a set of symptoms, cognitive impairment and losing your memory and all the rest of it. But it's caused by diseases of the brain ...," he added.
In addition to these endeavors, Cameron has also been in the process of writing his memoirs for several years. As The Telegraph reported, the former prime minister has an £800,000 contract with William Collins to publish a retrospective on his time as the UK's top politician. As The Guardian reported, Cameron said that the forthcoming autobiography will cover all of the decisions he made as prime minister and he will "be frank about what worked and what didn't." According to Express, while Cameron had initially planned to publish the work this fall, its publication date has now repeatedly been pushed back to next year.
Overall, it seems that Cameron has been quite busy since leaving office in June 2016. While the former prime minister has largely stayed out of the UK's political limelight, you can bet that many will be looking forward to the eventual publication of his memoir — and to getting insight into his thoughts regarding the United Kingdom's controversial exit from the European Union.