The iPhone X Can Recognize Your Face When You Look At It, But It's For A Good Reason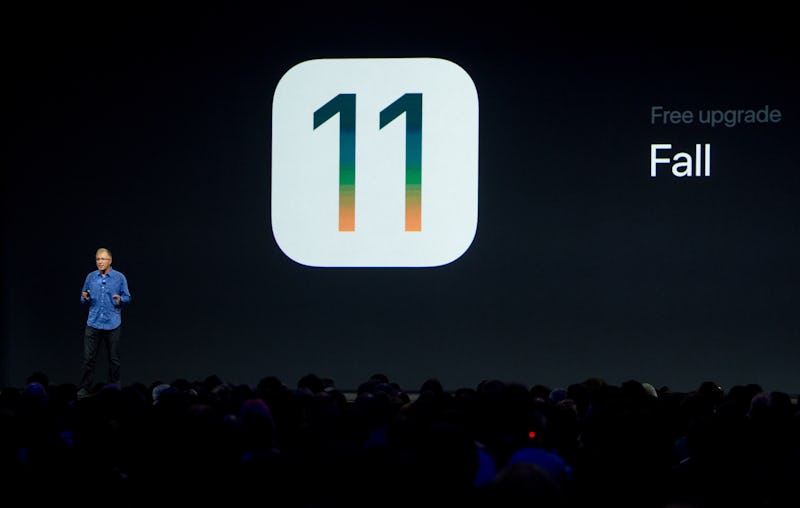 JOSH EDELSON/AFP/Getty Images
The future, the one that filmmakers and comic book writers in the 1950s imagined for our decade, might finally be on its way. In their annual September Keynote address on Sept. 12, Apple announced the addition of facial recognition recognition software to the new iOS 11. So, what is Face ID? Simply put, it's a whole new world of digital security.
Since 2012, early September has meant the arrival of an "Apple Special Event," a flashy announcement ceremony during which the tech company unveils its latest round of innovations, often accompanied by a hint-heavy theme. At last year's "See you on the 7th" event on Sept. 7, iPhone 7 and iPhone 7 Plus were introduced to the public, along with the wireless AirPods. The "Hey Siri, give us a hint" theme of 2015 ushered in the long-awaited Apple TV update, featuring Siri Remote.
This year's theme? "Let's meet at our place," likely a reference to the event's location, Apple's new Apple Park campus in Cupertino, Calif.
Amongst the newest announcements during Sept. 12's keynote event was the introduction of Face ID in the company's newest iPhone X phones. Apple's current Touch ID has been the system in place for users with iPhone 5S or higher, fifth generation iPads, iPad Pro, iPad Air 2 and iPad Mini 3 or later, allowing them log in with their fingerprint by placing their finger on the "Home" button. Touch ID users can also utilize the software to make purchases in the iBooks, iTunes and App stores.
Face ID changes this completely.
On Sept. 12, Apple announced the arrival of their iPhone X, the tenth model of the iPhone. Introduced as "the biggest leap forward since the original iPhone," the iPhone X's biggest design change is that it's all screen. Yep, no more Home button. This means a huge change in waking up your phone and logging in.
From the original iPhone's "slide to unlock," to the iPhone 5S's Touch ID, Apple has continued to make accessing your devices simultaneously easier and more secure. Now, the iPhone X has introduced "Face ID," a face authentication system that has completely evolved how we unlock our iPhones and protect our sensitive information.
The trick is in the True Depth Camera System, the lens of which is located at the very top of the iPhone X. The impossibly small, pinpoint-sized system features an infrared camera and a flood illuminator that detects your face, even in the dark. A dot projector spreads over 30,000 invisible dots and pushes them through neural networks to create "a mathematical model of your face." All this happens in real time, invisibly. Thanks to the built-in A11 bionic neural engine, Face ID learns your face — new hairstyle, new glasses, new hat or big scarf be damned. It also adapts to you as your face changes overtime, which is great news for those planning on taking part in the impending No Shave November.
Designers even worked with Hollywood makeup artists and mask designers to combat all those bizarre attempts at identity theft that some evil genius, somewhere, is no doubt cooking up.
With a quick facial recognition scan, Face ID will be able to unlock your iPhone and serve as your login for iTunes and the App store, as well as Apple Pay and any third party apps that currently work with Touch ID.
So how safe is Face ID? Well, for starters, the software requires user attention — your eyes need to be open and focused on the True Depth Camera System. All the processing is done within the device, rather than be outsourced to the Cloud. With Touch ID, there is a chance that one in 50,000 people would be able to use their fingerprint to log into your device. With Face ID, that chance jumps to one in 1 million.
The iPhone X will be available to order on Oct. 27, and be released on Nov. 3.