What Is "Flashpoint" On 'The Flash'? The DC Comics Storyline Is Coming To Season 3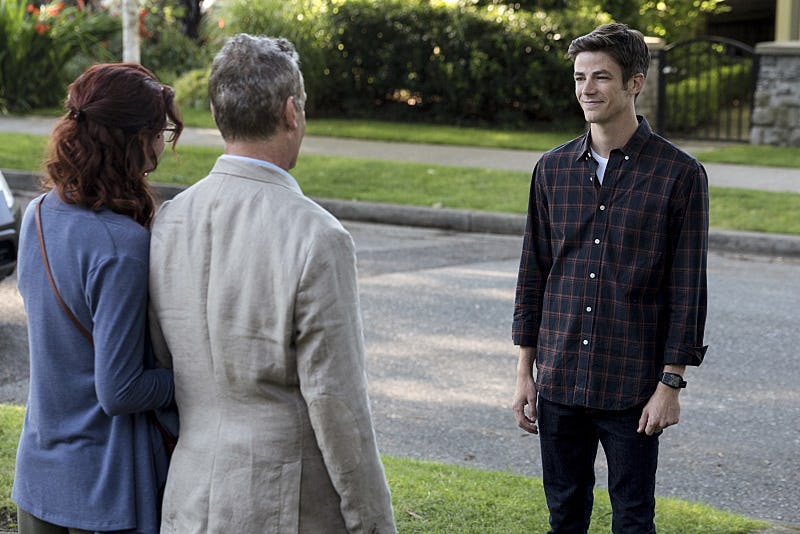 The new season of The Flash, which airs Tuesday, is going to be different. I know that, because Barry Allen changed the timeline at the end of Season 2 in a major way — bigger than any attempt at time travel he's made before. The Season 3 premiere is titled "Flashpoint," a DC comics storyline The Flash is referencing and utilizing for this upcoming season. It's also a team-up storyline, which bodes well for any crossovers with Arrow, Supergirl, and Legends of Tomorrow. There are spoilers for the comics and potential CW plot points ahead, so click away if you don't want to speculate.
In the comics, Barry wakes up to find himself in an altered timeline where his mother is alive and his father has died of a heart attack. Leonard Snart is Central City's hero, and the Justice League (as well as many of its members, including Superman) do not exist. What's immediately different about the comics storyline is that Barry doesn't remember how he got there. On The Flash, Barry is typically able to retain his memories from multiple timelines. It isn't until midway through the storyline that Barry even discovers that he is the one who changed history. Barry ultimately decides to undo his changes and set the timeline right. A second lightening strike grants him his powers. Nora Allen accepts her fate (very Harry Potter and the Cursed Child), and everything goes back to normal.
What does this mean for the show? Not only do we get to see fun new versions of our favorite characters, like the Earth-2 counterparts from last season, but I think the key to "Flashpoint" on The Flash is going to be the ripple effect consequences of saving Nora Allen's life. Is it worth it?
According to an official CW press release, the premiere involves starts out with Barry living his dreams — he has a family, no powers, and the right timing with Iris West. However, "when Barry starts forgetting parts of his old life, the Reverse Flash taunts his nemesis and tells him that there will be serious repercussions for Barry and the ones he loves if he continues to live in this alternate universe. In addition to losing his memories, his powers will also start to fade. When disaster strikes, Barry must decide if he wants to continue to live in this world as Barry Allen or return to his universe as The Flash." That's different from the original comic book storyline, but a lot of the pieces are there.
Does anyone else get the idea that we won't be in "Flashpoint" for very long? I'm interested to see how this is going to shape The Flash Season 3. The altered timeline reminds me a lot of the curses on Once Upon A Time, and those never seem to last for very long. However, nothing is ever easy for Barry Allen and Team Flash, so I'm sure there will be "Flashpoint" consequences no matter what.