These Residents Want Congress' "Hands Off DC"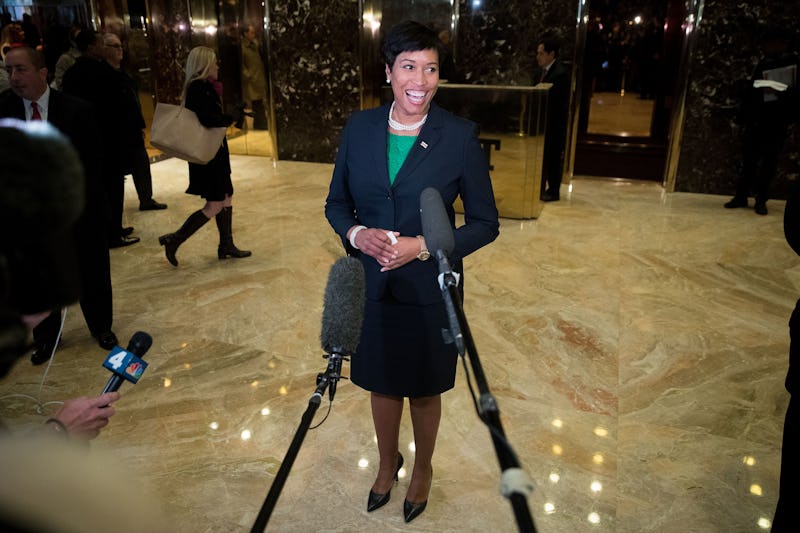 Drew Angerer/Getty Images News/Getty Images
On Monday evening, residents of the District of Columbia, along with the city's Mayor, Muriel Bowser, gathered to protest a House committee vote to override a D.C. law making assisted suicide legal in certain circumstances. This protest and a related brainstorming meeting are part of a larger "Hands Off D.C." movement in which D.C.'s (majority liberal-leaning) residents are seeking to make sure that Congress does not intervene in local affairs.
The city of the District of Columbia, as a federal district, is subject to the Home Rule Act of 1973, which means it must submit all local legislation to Congress. If members of Congress wish to, they can choose to file a disapproval resolution condemning a local D.C. law. If this resolution passes Congress and is signed by the President, then the related D.C. law becomes void.
Presently, Congress is seeking to pass a disapproval resolution for D.C.'s "Death with Dignity" law, which "makes it legal for physicians to prescribe life-ending drugs to terminally ill patients with less than six months to live." This disapproval resolution passed the House Committee stage on Monday evening, and must now move through the next Congressional channels. Generally-speaking, passage of disapproval legislation is rare and fairly unprecedented; only three disapproval resolutions have passed Congress in almost 45 years.
Thus, the speed with which Congress is seeking to issue a disapproval resolution is understandably alarming to D.C. residents, who have experienced limited federal interference in their municipal affairs and would seemingly like to keep it that way.
This concern about federal meddling in local affairs seemingly inspired the development of the "Hands Off D.C." movement. The initiative was first put forward by D.C.'s Ward 6 council member Charles Allen, who proposed a meeting at a local theater to brainstorm ways to "protect D.C. laws and D.C. values."
Over 700 people ended up coming to Allen's meeting on Monday evening. Additionally, dozens more gathered outside the Capitol Building to protest as the House was voting on the disapproval resolution.
The turnout for this evening's "Hands Off D.C." meeting and protest were strikingly high and Councilmen Allen says he expects that its leadership will transfer to the hands of D.C. residents, who seem very intent on making their voices heard. According to Josh Burch, a D.C. resident and president of Neighbors United for Statehood, reflected this sentiment prior to the meeting, saying
[Under Obama], the threat of the presidential veto protected us from an outright offensive on the District. A lot of people are really worried that [now] there could be open season on District laws and I think that pisses off a lot of people. People aren't just mad—they want to get out and act.
A complete repeal of D.C's aforementioned "Death with Dignity" law is unlikely; the disapproval resolution still has to go to the Senate and President within a short time frame in order to pass, and Democrats would likely stall the legislation. However, the message sent by Monday's passage of the disapproval resolution by the House is highly concerning to some D.C. residents.
According to Mayor Muriel Bowser, the vote "sent a signal to DC residents that Congress has zero respect or concern for their will or the will of their elected officials." Some of D.C.'s residents feel similarly, as evidenced by their showing at Monday evening's meeting and protest. You can be certain that they will continue to make their voices heard in order to protect their city from federal interference.