The White Nationalist Rally In Charlottesville Has Descended Into Brutal Clashes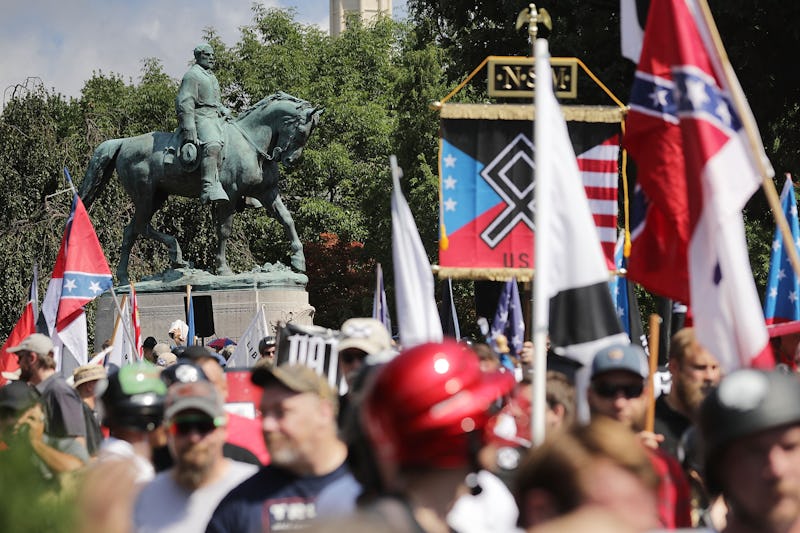 Chip Somodevilla/Getty Images News/Getty Images
If you woke up to a storm of news about the "Unite The Right" rally in Virginia, you're likely wondering what is happening in Charlottesville right now? In short, thousands of white nationalists have gathered to protest the city's decision to remove a statue of Confederate Gen. Robert E. Lee.
The rally attendees have been marching with torches and chanting "white lives matter," and "we will not be replaced with the Jews," while smaller groups of anti-racist counter-protesters have gathered in the city as resistance. While the rally officially started at noon on Saturday, there were violent clashes in the hours leading up to it, and the Virginia National Guard arrived before the rally even officially started.
While tensions erupted on Saturday morning, the Virginia Governor Terry McAuliffe declared a state of emergency "to aid state response to violence at Alt-Right rally in Charlottesville." The University of Virginia also announced they'd be canceling all of their programs and events for Saturday's duration.
"UVA is cancelling all scheduled events and programming today effective at noon. The medical center remains open," UVA wrote on Twitter.
Just a couple of hours after the rally began, a car plowed into Charlottesville counter-protesters. According to reports, the crash caused several injuries, although the details of these injuries are yet to be revealed. The Virginia State Police revealed that the accident involved three cars. "Charlottesville Police and Virginia State Police are on the scene of a three vehicle accident at Water and 4th Streets in Downtown Charlottesville," said the Charlottesville Police Department.
Bystanders revealed that a silver-colored car was speeding through the city's Downtown Mall before it hit pedestrians and barreled into two other cars.
Hours after the rally began, president Trump tweeted an indictment of the hate and violence, yet provided no clear directives against the gathering of white nationalists.
"We ALL must be united & condemn all that hate stands for. There is no place for this kind of violence in America. Lets come together as one!" wrote Trump.
The House Speaker Paul Ryan was one of the first members of the White House to speak strongly against the gathering on Twitter. "The views fueling the spectacle in Charlottesville are repugnant. Let it only serve to unite Americans against this kind of vile bigotry," wrote Ryan.
In response to the growing danger presented by the rally, Gov. McAuliffe urged his constituents to stay away from Charlotte and surrounding areas until the gathering quiets down.
"In the event that such violent or unlawful conduct occurs, I have instructed state public safety officials to act quickly and decisively in order to keep the public and themselves safe. I want to urge my fellow Virginians who may consider joining either in support or opposition to the planned rally to make alternative plans," McAuliffe's statement read.