Instagram's Newest Feature Is Going To Completely Change The Way You Watch Videos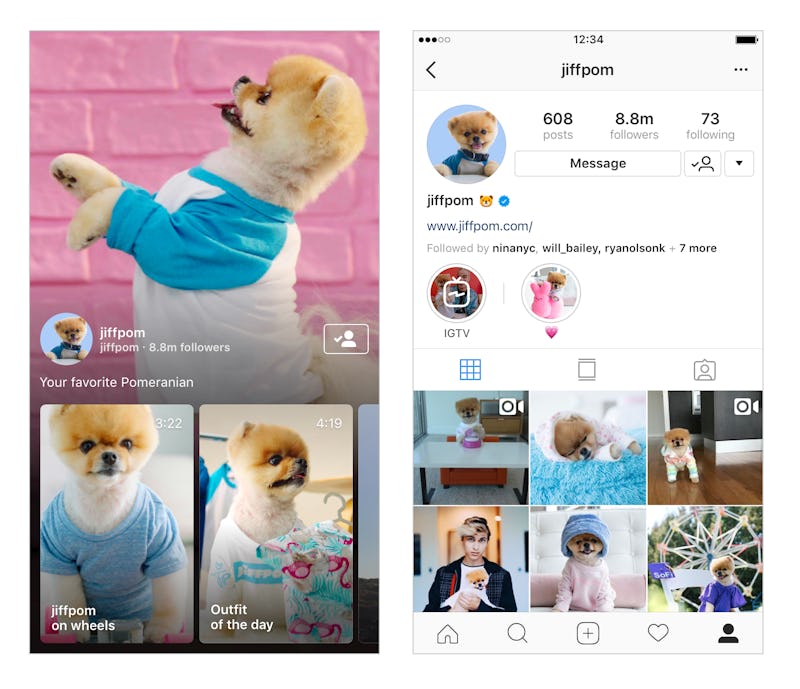 Instagram
In the nearly-eight years since Instagram launched in October 2010, the app has made a name for itself as the go-to platform for short-form content. Got a great photo (or small set of photos) that the world just has to see? Share it to your feed. How about a slightly less impressive photo or short video clip? Post it to your Instagram Story. The latest news from Instagram, however, indicates a shift toward longer-form content on the platform. So, what is IGTV on Instagram? It's the new big thing from the 'Gram, so obviously, everyone is about to freak out over it... and you need to be in the know.
In the several weeks leading up to Instagram's Jun. 20 announcement, there was speculation that the long-form video feature could be introduced sooner rather than later. On Jun 11., TechCrunch published an article that included a lot of details about the then still-to-be-confirmed IGTV feature, which stands for Instagram Television.
Instagram product manager Ashley Yuki confirmed the news at the Jun. 20 event. "IGTV is a brand new experience inside the main Instagram app, and it's also its own dedicated standalone app," she told the crowd. The latest Instagram update will allow you to start watching available content — via the existing Explore tab — and the standalone app will also be available in the coming days with more ways to interact.
Now that Instagram has confirmed IGTV's rollout and revealed that it will be a place for content creators to upload videos up to an hour long, here's what you need to know about it:
Visually, It's Nothing Fancy
Per TechCrunch, long-form videos uploaded to the app through IGTV will be full-screen and vertically-oriented. They'll be good quality.
IGTV Is More YouTube Than Netflix Or Hulu
Prior to the introduction of the long-form video feature, the maximum clip allowed on IG was 60 seconds. With IGTV, all users will be able to post videos to the IGTV feature that are as long as 60 minutes, opening up tons of opportunity for users to express themselves through via for anywhere between one minute and one hour. While the new feature will empower people to post 60 minutes worth of content, TechCrunch noted that the company likely envisions a sweet spot closer to 10 minutes, which indicates that the platform will look more like YouTube than streaming services like Netflix or Hulu.
Additionally, all of the videos will stream to users in vertical form — aka, you won't need to turn your phone to the side in order to get the video to play full-screen. This will also open the door for content creators to make Instagram-specific series with the vertical filmed format.
It's not yet clear if the videos users upload to IGTV will also live in their profile grid on Instagram, but more information will likely be available as the IGTV stand-alone app is released.
Instagram Has Web Celebrities Lined Up To Help With The Launch
According to TechCrunch, Instagram has been in talks for several weeks with Internet celebrities and social media stars about the opportunity to partner for the IGTV rollout. Because these figures are already seen as trendsetters among 'Gram users, it totally makes sense that well-known content creators would be ideal to introduce this brand-new feature to users. Bryce Xavier and Lele Pons, for example, agreed to shoot videos specifically for IGTV so that users would immediately have an idea of how to use the feature themselves. Like Instagram Stories, IGTV will have a built-in "swipe up" function for big names, so these partners will have the opportunity to send viewers to their own web sites via the videos. It also allows you to access the rest of a user's video content.