This 2006 Country Hit Is Apparently Ivanka Trump's Favorite Song & Who Knew?!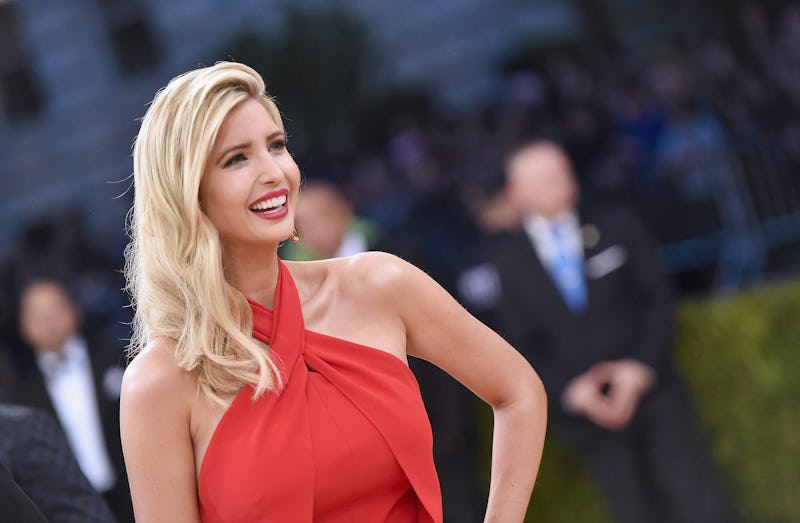 Mike Coppola/Getty Images Entertainment/Getty Images
One musician revealed that he may well have the distinction of having recorded Ivanka Trump's favorite song. At a Trump rally in Nashville on Wednesday, country singer Trace Adkins performed his 2006 hit "Ladies Love Country Boys" with a shoutout to the first daughter, but don't go thinking that country is the only genre Ivanka jams out to.
"Ladies Love Country Boys" marked the seasoned artist's return to the top of the Billboard Hot Country Songs list after a short career hiatus, and it's arguably his most popular track. The Recording Industry Association of America gave the single a "gold" certification.
The song is about women who "love country boys" despite their family's hopes that they'll "settle down with a doctor or a lawyer / and their uptown, ball gown, hand-me-down royalty." Over upbeat, twangy rock instrumentals, he sings about how parents "never understand why their princess falls / for some camouflage britches and a southern-boy-drawl."
You can train em, you can try to teach 'em right from wrong
But it's still gonna turn 'em on
And they go riding in the middle of a pickup truck
Blaring Lynyrd Skynyrd, yelling, "Turn it up!'
You can raise her up a lady but there's one thing you just can't avoid
Ladies love country boys
They love us country boys
Technically, though, we don't know whether "Ladies Love Country Boys" is Ivanka's favorite song of all time or just her favorite song by Trace Adkins: One viewer of The Apprentice tweeted that Ivanka had told the singer on the show that it "was her favorite song of his." (Adkins was a contestant on The Apprentice in 2008.)
But we actually know a fair amount about Ivanka's music taste. We know, for example, that she — in her own words — went through a "punk phase in the nineties." In her mother's memoir, she described herself as dressing entirely in flannel and ripped corduroy pants during this time, and said that Ivana wasn't happy when she dyed her hair blue one day after school.
But when Ivanka talks about punk, she may not be referring to what most artists and fans consider to be punk. She said that she was "really into Nirvana" during this time, but Nirvana is a grunge rock band. Ivanka says that the death of lead singer Kurt Cobain led to "twenty-four hours of my crying inconsolably."
Since punk rock — heralded by bands like The Clash and The Sex Pistols in the mid-1970s — made nonconformity its brand and often spouted anti-establishment messages, many scoffed at the idea of Ivanka being a fan of the genre. Her pronouncement led to much online mockery, including a satirical list of her "favorite punk songs" that included titles like "London Stalling On My Pledge to Help the LGBTQ Community" and "White Riot On Which I Won't Comment."
Regardless, her "punk" phase is all in the past. These days Ivanka makes her music taste known mostly through publicly sharing Spotify playlists that she's made, with titles like "(Very) Long Run," "Cocktails & Prep," "Work: Focus," and "awake in bed / relaxing from a distance." Judging by these lists, it seems that she enjoys listening to the hits from most mainstream genres, including pop, hip hop, jazz, and folk rock.
We also know that her wedding song was David Gray's "This Year's Love" (which she also played while delivering her daughter Arabella) and that she likes singing "Edelweiss" from The Sound of Music to Arabella.
Ivanka hasn't publicly confirmed what her favorite song is. But according to Trace Adkins, his track is one with distinction.