Apparently Steve Bannon's Ridiculous Name For Ivanka & Jared Caught On In The White House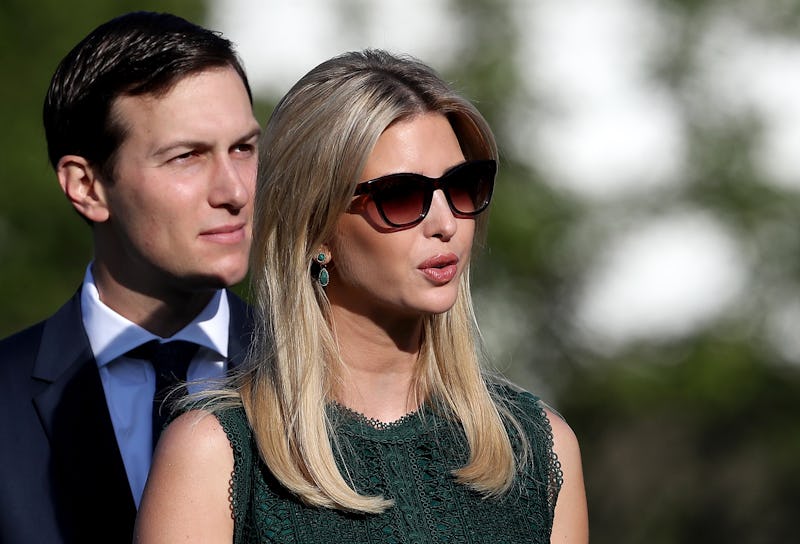 Win McNamee/Getty Images News/Getty Images
After being slammed by President Donald Trump, the release of Michael Wolff's behind-the-scenes book about the Trump presidency, Fire and Fury: Inside the Trump White House, was moved up several days to Jan. 5. Most notably, Wolff actually dedicated an entire chapter of the book to Ivanka Trump and Jared Kushner, or "Jarvanka" as coined by ousted Trump strategist Steve Bannon. And he suggests, you might not have known their White House roles as well as you thought you did.
Upon hearing about the book's various allegations, Trump's lawyers threatened to sue Michael Wolff's publisher, Henry Holt, if it did not halt the release of his book. White House Press Secretary Sarah Huckabee Sanders also made it clear that the White House believes it's full of "false and misleading accounts." Trump's lawyers released a cease and desist order to Wolff, saying the book includes false information that could be libelous.
Still, the book was published. Based on more than 200 interviews with former and current Trump confidants, Wolff claimed that he was (figuratively) able to take up a semi-permanent seat on a couch in the West Wing after the inauguration. If that's true, his new book is a true insiders' account of the Trump presidency, including all of the drama that permeates the president's inner circle.
Among many other things, the book revealed that "Jarvanka" had supposedly struck a deal in which Ivanka would be the one out of the two to run for president if such an opportunity presented itself. Wolff wrote:
Balancing risk against reward, both Jared and Ivanka decided to accept roles in the West Wing over the advice of almost everyone they knew. It was a joint decision by the couple, and, in some sense, a joint job. Between themselves, the two had made an earnest deal: if sometime in the future the opportunity arose, she'd be the one to run for president. The first woman president, Ivanka entertained, would not be Hillary Clinton; it would be Ivanka Trump. Bannon, who had coined the term "Jarvanka" that was now in ever greater use in the White House, was horrified when the couple's deal was reported to him.
Bannon was also "horrified" when he found out about the deal and said, "They didn't say that? Stop. Oh come on. They didn't actually say that? Please don't tell me that. Oh my god."
Aside from that, though, Ivanka's husband was supposedly warned to actually stay away from the White House. Kushner, Wolff revealed, was reportedly told by his brother, Josh, not to take an inside job at the White House. Wolff described Kushner and President Trump as similar due to their respective upbringings, but ultimately, he claims, they started to distance themselves. More and more, Kushner and Ivanka reportedly began shifting the blame onto the president when things went wrong.
"By July, Jared and Ivanka, who had, in less than six months, traversed from socialite couple to royal family to the most powerful people in the world, were now engaged in a desperate dance to save themselves, which mostly involved blaming Trump himself," Wolff wrote. "It was all his idea to fire Comey!"
Wolff also revealed that before Ivanka became involved in politics, she appeared as a 21-year-old in her ex-boyfriend Jamie Johnson's film. In the taping, Ivanka reportedly mocked her father's comb-over hairstyle:
She treated her father with a degree of detachment, even irony, going so far as to make fun of his comb-over to others. She often described the mechanics behind it to friends: an absolutely clean pate — a contained island after scalp-reduction surgery — surrounded by a furry circle of hair around the sides and front, from which all ends are drawn up to meet in the centre and then swept back and secured by a stiffening spray. The colour, she would point out to comical effect, was from a product called Just for Men — the longer it was left on, the darker it got. Impatience resulted in Trump's orange-blond hair color.
The bombshell expose reveals more about Ivanka's supposed ambitions for presidency, Kushner's reported reluctance to take on an inside position at the White House, and supposed inner-circle secrets from Trump's campaign. Just be warned — if you decide to read the book, the White House will probably begin to look more and more like a reality show.