'Girls' Fans Will Be Excited For Lena Dunham's New TV Series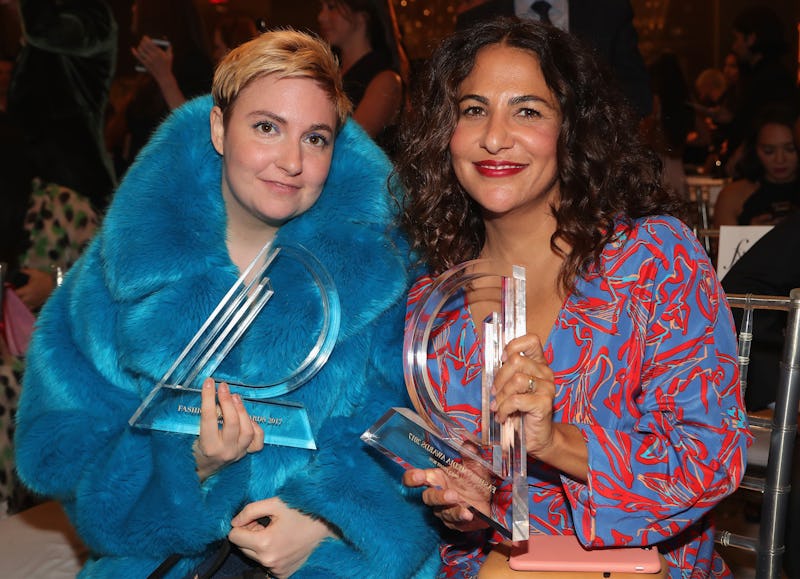 Paul Morigi/Getty Images Entertainment/Getty Images
When Girls wrapped it's sixth and final season in April, it wasn't clear what creator Lena Dunham would do next. The show rocketed the star into the national spotlight, and the cultural impact of the series was dissected from the moment the first episode premiered. Now, Lena Dunham and Jenni Konner have a new TV show in the works. While the creators haven't revealed what the series will be about, they did promise it would explore themes similar to what appeared in Girls.
According to People, the show could an HBO project the star is rumored to have worked on in the past. In 2016, Dunham had reportedly shot a pilot for Max, a feminist, 1960s set series that starred Zoe Kazan. While the star has remained pretty tight-lipped about Max, it's possible that this could be the forthcoming new show.
"We can't say anything right now except that you'll definitely see some more awkward situations and people showing their darker selves," Dunham told People. There has been no official confirmation that this is related to Max, which according to the Hollywood Reporter, was in the works with her Los Angeles based production company called A Casual Romance as early as 2016. The publication revealed that the star was also in talks with HBO to produce a series of short films by female identifying directors, which she described as "22-minute passion projects".
In the future, it's likely that Dunham will move towards directing and writing. While she wrote, directed, and starred in Girls, she has mentioned that she doesn't want to wear as many hats in the future. By the time her original series was in its final seasons, Dunham started the Lenny Letter, and opened a corresponding publishing imprint at Random House. Sour Heart by Jenny Zhang was the first collection of short stories to be published by the imprint, and it debuted to critical success.
In addition to a unnamed series, Dunham and Konner has committed to several side projects. Lena Dunham will put out a new movie on HBO, and the creative duo are going to produce a series of Lenny-inspired documentaries for the channel as well. In the past, Dunham was an executive producer for Suited, a documentary about Bindle & Keep, a tailoring outfit for people outside of the gender binary that also debuted on the network. The doc represented a step away from the camera, and in a more production-based role is where the star will likely remain.
While these projects are set in stone, it's unclear what the content of the new show will be.
When asked about Max by THR, Dunham said she wasn't at liberty to discuss the mystery project. "That's not something we can really discuss right now, but what I will say is that it was really fun to shoot something else with a really strong female lead and just continue to explore our voice and to support other writers that we really like," she told the publication in 2016. "I love directing and I love being able to have the opportunity to focus on it without the kind of schizophrenia that comes with trying to do two or three jobs at once. So I hope there's more just directing or just writing in my future because it's really refreshing for me."
While the production duo don't seem ready to spill details on the new series, or reveal if it is the historical comedy in question, they did promise that the Lenny documentaries and unnamed HBO film were separate projects. "That's different from the TV project and that's different than the movie that's airing next month," Dunham added to People, in reference to the Lenny documentaries. "So we're feeling lucky and busy."
It does seem that the next year will indeed be busy for Dunham. In addition to developing projects in the publishing, film, and television industries, she isn't quite done with acting. In early August, American Horror Story: director Ryan Murphy revealed that Dunham would join the cast for the next season. On and offscreen, Lena Dunham won't be stepping out of the spotlight.