Madewell Just Changed Its Sizing & Here's What It Means For Your Next Shopping Trip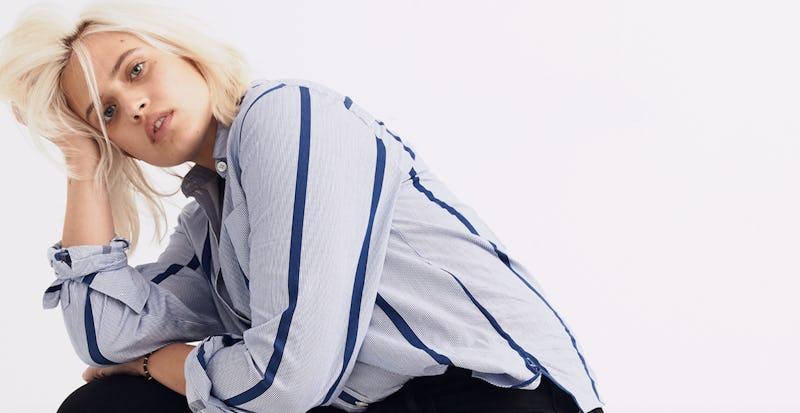 Courtesy Madewell
Forget everything you know about standard sizing, because this brand is switching things up. Madewell created a new standard for its sizing that now includes plus sizes. Almost half of the website has already gotten a size upgrade, and there's even more coming. Because inclusivity is in style, and it's not going anywhere any time soon.
Some brands add plus sized sections to its websites. But Madewell is going above and beyond to change the way people see sizing. The brand is taking styles that are already on the website and extending the sizes. That means that no matter what size you are, you'll be able to shop the styles on the website.
Starting July 31, the brand is offering denim in sizes 23 to 37 and dresses, knits, sweaters, tops, and jackets in sizes XXS to 3X. The change happened across 40 percent of the items seen currently on the website, and, according to the brand, there are plans to extend even more sizes.
"We've been working closely with third party fit experts to create our extended sizes according to industry standards in the perfect fit across all styles," the Madewell press release reads. "This is part of our larger initiative to reinvent the standard of fit to reflect the real, diverse spectrum of the American Customer."
This is inclusivity at its' best. It's not broken promises or a big Instagram campaign to get people excited. Instead, it's active change that will reshape how people shop.
According to the brand's Instagram, all of the size options are available right now in Madewell's "new arrivals" section of the website. As of July 31, all sizes are currently in stock on the items as well. On top of that, the brand will also offer the new denim sizes in-stores to try on. You will still have to buy the items online, but you'll get free shipping when you order in store.
Like mentioned above, not every single style is available in the new sizing just yet. According to the brand, 40 percent of items are currently available in the 23 to 27 and XXS to 3X sizes. Madewell does have plans to extend other styles in the future.
This isn't the first time that Madewell has made efforts to make sizing even more inclusive. The brand added extended sizing in 33 to 35 and added new styles like The Curvy Fit to the website. But it's the latest change that is really making waves in the fashion community.
There are so many brands that decide to add plus sized collections to its collection. While that move is great for giving plus sized babe more options, it is not the most inclusive. The true inclusivity comes when someone can log onto one website and shop the exact same collection — no matter what size you are.
If you're still reading this, you should probably stop. Get over to Madewell right now and get to shopping. Because there are a whole lot of styles calling your name. That's true whether you're a size two or a size 3X.
Fingers crossed that other brands follow in Madewell's footsteps. Because fashion comes in all shapes and sizes.