Meghan Just Wore A Cloak That Has The Most Heartwarming Message For Her Child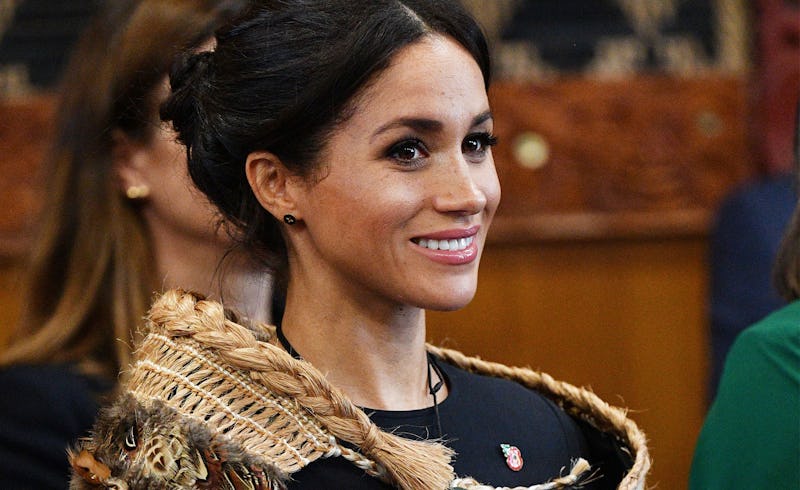 Pool/Getty Images Entertainment/Getty Images
There's no doubt that the Duchess of Sussex has been making some major fashion statements over the course of her royal tour, however on her very last day New Zealand made one for her. Meghan Markle was bestowed with a traditional honour during a Māori pōwhiri ceremony, in which children performed the Haka. What is Meghan Markle's feathered cloak? Given to only the most powerful leaders in Māori tradition, it was a seriously meaningful statement. It turns out that it's not only a symbol of her power, but was also crafted in tribute to her heritage and protect her unborn child.
The Duchess of Sussex and Prince Harry attended the Māori welcoming ceremony in Rotorua, New Zealand, where the pair were presented with Korowai cloaks. Created specifically for them by Māori tribe elders, they were distinctly different with Prince Harry's being a snowy white with black feathered tassels and Meghan's a much warmer blend of brown, golden, blue and white feathers. The creator of her cloak, Norma Sturley, told Stuff NZ that she "spent weeks on the cloak" and created it from flax from her home.
According to the New Zealand Herald, a Māori chieftainess "had a korowai to demonstrate her rangatiratanga (chiefly authority)" and that they did not take "a backseat for their gender". I bet Meghan Markle's pretty over the moon about that and it makes sense she was presented with one, as she's a staunch feminist and has dedicated much of her public work as a royal to empowering other women. I mean, just look at that feminist warrior goddess decked out in a Stella McCartney dress and korowai above.
Sturley, who is an elder in the Ngati Whakaue tribe, said, "We see the duchess as representing strong kaupapa (values) for women - she displays aroha (love), manaakitanga (nurturing & hospitality), mana (influence), dignity and strength, all signs of great leadership."
The Korowai cloak gifted to Meghan Markle was not only a gift for her, but also for her unborn child as Sturley continued, "The korowai is like a protector, to wrap a korowai around someone is to envelop them in strength, warmth and aroha (love)."
Now that Meghan Markle and Prince Harry's mini Sussex is well and truly on the way, it's a thoughtful gesture and Sturley didn't stop there.
In fact, she also made sure to honour Meghan Markle's Californian heritage in the design of the cloak and additionally brought in elements from her and Prince Harry's royal coat of arms. If you take a look at the cloak's taniko base — the colourful hem at the bottom of her cloak — Sturley wove it out of blue, gold, white and red silk threads: all colours from the Sussex Coat of Arms.
She said, "The tāniko represents the coming together of two people and cultures with each side representing their whakapapa [family and genealogy]. The Duchess' tāniko pattern features three white quills from the coat of arms representing the powers of words and communication, and the Californian sunshine is shown in the use of rays of gold."
"The blue speaks of the separation of Aotearoa and England with the Pacific Ocean, as well as the Duchess' links to the Pacific Ocean. The red symbolises royalty," she continued. She also told Stuff NZ that she had used some blue and green feathers on the body of the cloak to "represent the Pacific Ocean".
Meghan Markle's personal coat of arms, which she was presented with prior to marrying Prince Harry, was also represented as Sturley incldued a reference to the white songbird in it. Kensington Palace said at the time that it "represents the power of communication" and Sturley paid beautiful homage to it.
She told Stuff NZ, "I put the white feathers in because on the side of Meghan's coat of arms she's got two songbirds, so I needed to drop some white in there for her.""
It's a stunning gesture and honestly, all hats off to Norma Sturley for pulling it of. In fact, she revealed that she "didn't actually intend to make the korowai herself" but the organising committee couldn't find anyone else and she ended up having to enlist the help of her British husband to get it all done in time. She pulled it off marvellously though and I bet it's a present Meghan Markle will treasure forever.
Sir Toby Curtis, a spokesperson for the Māori tribes of the Te Arawa region, told Stuff NZ that Meghan Markle was "a role model for Māori". He added, "She has shown you can succeed, make a difference and be your own person while also celebrating your heritage. This inspires us all."
Meghan also wore two other gifts from the Kiwis: a pair of golden Boh Runga earrings given to her by Prime Minister Jacinda Acern and a traditional Pounamu Kouma jade necklace: a "breastplate representing strength, integrity and authority" according to its creator Kiri Nathan.
Prince Harry was also presented with a ceremonial tewhatewha, a traditional curved weapon with an axe on one end and a point on the other which was carved from a 2000 year old tōtara tree. On top of that, he also paid homage to New Zealand by delivering a speech in Te Reo (an official New Zealand language specifically from the Māori communities). He also put a huge grin on everyone's face when he referred to Meghan Markle as his "whaiaipo" — a word that means "sweetheart".
He said to the crowds, "Thank you for the beautiful cloak you have so kindly gifted to myself and the Duchess. We appreciate the skill of the weavers who made it, and the aroha [love] that has gone into its creation. This cloak is a taonga [treasure] that will be cherished in our family."
Honestly, if I was given something that beautiful and meaningful - I'd never want to take it off. The entire pōwhiri ceremony is well worth watching if you haven't and it's a gorgeous way to send off the royals, plus represent traditional Māori culture on a global platform.
It'll be good to have Meghan Markle and Prince Harry back in Blighty later today though. I've gotta say, I've missed them around.