Trump's Lawyer Has Made Some Serious Bank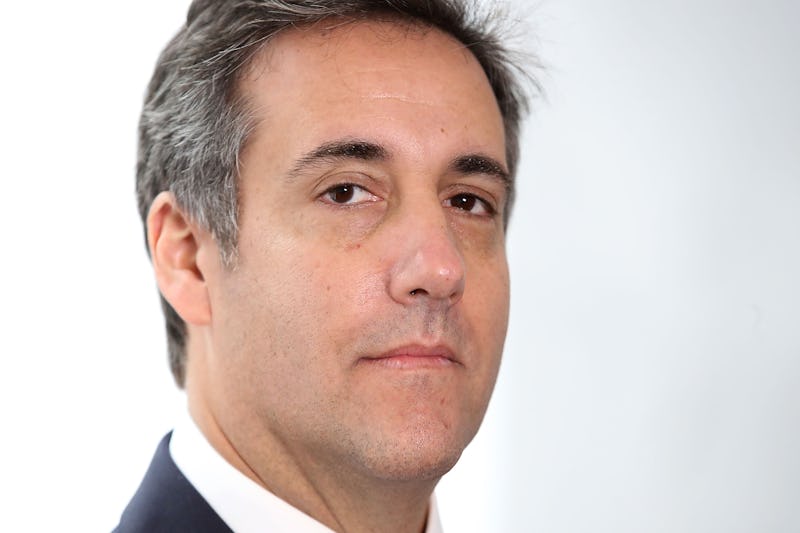 Mark Wilson/Getty Images News/Getty Images
On Monday, the New York Times reported the FBI raided Donald Trump's lawyer's office. The Times reporter Matt Apuzzo wrote that the FBI took documents related to the president's lawyer paying adult film star Stormy Daniels a whopping $130,000 reportedly as hush money to silence her from going public about an alleged affair with Trump. As more details emerge on the raid, some people might be wondering what Trump's lawyer Michael Cohen's net worth is. According to Celebrity Net Worth, the attorney's net worth goes up to $10 million.
While Cohen gained nationwide attention as Trump's personal attorney, he is also the executive vice president of the Trump Organization. Additionally, he is a co-president for Trump Entertainment. So, it wouldn't be wrong to say that the man enjoys quite a few positions with incredible power and of course, money.
But according to Heavy.com, most of the Cohen's $10 million net worth is a result of his investments in transport and real estate property. In fact, his initial ventures included investing in Trump's properties. You can call his taxi business an empire as Cohen reportedly owns 15 taxi companies in New York City.
The Big Apple is known for its cabs. Given the frequency with which people ride them, the majority of Cohen's net worth comes from his taxi-relevant dealings. Consider this for perspective: according to New York Times research in 2017, 277,000 people took taxis on an "average day in July" that year.
There's also controversy over his taxi business. According to the New York Daily News, New York state records show that Cohen and his wife, Laura Cohen, owe about $40,000 in unpaid taxes through their business. Neither Cohen nor the White House responded to requests for comments on the subject.
The remainder of Cohen's net worth can be chalked up to his real estate investments. Reportedly a big believer in betting on, owning, and selling property, Heavy.com pointed to Cohen's net worth deriving much financial strength from his property dealings. For instance, Cohen made a reported $9.25 million by selling off three rental properties. A year before that, he made $10 million selling another rental property.
Even the president praised Cohen's real estate sensibilities and strategies in 2007. While speaking with the New York Post at the time, Trump said, "Michael Cohen has a great insight into the real-estate market." He added that Cohen had "invested in my buildings because he likes to make money — and he does." This made him, in Trump's eyes, a "very smart person."
On top of a lucrative and controversial tax business and adept real estate investments, Cohen makes a good deal as a lawyer. He earns a reported $731,000 annually with a degree in law from Thomas M. Cooley Law School.
So far, the cash-strapped lawyer remains in media spotlight for controversy. He openly dislikes liberals, calling them "lib-tards," and once tweeted that he would do his "best" to "expose them." Yet there's even more. In March, adult film performer Stormy Daniels told CBS News that she had a one-time affair with Trump in 2006 (Trump denies this). Prior to that in February, Cohen said he paid the actress $130,000 out of his pocket in 2016. While observers speculated that it was hush money to Daniels silent, Cohen called it a "private transaction." At the time Trump was on the presidential trail but the attorney said that the payment had nothing to do with Trump's campaign.
In a statement to the New York Times, Cohen said, "Neither the Trump Organization nor the Trump campaign was a party to the transaction with Ms. Clifford, and neither reimbursed me for the payment, either directly or indirectly ... The payment to Ms. Clifford was lawful, and was not a campaign contribution or a campaign expenditure by anyone."