Here's What NBA Legend Michael Jordan Is Doing Now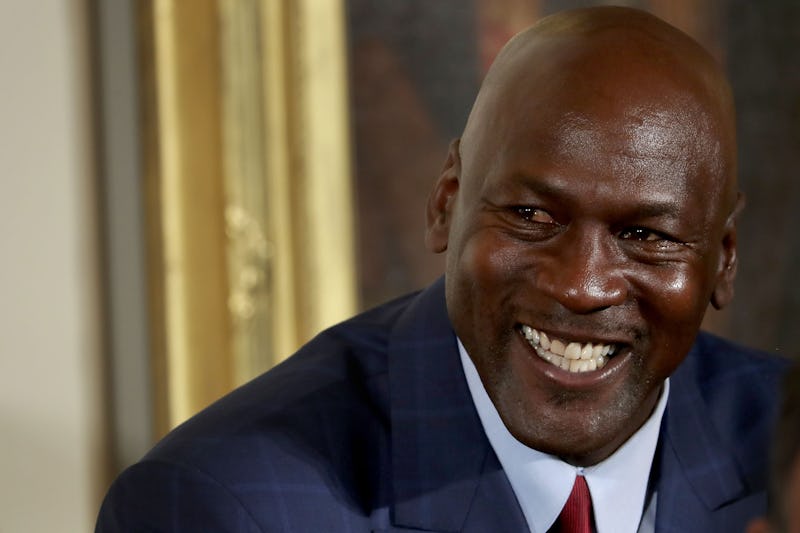 Chip Somodevilla/Getty Images News/Getty Images
Michael Jordan is perhaps best known for his epic NBA basketball career with the Chicago Bulls. Some of his many amazing accomplishments during his Bulls career including winning six NBA championships and 14 Most Valuable Player awards. However, while Jordan's past glories are still much talked-about, fewer people seem to know what Michael Jordan is doing now. So, let's dive right in.
As it turns out, Jordan (perhaps unsurprisingly) has not ventured far from the sporting world. Jordan is currently the majority owner of the NBA's Charlotte Hornets, a position he's held since 2010. Interestingly, a few years after Jordan became majority owner, he requested to change the team's name from the Bobcats to the Hornets, citing a desire to use the team's historic name — Charlotte was forced to change their name to the Bobcats in 2002 when a former owner moved the Hornets to New Orleans.
While the Hornets have had an up-and-down record under Jordan's ownership, they do have a shot at making the 2017 NBA playoffs, which begin in April. As owner, Jordan has also recently received praise for his work behind-the-scenes. According to Fox Sports, last year Jordan began emerging as an "unforeseen power in the NBA's labor negotiations"; as a member of both the NBA's Labor Relations Committee and its Competition Committee, Jordan has been a strident advocate for small-market teams and plays a unique role on these committees due to his past as a decorated NBA player.
Beyond his ownership of the Hornets, Jordan is also still heavily involved with sporting brand endorsement deals, many of which are incredibly lucrative. For example, Nike's Jordan brand, which sells basketball shoes and other apparel, is immensely successful. Jordan's deal with Nike and several other partners net him approximately $100 million per year, which is, ironically, more money than he made cumulatively during his 15 years playing for the NBA (though, of course, this does not take inflation into account). Indeed, Jordan's endorsement deals are so successful that he recently made Forbes' "World's Billionaires" list; the former Chicago Bull was included on both the 2015 and 2016 lists.
In addition to his work as a businessman, Jordan is likely enjoying time with his family. Jordan has five children — three adult children and two three-year-old twin girls with his wife, Yvette.
Overall, it seems that Michael Jordan's "retirement" from playing professional sports merely marked a transition into an equally successful and robust next stage of life. It is wonderful to see that that one of the NBA's most legendary players is doing so well for himself and continuing to serve as an inspiration to others.