Philadelphia Eagles Star Nick Foles Is A Young Millionaire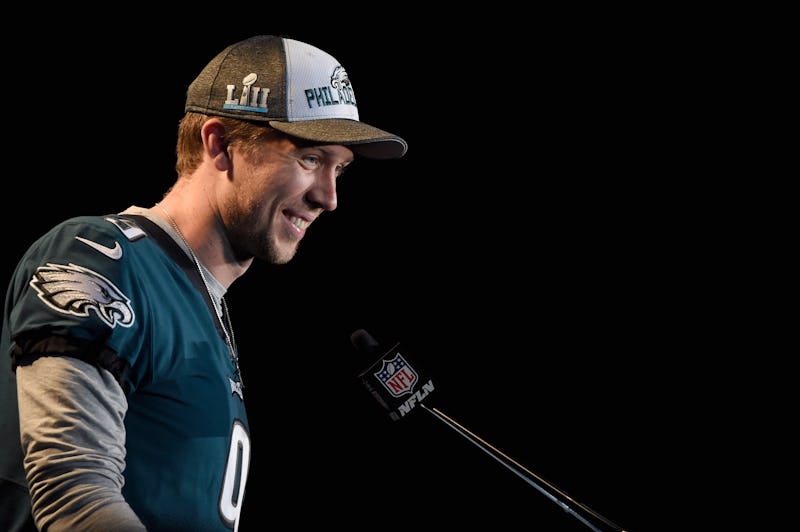 Hannah Foslien/Getty Images Sport/Getty Images
It's no secret that many professional athletes make a ton of money for what they do. Teams regularly dole out millions on their star players, and the Philadelphia Eagles are no exception. According to some estimates, Eagles quarterback Nick Foles is worth $6 million, which makes sense since he signed a five-year contract worth about $27.5 million.
The 29 year-old from Texas has only recently captured the spotlight, as he was selected as a full-time starter after quarterback Carson Wentz sustained serious injuries back in December. Since taking over, he has won four of the last five games.
According to CBS Sports, Foles's contract is not a typical, run-of-the mill NFL agreement. Signed in September 2017, the contract stipulated that the it would be voided if Foles were to remain with the Eagles by February of 2019. This means that he would be a free agent at that point, and according to reporter Kevin Skiver at CBS Sports, that there's a good possibility he would then be traded.
Of course, this is all magnified by the fact that he has suddenly found himself starting at the 2018 Super Bowl. The future of his Eagles career could possibly depend on how well he performs agains the Patriots.
But while Foles is a millionaire before hitting the age of thirty, he's far from the wealthiest NFL player. In fact, in 2018's Super Bowl, he'll be facing off of one of the highest earners in the league's history. Business Insider reported that Patriots quarterback Tom Brady has pocketed about $197.2 million in his professional football career — landing him the honor of being the third-highest earner, ever.
Falling in line just above Brady, Insider reported, are Eli Manning and Peyton Manning, respectively. Eli has accrued a whopping $219.3 million and, Peyton, who retired in 2015, stacked a cool $248.7 million. All three of the top earners are or were quarterbacks.
Quarterbacks routinely rake in lucrative contracts. The reasons why are plentiful, though any single justification doesn't necessarily operate unilaterally. For one, their decisions and actions on the field have a lot to do with how any single play plays out. While football is obviously a team sport, the quarterbacks carry a lot of strategic weight from game to game.
Additionally, quarterbacks have to work to keep track of a lot of moving parts — literally. They have to be aware of where every teammate is (as well as any member of the opposing team) at any given moment, and also must have the ability to adapt. Because of this, they capture a lot of attention, both from fans and coaches. They don't necessarily have to be the best athlete on the team to have such a great impact on a game, either.
How much any given player makes in a season can also hinge on the much sought-after Super Bowl win, too. Reportedly, both teams plan on doling out significant bonuses to players, in the event of a win and even in the event of a loss. For the winning team, each player on the team will reportedly receive a $112,000 bonus. For the losing team, all players will be paid $56,000.
These figures don't even take into account how much each player earns just for making it this far at all. CNBC reported, for example, that members on each team have already earned $79,000 a-piece for their play-off wins alone. This means that a player on a winning team could end up making a big $191,000 bonus just for getting to the official end of the season.