North Korea's "Army Of Beauties" Wants Your Eyes On Them — Not Their Country's Problems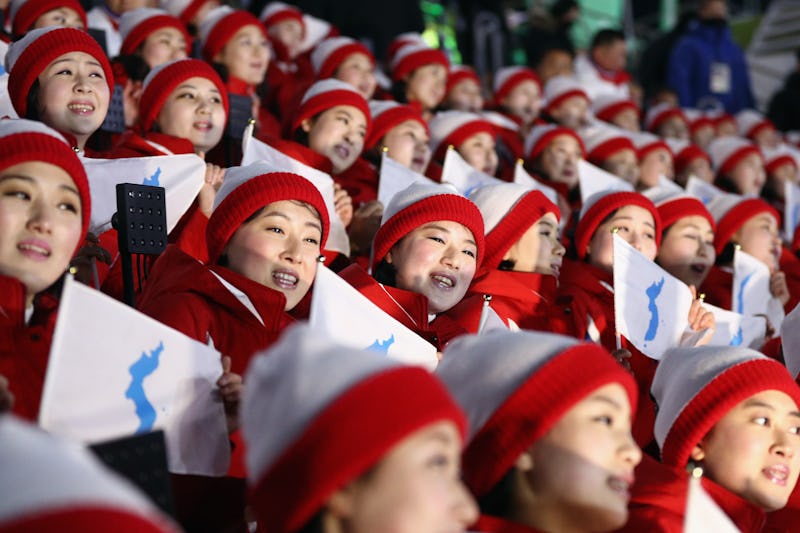 Maddie Meyer/Getty Images Entertainment/Getty Images
If you've been watching the 2018 Winter Olympics in PyeongChang, South Korea so far, you may have noticed a pretty peculiar sight in the stands. Namely, the North Korean cheerleading team, which has been belting out loud, tightly choreographed chants and dances throughout the early rounds of the games. Basically, if you're not aware of what North Korea's so-called "Army of Beauties" is all about, you should probably get familiar with it now, because it's going to be making its presence felt for the next couple of weeks
If you watched Saturday's hockey match between Switzerland and the unified Korea team, then you've probably already noticed the rows of cheerleaders, or at the very least heard them chanting during the broadcast. Dressed in matching red from head to toe, they kept up the synchronized cheering routines throughout the game, despite the fact that Korea got demolished by a final score of 8-0.
All that enthusiasm and energy in the face of a devastating blowout loss might make you wonder: what's this all about? Perhaps the simplest explanation, as a number of outlets have noted, is that the cheer squad is meant to put a friendly face on the North Korean government in front of a massive global audience.
North Korea is, after all, an intensely politically isolated and insular nation. It doesn't typically have many of its people appearing in front of millions and millions of viewers around the world, much less viewers who're primed for excitement, entertainment, and enjoyment. As such, it's easy to see how the country would want to make a big splash at the Winter Olympics by sending an attention-grabbing, flashy, upbeat cheer section, whether you'd rather call it public relations or propaganda.
But there's likely more at stake for the cheerleaders themselves than it might appear. It's important to keep in mind that the North Korean cheerleaders, like almost all citizens of their country, live under an oppressive government, and the threat that failing to meet the state's expectations can be punished swiftly and brutally. North Korea is widely known to maintain a series of clandestine prison camps, in which inmates are forced to perform hard labor, as well as starved, publicly tortured, and killed.
The risk of ending up in one of these camps, or facing some other form of harsh punishment, is a real one for North Koreans, including the more than 200 women who comprise the country's cheerleading team. Back in 2005, in fact, 21 North Korean cheerleaders were reportedly sent to the labor camps in 2005, for talking about their experiences in South Korea after returning to the north from a rare visit.
This time around, the cheerleaders are reportedly forbidden from interacting with other Olympics attendees, despite the positive and perhaps approachable vibes they're displaying throughout the games.
An Chan-il, a defector from the country who now leads the World Institute for North Korea Studies, told The Guardian that members of the team have to meet particular requirements.
"They must be over 163cm (5ft 4ins) tall and come from good families," he reportedly said. "Those who play an instrument are from a band and others are mostly students at the prestigious Kim Il-sung University."
In short, this could be seen an opportunity for North Korea to get some rare positive publicity, and for something that doesn't seem to have anything to do with it's dictatorial state, or myriad human rights abuses. But in reality, given that some cheerleaders were themselves reportedly imprisoned more than a decade ago, the team itself is actually a reminder of those harsh realities.
All that said, it's undeniably true that North Korea and South Korea are engaging on at least slightly friendlier terms than they have in recent memory, as the prospect of a unified Korean Olympic team would for many years have seemed unthinkable. But it remains to be seen whether that brings about any meaningful political change, or whether circumstances after the games are over will be right back where they were beforehand.