OJ Simpson Fans Are Still Treating Him Like A Celeb Now That He's Out Of Prison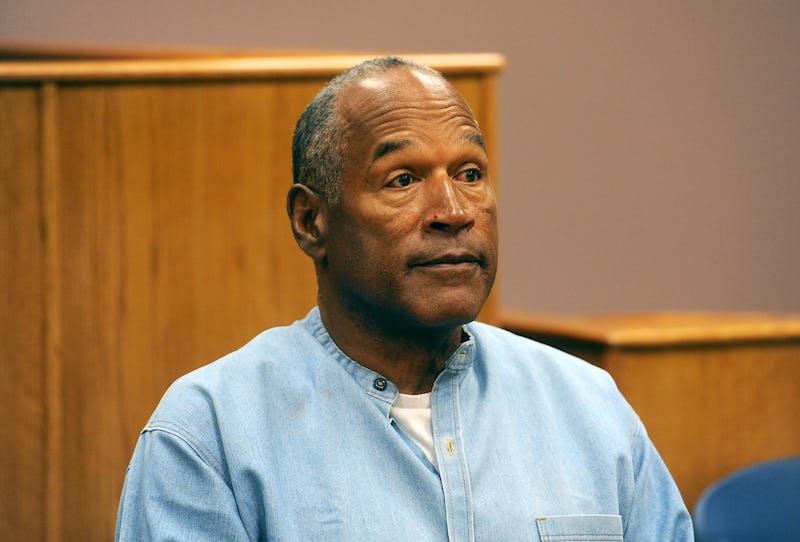 Pool/Getty Images News/Getty Images
O.J. Simpson has been out of prison for more than five months. The former football icon and convicted felon was granted parole last summer and then released on Oct. 1, 2017. Now, the public eye is focused on him again as Fox prepares to release a special, O.J. Simpson: The Lost Confession, on Sunday that features a never-before-released 2006 interview with him. Amid the buzz surrounding the special, you might find yourself wondering what Simpson is doing now that he's out from behind bars.
Simpson sat down for the interview from The Lost Confession with publishing mogul Judith Regan back in 2006. Their conversation stemmed from the publication of a book that was ghostwritten for Simpson, If I Did It, that answers the hypothetical question of how he would have murdered his ex-wife, Nicole Brown Simpson, and her friend, Ron Goldman. Simpson was acquitted of their murders in 1994, but found liable for them shortly afterward in civil court. He was eventually sentenced to prison in 2007 in a separate robbery case.
Since being released on parole, Simpson has been enjoying retirement in Las Vegas, where he lives in a friend's house in a gated community. inTouch Weekly reports that he is "keeping a low profile these days." When he's out in public, he's typically set upon by fans asking for autographs and selfies.
TMZ saw him out celebrating his daughter's birthday in the city in early December. The next month, he was seen at a Las Vegas bar watching a Buffalo Bills game. Simpson has to carefully monitor his alcohol intake when he goes out to bars, according to Vanity Fair, since the terms of his parole don't permit his blood-alcohol level to reach .08. He reportedly uses a Breathalyzer constantly, as a parole officer could check on him at any time.
Simpson's also been spotted golfing. In December, his lawyer told the Associated Press that Simpson was "very much enjoying his time here in Vegas. It's January, he gets to play golf every day."
That's about in line with how his friend Tom Scotto described Simpson's post-release plans to ABC News in September 2017. "All he wants to do is spend time with his family and friends and his kids. And play a little golf," Scotto said. "He wants to go to Florida, he wants to see his family and hug his family on the outside of prison. He wants to eat seafood; he wants to eat steak. He wants to enjoy the very simple pleasures that he hasn't enjoyed in nine years. I spoke to him. He's going to get the latest iPhone."
Simpson has not yet made the move to Florida, however, instead opting to stay in Vegas. His retirement plans are complicated by the $58 million he still owes after being found liable in the civil murder trial (it should be noted that he still collects social security and a hefty monthly pension from the National Football League).
He's apparently found other ways to make money these days, too. He's charging for autographs to help pay his legal bills, his attorney said in court papers. Sacha Baron Cohen also has reportedly paid Simpson thousands of dollars to make an appearance in his next film. The family of Ron Goldman, the man that Simpson was accused of murdering, has demanded the profits from these sales. Goldman's family has the right to seize much of Simpson's earned income, but isn't legally allowed to take his income from social security or his NFL pension.
Many people have speculated that Simpson will join the cast of a reality show. But for now, he's avoiding offers. "He's a senior citizen," his attorney told Vanity Fair. "He is enjoying his life, and he's just breathing, learning to exhale after being in jail for a decade."