Patriot Prayer Organized The San Fransisco Protest Then Disappeared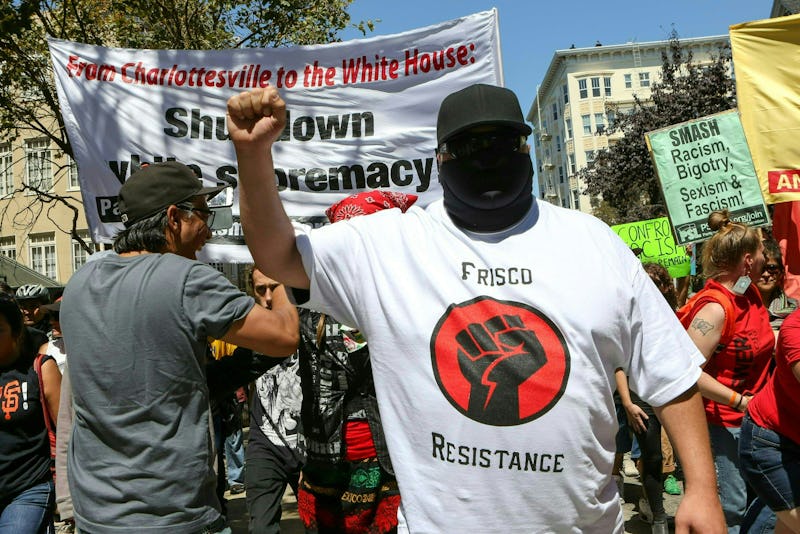 AMY OSBORNE/AFP/Getty Images
Social tensions have flared in recent weeks since the white supremacist rally in Charlottesville, Virginia. Rallies across the country have drawn thousands of counter-protesters, and a rally scheduled for Saturday in San Fransisco was projected to be so contentious that it was canceled before it even happened. The San Fransisco rally was organized by Patriot Prayer, a conservative-leaning political group group that claims to be far right, but not alt-right.
The organization was founded by Joey Gibson, a Gibson insists that his movement has nothing to do with race or white supremacy — in part because he identifies as a person of color. In a Facebook Live video from Aug. 19, Gibson said Patriot Prayer is about rooting out any environments that suppress free speech.
"This isn't a political thing, I'm not out here to tell you who to vote for. That's not what Patriot Prayer is about. Patriot Prayer is about trying to build a healthy culture, and to stand against the hate. You stand against Antifa and the communists, stand against the white supremacists, the Nazis, whoever it may be. You stand against all these people who think that they run the streets, who think that they can control people with fear. And so Patriot Prayer has always been about going into these areas, where people are too afraid to speak up."
But Gibson's insistence that Patriot Prayer has nothing to do with white supremacy has not been born out in the past. According to the Southern Poverty Law Center, one of Gibson's rallies earlier this month featured members of the white nationalist group Identity Evropa. Jeremy Christian, the man accused of stabbing two people to death on a train in Portland when they stood up to him for bullying a woman in a hijab, also attended one of Gibson's rallies.
Gibson said that he canceled the San Fransisco rally because liberal politicians and media were miscommunicating the nature of his group to the public. He insinuated that California senator Nancy Pelosi and San Fransisco mayor Ed Lee would have been responsible for inciting violence had the rally went on.
"The rhetoric from Nancy Pelosi, Mayor [Ed] Lee, the media, all these people are saying that we're white supremacists and is bringing tons of extremists," Gibson said on a Facebook Live video Friday. "We have a lot of respect for the citizens of San Francisco, and at the end of the day we want people to be safe."
Some say that by cancelling the rally, Patriot Prayer actually incited more possibilities for rioting. "If Patriot Prayer wanted to avoid violence why would they move from a location with a robust security plan to one with none," one person mused on Twitter. However, San Fransisco Examiner reporter Joe Fitz Rodriguez reported that amongst thousands of counter-protesters at Alamo Square Park where the rally was supposed to be held, Patriot Prayer was "nowhere to be seen."