Prince George's Last Name Situation Is Confusing Even For An Adult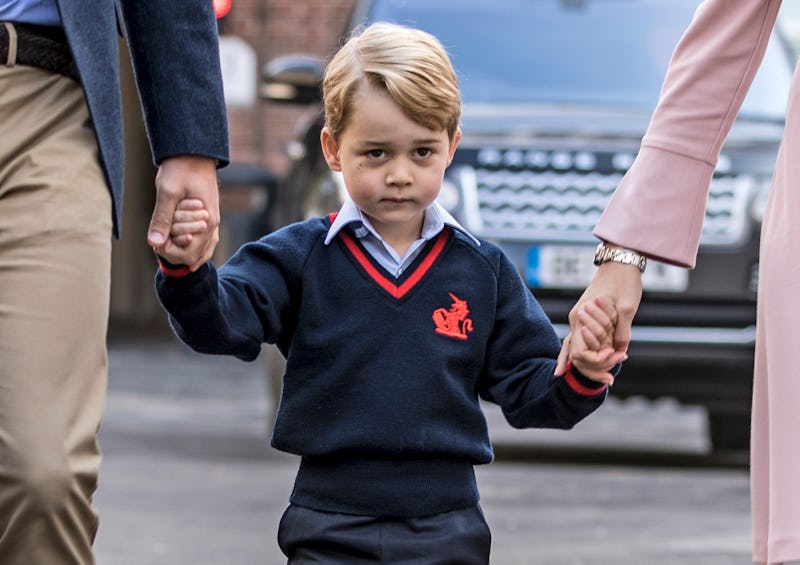 WPA Pool/Getty Images Entertainment/Getty Images
This royal baby is growing up quick. Prince George attended his first day of school at Thomas's Battersea School in London on Sept. 7, but what will Prince George's last name be while he attends school? He's going by a new moniker now.
The young prince started his first day of preschool along his father William, the Duke of Cambridge. George's mother, Kate, the Duchess of Cambridge, unfortunately could not attend due to the side effects that she's experiencing during her third pregnancy, according to the BBC.
William and Kate want to make the transition for George as smooth as possible. He may be a prince but he's still a child starting school, after all. According to People, instead of the proper "Prince George", George will be going by "George Cambridge" while he is at school.
Why George Cambridge? Since William goes by the Duke of Cambridge now, his son George (who is the Prince of Cambridge) will use the Cambridge title as his last name in school. George would majorly stand out if he used his formal styling, "His Royal Highness Prince George of Cambridge". So, he's going by the simpler George Cambridge. That still has a pretty nice ring to it.
There's a precedence for royals to style their name in this way. One would have to look no further than George's father and uncle, Prince Harry, to see this precedence. When William and Harry attended school, they didn't use their "Prince" titles either. Instead, both William and Harry used the last name "Wales" when they were in school. That is because their father, Charles, was (and is) the Prince of Wales. So, they used the name in that title, "Wales", as a last name.
Even though William and Harry went by the last name of Wales while in school, it's not technically their last name. Royalty can sure be confusing at times. William, Harry, George, and others in their family don't often use last names, but the designated one is actually Mountbatten-Windsor since that is the combination of the names of the houses of Queen Elizabeth II (Windsor) and her husband, Prince Philip (Mountbatten), as the royal family's website states. But, it was decided when William and Harry were young that they would adopt the name of their father's title when they attended school, according to People. Prince George has now followed suit in that tradition.
So, George's last name will be Cambridge as he attends school. And how exactly did the tiny Mr. Cambridge fare at his first day of school? His father later spoke out about George's exciting first day at an event. According to The Telegraph, William said that Prince George had a "good day" and further commented, "It was really nice actually. It's a nice school ... There was one other parent who had more of an issue with their children — so I was quite pleased I wasn't the one." Seems like he's grew out of those toddler antics pretty fast.
George probably didn't go into his first day of school without some royal advice, but he didn't get any from his grandfather. ITV News asked Prince Charles if he had advice for his grandson, to which he said, "Of course not, he wouldn't take it from me, at that age." Well, Charles probably would have given George some good advice, if he would have taken it. Even without his grandfather's advice, it looks like George's first day of school as George Cambridge went royally.