500,000 People May Lose Their Student Loan Forgiveness & Here's What You Need To Know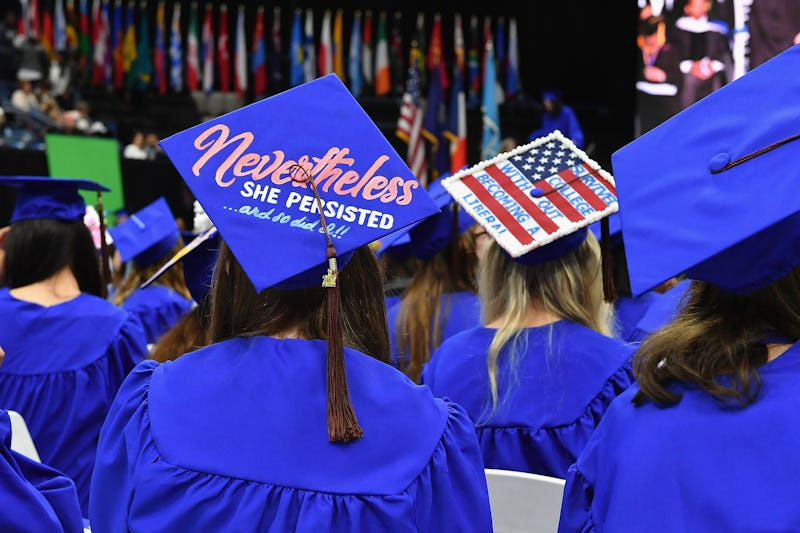 Dia Dipasupil/Getty Images Entertainment/Getty Images
Under the federal Public Service Loan Forgiveness (PSLF) program, Americans who work for qualifying government or nonprofit organizations full-time can be eligible for forgiveness on Direct Loans after 120 on-time monthly payments are made on an income-based repayment plan. However, a motion filed by the Department of Education on Wednesday may put student loan forgiveness in jeopardy. The DOE made no guarantee on public service loan forgiveness.
Some teachers, post office workers, social workers, and other public servant professions have relied on the program, established in 2007, to forgive their loans after 10 years of repayment. According to The Washington Post, at least half a million Americans rely on PSLF. Currently, FedLoan Servicing oversees the program for the DOE. But in its statement, the DOE warned borrowers not to count on FedLoan to tell them whether they qualify or not.
This decision comes about from a lawsuit in which four borrowers who are attorneys for the American Bar Association are suing the DOE for allegedly changing their employer's status on the qualifier list. They claim that FedLoan changed the eligibility requirements after they were accepted for the program and then later denied because of the changes. The DOE did not immediately return NPR's request for comment.
According to NPR, the DOE seems to be claiming that the department's initial decisions on eligibility are non-binding and that students should apply for loan forgiveness once the 120 payments have been made, when the department will decide whether they are eligible or not.
The problem is that 10 years into repayment, some people may have already taken lower-paying jobs in public service and racked up more interest during that time. Not knowing if they will actually be able to have their loans forgiven until 10 years into their careers isn't exactly helpful when deciding on a career path.
The law signed by President George W. Bush was initially created in order to provide incentive for students to work in public service, as The Washington Post reported. However, if the loan forgiveness isn't actually guaranteed until 10 years in, students could end up making employment choices that set them back and land them in more debt.
When the law was passed in 2007, Bush designated billions of dollars for the initiative. However, according to a May report from The Washington Post, the Trump administration's budget slashed education funding by 10.6 billion.
For now, students may not be able to count on the program to forgive their loans if they have to wait 10 years to apply. This could potentially change the landscape of public service work and give students less incentive to join if they are facing large amounts of debt.