Ralph Tresvant Hasn't Left The Music Industry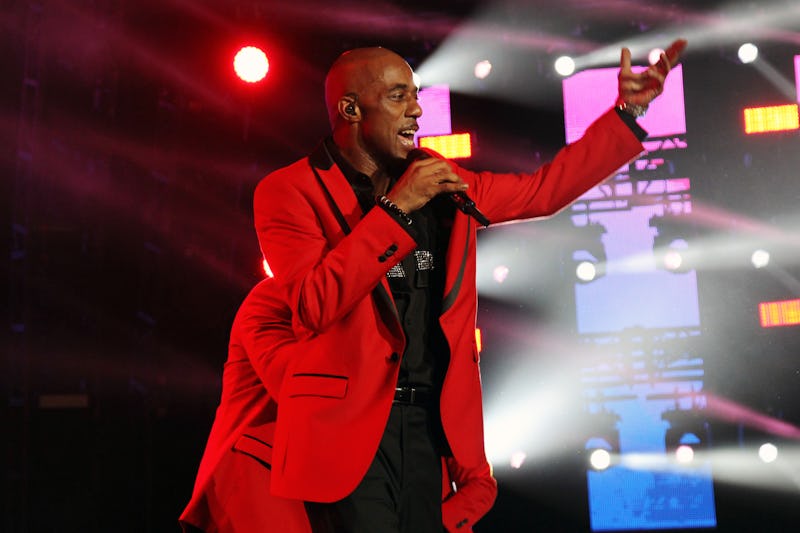 Bennett Raglin/Getty Images Entertainment/Getty Images
BET's first miniseries of 2017 is taking its fans back to the 1980s and 1990s, to the age of New Edition, the boy band that launched a half dozen crooners into the R&B stratosphere. One of the stars of The New Edition Story is Ralph Tresvant, who didn't break out as boldly with his solo career as Bobby Brown or form another supergroup like Bell Biv DeVoe, but was still a major part of what made New Edition so successful. And what Ralph Tresvant is doing today shouldn't come as a surprise — he's still singing, and he's working to canonize New Edition as one of the best boy bands of all time.
In the film, Tresvant is portrayed as Bobby Brown's closest friend in the group, and as a good-natured guy who chose to share the spotlight and the solos despite having the best voice. That portrayal gets to the heart of what does seem to be true to Tresvant even now. He's a loyal, dedicated member of the band, and still reps New Edition to this day. He's also a generous person who's dedicated time to promoting and helping others. So even without a record-breaking solo career, Tresvant is still a valued New Edition member for both his musical skills and his great personality.
He's A Radio Star
Tresvant currently hosts "Inside the Ride," a radio show in his native Boston that combines R&B, hip hop, and soul, genres that Tresvant should know very well from his many years in the industry. And according to the BASS radio station, Tresvant kicked off his debut on the station with a charity drive.
He's Embraced The BET Miniseries
Rarely a day goes by without Tresvant posting some kind of tribute to the cast that will be portraying him and his friends in the series, dating back long before he was able to promote the show or even explain what the story would be covering. He clearly embraced the cast of The New Edition Story as unofficial-official members of the New Edition family.
He... Loves Christmas
You may think all those presents under the tree are easily explained by Tresvant's family and kids, but it seems like he just loves the holiday. He was even complaining on Instagram that his kids hadn't woken up by 9:45 a.m. — those are prime parental sleeping hours!
He Impersonated Another Famous R&B Voice
In the 2014 film Get On Up, which chronicled the rise of James Brown, Tresvant reportedly played Sam Cooke. But even though he's a recognizable face, voice, and name, Tresvant didn't steal the spotlight in the small role, so you may have missed his performance in the film.
His Solo Career Has Cooled Off
Tresvant hasn't released another solo album since his 1990 self-titled release. In 2008, he formed Heads of State, a new group featuring Bobby Brown, but they, too, have released little music and haven't even toured in years.
But He's Still Singing With New Edition
After Tresvant left the group, singer Johnny Gill was found to take the place of the departed members. And while some stars might balk at singing backup to their replacement, Tresvant is a good enough sport to help propel Gill's New Edition-featuring single "This One's For Me And You" to the Billboard Charts.
Once The New Edition Story premieres on Tuesday, Tresvant is bound to find a whole new generation of fans.