This Unapologetically Feminist Brand Creates Clothing That Forces People To Talk About Equality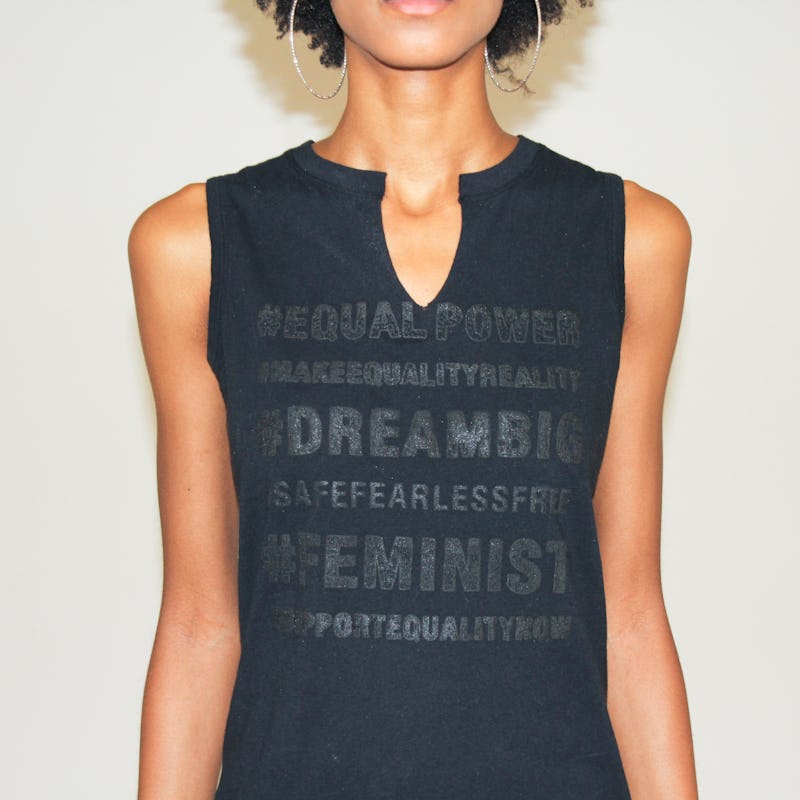 Round + Square
Getting a ton of likes on Instagram for your #OOTD is great, but creating conversation around equality with your clothing is even better. ROUND + SQUARE is the equal rights awareness brand that will make all those outfit photos a whole lot more meaningful. The brand is taking social change and making it wearable through hashtag-inspired tops and handmade pins — all while supporting equal rights charities. That's what you call getting the most bang for your buck, my friends.
It all started on a walk with a friend. After Henriette Ernst heard stories from global executive director of Equality Now. Yasmeen Hassan about cases she's worked on, the idea for ROUND + SQUARE was born.
"From that conversation, I knew that simply donating money to the organization wasn't enough," Ernst tells Bustle. "I was inspired and understood exactly what needed to be done to make a difference through fashion."
What needed to be done was a clothing line that did more than just sell clothes. The brand builds donations right into its business model and uses sustainable fashion to make a statement for equal rights. This line isn't just about looking great, it's about creating a conversation around equal rights with every outfit.
"We're about promoting equality and empowerment through beautiful, sustainable designs," Ernst says. "Even though we're heavily focused on women's rights, and we donate 30% of our sales profits to Equality Now Org., we know that equal rights are necessary for everyone. At ROUND + SQUARE, we do not take the #EqualPower and #Hope in our designs lightly."
On top of giving back, all of the clothing designs happen to be extremely wearable as well. Once you see the Girl Power tee, it will become your new summer uniform. ROUND + SQUARE also created the yellow cat tank to symbolize that the best way to fight gender equality is about love, according to the website.
Each item on the website is meant to create conversation as well. The #IWEARCAUSEICARE top opens up the conversation to be not just about a specific cause, but about how fashion can be incorporated into that message as well. The Equal Power tee features hashtags that you can use on social media to spread the conversation as far as possible.
"With each product we sell, we are supporting a legal rights organization making changes around the world. That has a much more lasting effect than simply wearing a T-shirt," says Ernst. "It's very natural for our brand to be connected to the LGBTQ movement, as we are all looking to live in a prejudice-free world where everyone enjoys the same rights."
On top of the thoughtful designs, 30 percent of the brands sales profits go to Equality Now, a non-profit organization fighting for gender equality.
A massive amount of thought goes into the creation of each and every shirt. Each design is not just about what will sell, but about how it will improve the world. There is a lot of work that goes on behind the scenes to make sure that the brand upholds the highest standards for socially conscious materials. The tees are made with 100% GOTS certified organic cotton, which means that it follows the highest ethical, labor and environmental standards.
"Over my 20 years of experience in fashion, I was fed up with the many abuses that took place in the industry. Starting from the workers producing our clothes – only the brands and factories would get rich, with complete disregard to the worker's quality of life. I could not stand by it," says Ernst.
So she took matters into her own hands. Ernst created a sustainable and partly organic brand that wants to truly make the fashion world a better place. Everything from the hangtags to the recycled packaging makes a difference to Ernst.
"Women are the ones who suffer the most in this unfair chain. How can you support equal rights and women's rights, if you're not thinking about those making your clothes? Which is why it's important for me to put people first at all times."
Forget everything you know about fashion that fights back, because this is the new standard. You'll never look at an #OOTD the same way again.