Why Trump's July 4 Event Is Being Ridiculed Across The Internet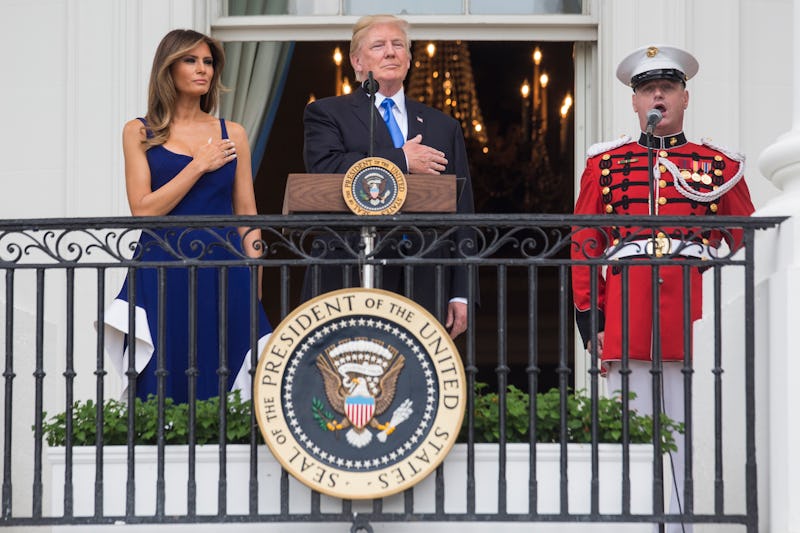 Zach Gibson/Getty Images News/Getty Images
The typical Fourth of July celebration in honor of the country's independence must not be cutting it anymore — at least for the guy sitting in the Oval Office. On Twitter Sunday, President Donald Trump announced "Salute to America," telling the country to "hold the date" for what he billed as "one of the biggest gatherings in the history" of the nation's capital. Twitter guffawed and ridiculed the event, pointing out that Trump's plans sound a lot like a typical Fourth of July celebration.
"HOLD THE DATE!" Trump tweeted. "We will be having one of the biggest gatherings in the history of Washington, D.C., on July 4th. It will be called 'A Salute To America' and will be held at the Lincoln Memorial. Major fireworks display, entertainment and an address by your favorite President, me!"
"Deluded DC area man believes he invented 4th of July celebration," Brian Klaas responded on Twitter to the president's post.
And Ryan Hill wrote back, "Bruh! You do realize the 4th of July was already kind of a thing before you."
"Has Trump declared a national emergency to get funding for his Fourth of July parade yet?" asked Sarah Cooper on Twitter.
Last year, fireworks were also held on the National Mall — though the viewing area was closer to the Washington Monument. Trump also made an address, though it was from the White House South Lawn.
Then Twitter started in on jokes making the same kind of announcement — but for other holidays. "HOLD THE DATE!" joked Charlotte Clymer. "We will be having a nationwide holiday on December 25th courtesy of me. It will be called "A Christmas to Remember" and folks will be encouraged to put trees in their living room and exchange gifts. Federal government will be shutdown that day! You are welcome!"
Ana Navarro went for the next holiday. "HOLD THE DATE!" she wrote. "We be having one of the biggest gatherings in the history of humankind on December 31st. It will be called, "New Year's Eve", and will be held all over the world. @andersoncooper and @Andy will provide entertainment and address how very cold they feel!"
Christina Reynolds, VP of comms at Emily's List, made the joke but with a political slant. "HOLD THE DATE!" she wrote. "On November 3, 2020, we will be holding one of the biggest displays ever of patriotism and standing up for the rights and futures of all Americans when we vote Trump and his Republican allies out. Major displays of a blue wave and progressive values."
Not everyone was joking, though. Katie Rogers, a New York Times White House correspondent, wrote that by "co-opting" July Fourth, the "president again pushes the idea that love of country can only mean love of Trump."
Christina Wilkie, who covers the White House for CNBC, also criticized the move, saying Trump is "elbowing out" the PBS concert and fireworks celebration of years past "in order to turn it into a Trump campaign event." She predicted it will happen more. "For Trump, the entire US government is a theatrical set for his campaign," she wrote.
How Trump's new event will work with existing D.C. traditions is anyone's guess, but rest assured that there will be fireworks this July Fourth.