Forget Dry January, 'Scroll Free September' Is Here & The Reasoning Is Legit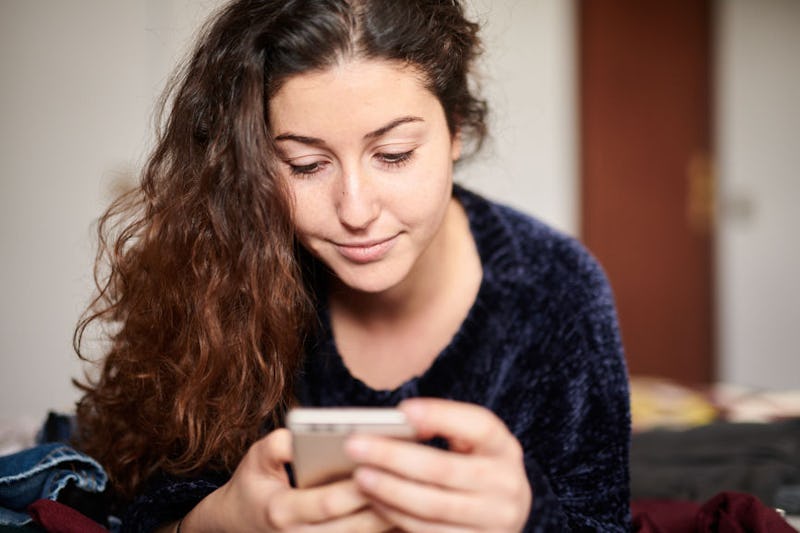 Guille Faingold/Stocksy
Ever given up alcohol for Dry January? Did Stoptober help you quit smoking? Well, this September marks the start of a new public health challenge: Scroll Free September. And what is Scroll Free September? The campaign, launched by the Royal Society of Public Health (RSPH), encourages people to quit social media — or at least significantly cut down usage — for the entire month of September. According to Shirley Cramer, chief executive of RSPH, the challenge presents the "opportunity to take back control of our relationship with social media". Interested? Let's take a closer look at the campaign.
RSPH describes Scroll Free September as "the world's first large-scale social media-free month"; the campaign encourages participants to "stop or cut down use of all personal (not work) social media accounts on platforms such as Facebook, Instagram, Twitter and Snapchat for the month." It comes at a time of growing concern about the impact of social media on our mental wellbeing, with some studies suggesting that popular platforms could compound anxiety, depression, low self-esteem, and other mental health issues. In 2017, RSPH's "#StatusOfMind" report concluded, "Social media use is linked with increased rates of anxiety, depression and poor sleep" in young people.
Chief Executive Shirley Cramer suggests the study will allow participants to reassess their social media use, saying, "The aim is that by the end of the month, we will be able to reflect back on what we missed, what we didn't, and what we got to enjoy instead of scrolling through our newsfeeds. That knowledge could help us build a healthier, more balanced relationship with social media in the future."
So is Scroll Free September likely to be a success? According to polling carried out by RSPH, the British public is enthusiastic: 65% would consider taking part. The survey also concluded, "A third of social media users and half of young users (18-34) expect quitting for a month to have a positive effect on their sleep (33% and 50%), real world relationships (33% and 50%), and overall mental health and wellbeing (31% and 47%)."
And studies unaffiliated with RSPH have also highlighted the potential deleterious impacts of social media. As Time reported, a 2017 study by researchers at Connecticut Children's Medical Center suggested that social media use could exacerbate anxiety; study co-author Anna Vannucci said the more time young people spent on social media, "the greater the association with anxiety symptoms and the greater likelihood of an anxiety disorder." A study published the same year in the American Journal of Epidemiology concluded that "the use of Facebook was negatively associated with well-being", using self-reported metrics including mental health, physical health, and life satisfaction.
The Guardian reported on a 2015 Pew Research Center study which suggested that social media could actually be an outlet for stress, particularly for women; it did, however, make users "more aware of stressful events in others' lives", which caused them to feel more stress themselves.
So there's plenty of studies that seem to support Scroll Free September's mission — but could there be any downsides to cutting out social media for a month? Guardian columnist Dr Frances Ryan pointed out that for some, social media is a vital means of communication. "Social media is a lifeline for disabled people and other marginalised groups," she tweeted, adding, "#ScrollFreeSeptember is a privileged response by people who can enjoy offline experiences and socialising whenever they want."
And speaking more generally on the topic, Dr Pamela Rutledge, director of the Media Psychologist Research Center, told Cosmopolitan that social media "allows you to stay connected to friends and family — this is important to your mental and physical health." In short, Scroll Free September shouldn't be assumed to be a helpful or positive undertaking for everyone, particularly those who depend on social media for social experiences they're unable to access offline.
But if you think a social media-less month could be beneficial for you? RSPH lists some helpful tips to ensure you don't succumb to Instagram after 36 hours. Deleting social media apps from your phone is an obvious one; other suggestions taking up a new hobby to fill the time previously spent online, or participating in the challenge as a group. Just try not to hashtag your progress, OK?