Starbucks' New Everything Croissant Is Like An Everything Bagel, But Better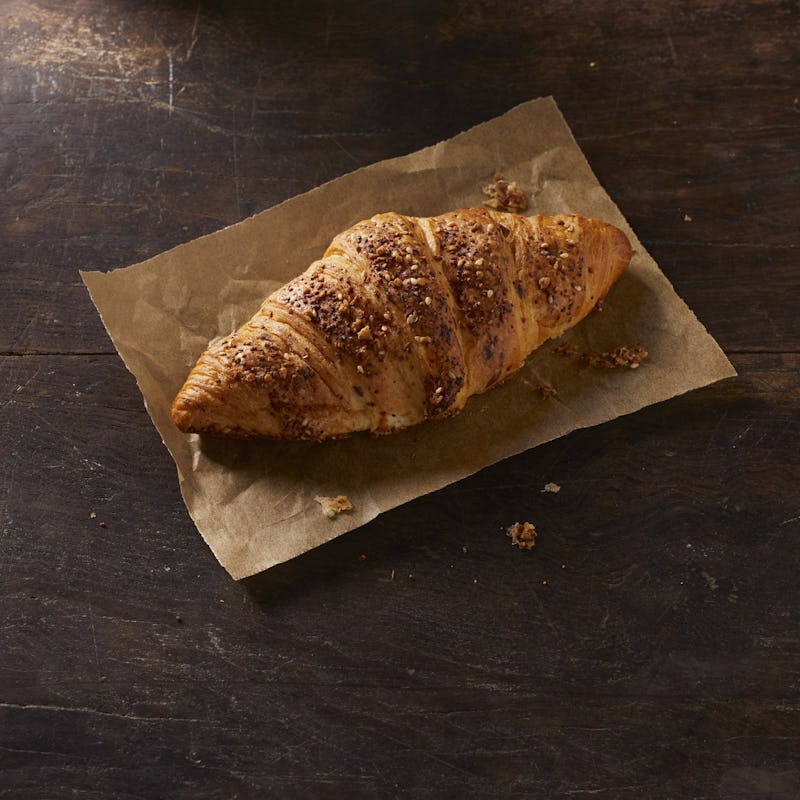 Starbucks
In the world of culinary fusion food items, there are a handful of fails, sure. But, more often than not, there is a winners circle of triumphant successes. It's hard to see failure in a coupling of a pastry and a bagel, for instance — and, in an exciting turn of events, Starbucks put this mashup to the test. If you're wondering what Starbucks' Everything Croissant is, think of it first and foremost as your next breakfast obsession. And maybe even the reason to head to your local Starbucks right now.
I am typically a purist when it comes to my baked goods. Croissants stay croissants and bagels remain bagels. While the revered "cronut" is tempting with it's flakey layers set in the round and buried under a glaze, I would personally still opt for your run of the mill donut. However. A cross between a bagel and a croissant will — and not just any bagel, an everything bagel — have my breakfast order maybe forever changed.
The pastry case at Starbucks is always lit. As in it's full of scrumptious treats I've been attached to since I was a kid (shout out to the Marble Loaf). And, those treats are available throughout the day as per your Starbucks business hours. The Everything Croissant is the latest addition to the case joining a stable and merry crew of breakfast sandwiches, Butter Croissants, Chocolate Croissants, Almond Croissants and Ham and Cheese Croissants.
Let's take moment to dissect each items strengths, shall we? The bagel, the glorious disc of dough, is a dense carbohydrate perfect for toasting and slathering with a smear or butter. It can be seeded, if you're into that. And when it is covered in ~all the seeds~ it provides a more textured bite bursting with saltiness and nuttiness courtesy of the seeds. All things combined, every bite is a good one. On the other hand, croissants a crescent shaped wonders packing serious layers. You can practically unravel a really good one. And they flake, like the first snow dusting of winter, into your lap which you can later swoop into piles and enjoy for post-croissant snacking. Alone, they are strong case offers. Together? A force.
PopSugar reports that Starbucks' new menu item is, "a classic buttery croissant that's been upgraded with three cheeses (asiago, fontina, and gruyere) and all the seasonings you'd find on an everything bagel (sesame seeds, poppy seeds, onion, and sea salt)." The three cheeses are baked into the croissant to ooze out that cheesy flavor that pairs so well with seeds. Like the classic order of cream cheese on a toasted everything bagel. It's harmonic. The melody of flavors transfers to the Everything Croissant where cheese, seeds, and buttery layers unite. The newest croissant creations are available at Starbucks nationwide.
If you don't exactly consider yourself a coffee lover, the new addition of the Everything Croissant to the pastry case gives just about anyone a reason to zoom over to their nearest store. Take it home to toast and smear in cream cheese or simply enjoy it for what it is kindly warmed up. It's the perfect pastry for a chilly winter day and can be made complete with an espresso beverage or with a selection of teas.
The gift giving season may be over but thankfully Starbucks doesn't abide by a regular gift giving calendar. Starbucks fans have been blessed to be the recipients of constant new menu additions in the past few months, making all our visits to the coffee house anything but monotonous. This Everything Croissant addition adds to the excitement of Starbucks ever changing and always intriguing menu offerings. I, for one, will be visiting Starbucks in the very near future.