This New Bright Pink Starbucks Drink Is Perfect For Your Summer Instagrams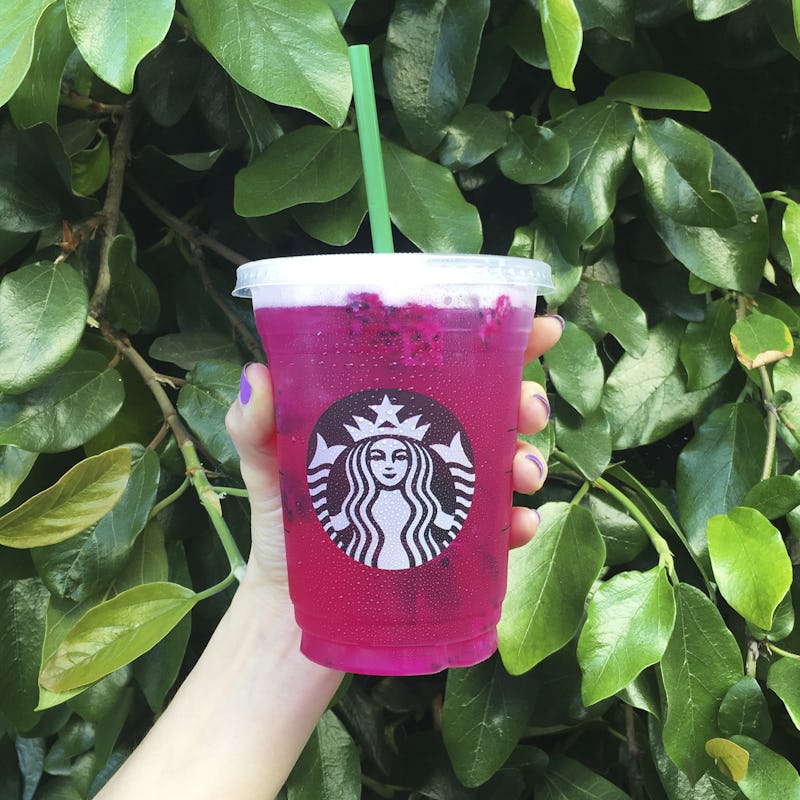 Starbucks
With a much of the country experiencing a brutal heatwave, a cold drink can go a long way toward quenching that insatiable summer thirst. Enter Starbucks' Mango Dragonfruit Refresher, which is made by hand-shaking pieces of real red-fleshed dragon fruit. The best part? It's being added to Starbucks' permanent menu is the U.S. and Canada beginning June 19. The magenta thirst quencher, which Starbucks is calling the quintessential summer beverage, is free of artificial colors and sweeteners, and tastes as good as it looks. So, what exactly is Starbucks' Mango Dragonfruit Refresher?
The deep pink hue means you definitely doing to want to snap a picture of this Instagram-worthy drink before you start sippin'. "People love both the flavor and the color," Alicia Binion, a member of the Starbucks research and development team and creator of the beverage, revealed of the drink, according to the brand. "It's bright and vivid, something you would want to take a picture of to share with friends."
Pitaya, commonly known as dragon fruit, is from the cactus family and "is one of nature's most unique plants, with a flower like an explosion of flame and a fruit like a pink rosebud," Dr. Joseph Mercola noted on his blog. It's also really good for you, making it an ideal way to replenish your body's vitamin supply during those dehydrating summer swelters.
"A phytochemical called captin is present in dragon fruit too. It is typically used in medicines that may help alleviate heart problems," Dr. Mercola explained. "Other known benefits of dragon fruit include boosting the immune system, promoting quicker recovery from wounds and bruises, and reducing the risk for respiratory problems."
You can also change up your Starbucks' Mango Dragonfruit Refresher by ordering the Dragon Drink, which is made with coconut milk instead of water. Move over mythical unicorns, because summer 2018 is all about magenta dragons.
Starbucks' Mango Dragonfruit Refresher isn't the only pink drink you can enjoy this summer. If dragon fruit isn't your jam, consider ordering other Instagram-worthy beverages like the Strawberry Acai Starbucks Refresher, the Very Berry Hibiscus Starbucks Refresher, the Pink Drink, or the Violet Drink.
If you need a little incentive to snap your summer sip, sharing your favorite Starbucks afternoon beverage on Instagram with the hashtag #AfternoonMade means you could be featured in one of Starbucks' Instagram Stories. Every Friday through July 13, Starbucks will select tagged photos to showcase in their Instagram Stories, which could get you one step closer to achieving your 15 minutes of social-media fame.
Aside from the opportunity to become Instagram famous, if you're running on empty this week, the Starbucks' Mango Dragonfruit Refresher will fix you right up. Because, dragon fruit is actually sort of magical.
"Dragon fruit is low in calories, yet offers numerous nutrients, including vitamin C, B vitamins, phosphorus, protein, calcium, captin and antioxidants," Dr. Mercola revealed. "It has been proven to help lower blood pressure levels, strengthen bones and teeth, promote healthy blood and tissue formation, strengthen the immune system, heal bruises and wounds faster, and inhibit health problems in your respiratory system."
Drinking your dragon is an easy — not to mention delicious — way to ward off a summer sickness. In fact, you should probably get one every day because you're likely going to feel even more run down when you lose sleep from the summer solstice.
Longer days and shorter nights means you're probably going to get less shut eye, and the Starbucks' Mango Dragonfruit Refresher can help right your ship by giving you an extra boost of vitamins. As Dr. Mercola noted: "This may become your new favorite fruit, and you don't even have to slay a dragon."