People Are Threatening To Dump Amazon If It Doesn't Cut Ties With This Group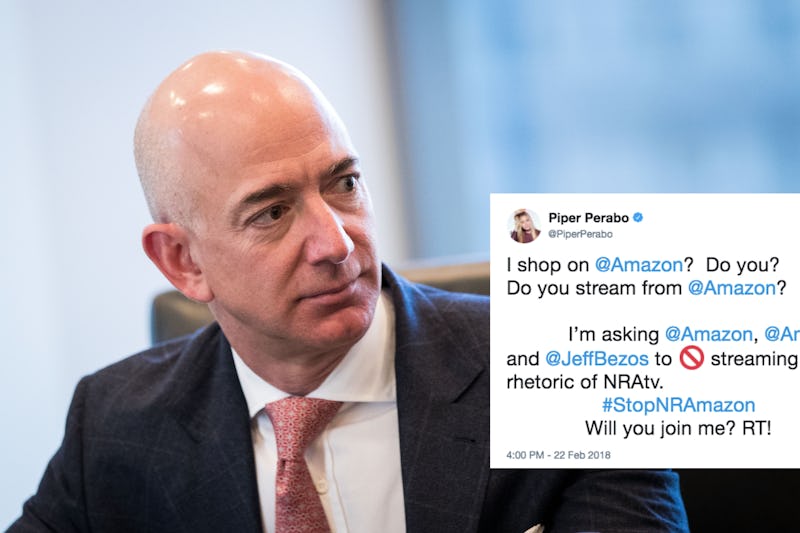 If you were out and about on Twitter Thursday, there's a pretty good chance you spotted a new hashtag: #StopNRAmazon. One week after the Parkland massacre, and one day after CNN's town hall on gun violence, featured NRA spokesperson Dana Loesch, #StopNRAmazon has swept progressive and left-wing Twitter. The hashtag calls for a boycott against the massive online retailer.
But wait, you might be asking, why boycott Amazon? What does it have to do with the National Rifle Association? The answer is that the NRA has an online channel, called NRAtv, which streams on a number of video services, including Amazon Fire TV. As a result, advocates for new gun reform laws are attempting a social media-fueled boycott against the company, urging it to acquiesce and stop broadcasting the NRA's programming.
It's worth noting that NRAtv is also streamed through Chromecast, Roku, and Apple TV, but for whatever reason, this initial campaign is focusing on Amazon. The hashtag comes slightly more than one week after the deadly school shooting at Marjory Stoneman Douglas High School in Parkland, Florida, and a day after a high-profile town hall hosted by CNN showed some of the shooting's survivors going toe to toe with Republican Senator Marco Rubio and NRA national spokesperson Dana Loesch.
Many of the tweets on the #StopNRAmazon hashtag specifically call out and tag Jeff Bezos, the CEO of the mega-retailer. Bezos, 54, is also the owner of The Washington Post, and has provided venture capital funding to myriad tech startups, including Airbnb and Uber.
In simple terms, the hashtag is an effort to pressure Amazon into dropping NRAtv from its Amazon Fire TV streaming service, the first step in what might be a broader boycott effort against the NRA's online presence. As The New York Times detailed this week, NRAtv is perhaps the most strident, undiluted outlet for the views of the hardline pro-gun organization, which typically come under intense scrutiny in the aftermath of mass shootings.
Usually, the NRA tends to keep a pretty low profile immediately following mass acts of murder committed with guns. As a particularly vivid example, the NRA's official Twitter account fell conspicuously silent from Feb. 14, the same day as the Parkland shooting, through Feb. 20, six days later.
It remains to be seen whether the boycott efforts against Amazon will bear any fruit. Yet, regardless of how successful it is or how many people amplify the hashtag on Twitter, it's unlikely to have a major impact on NRAtv's availability. That's because, although Amazon does offer NRAtv through its Amazon Fire TV streaming service, it's also available through many other streaming devices, as well as open to in-browser viewing, and has its own YouTube channel.
Basically, it would take successful boycotts and public pressure against a phalanx of companies to significantly reduce NRAtv's availability, and even if it were barred by all of the aforementioned companies, it'd still be able to stream from its own website. That clearly doesn't mean that activists, advocates, and social media commentators aren't going to try, however. To the contrary, in just one week since the shooting, many of them have been engaging in pretty tireless activism.
Nor are the survivors of the Stoneman Douglas shooting going anywhere, from the looks of things. Friday night's CNN town hall was a high-profile and dramatic show of their influence and impassioned activism, and there's already a major political march planned for next month. On March 24, the March for Our Lives will be taking place in Washington, D.C. while parallel marches are anticipated in cities throughout the country.