A Neo-Nazi Website Is Holding A Conference During A Jewish High Holiday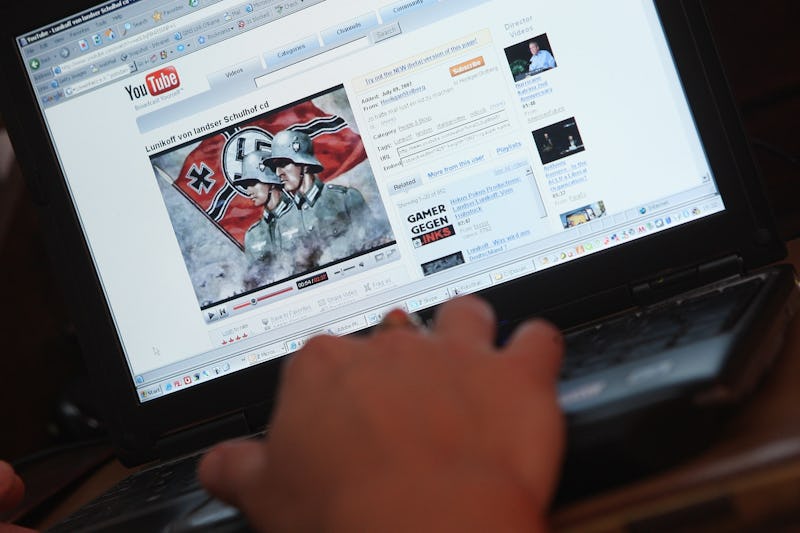 Sean Gallup/Getty Images News/Getty Images
The largest white supremacist forum on the internet was shut down in August, but its fans aren't calling it quits just yet: Former members of the defunct neo-Nazi website Stormfront are having a conference on Saturday in Tennessee, according to the Knoxville News-Sentinel. It will be held in an undisclosed location in the Great Smokey Mountains during the Jewish high holiday of Yom Kippur.
Until it was shut down in August, Stormfront was the oldest white supremacist website and one of the largest neo-Nazi forums on the internet. According to a report from the Southern Poverty Law Center, registered members of the Stormfront forums were allegedly responsible for nearly 100 murders between 2009 and 2014.
To be clear, this isn't an example of the word "neo-Nazi" being casually used to refer to a generic far-right movement. Stormfront's founder, Don Black, is a was a member of the American Nazi Party, and he, along with the thousands of posters on the Stormfront forums, regularly expressed racist beliefs against non-whites.
Discussion threads with titles like "What do you want done with the Jews?," "The Islamic Disease," "Blacks fail again without whites," and "Crypto Jew tells Catholics to pray with Muslims" populated the discussion boards when Stormfront was active. The website published the works of Adolf Hitler and other literal Nazis, and featured racial slurs, swastikas, and other Nazi imagery for most of its existence. Wary of the hazards of openly associating with the Germany Nazi Party, however, Black banned swastikas, as well as use of the N-word, from the site in 2008.
Black himself was active in white supremacist politics long before founding Stormfront. He was a member of the National Socialist White People's Party, formerly the American Nazi Party, in the early 1970s, and joined the Knights of the Ku Klux Klan in 1975, just one year after Holocaust denier David Duke founded the offshoot group.
Black and several fellow neo-Nazis were imprisoned in 1981 for participating in "Operation Red Dog," an attempt — and this isn't a joke — to overthrow the government of Dominica, an island in the Caribbean. While in prison, he learned computer coding and went on to found Stormfront as a dial-up bulletin board in 1990.
At its peak, Stormfront had 300,000 registered users, although to be sure, only a small slice of them were active. However, all of that came to an end in in late August, when the site was yanked offline by its host after the Lawyer's Committee for Civil Rights Under Law filed a complaint that it was promoting hate speech.
Black said on his radio show that the host, Network Solutions, would be keeping the Stormfront.org domain, thus preventing him from reviving it on a different server. "They decided that Stormfront was politically incorrect and therefore they could close it down," Black said at the time.
Nevertheless, the community of white supremacists that Stormfront created hasn't disappeared. The (former) website's Tennessee conference was announced back in July, with one of the organizers promising in a blog post that "no Jews, race mixers, or homosexuals will be present at this event."
Speakers will include self-identified "biological racist" Billy Roper, who once said that "anyone who is willing to drive a plane into a building to kill jews [sic] is alright [sic] by me," as well as Matthew Heimbach, who was featured in the VICE documentary about the Charlottesville protests and said in 2013 that supporters of interracial marriage "should be sent to re-education centers."
The former Stormfront members are holding their conference throughout the weekend of Sept. 29 during Yom Kippur, a Jewish high holiday. Its location isn't being disclosed by organizers.