What You Need To Know About The iPhone X's Super (Duper) Retina Display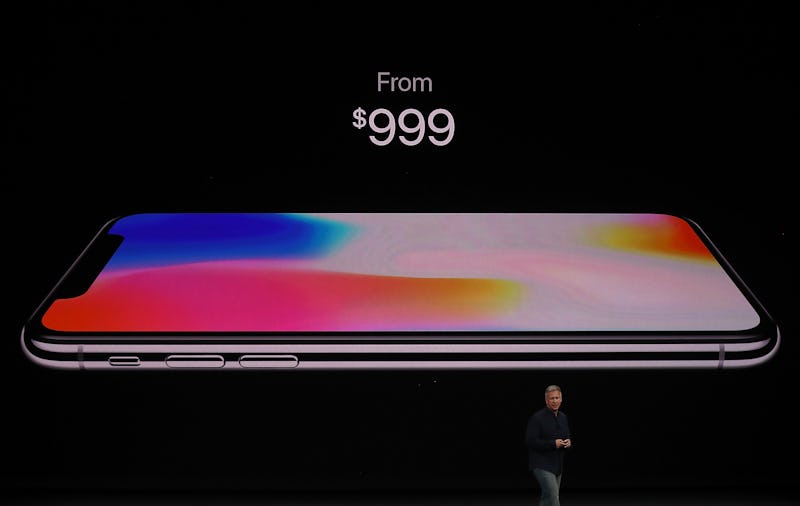 Justin Sullivan/Getty Images News/Getty Images
The iPhone display has had the same resolution since as far back as the iPhone 6 with 1334-by-750-pixel resolution at 326 ppi. There have been modest improvements but the display has essentially been the same for several product cycles. That all changed Tuesday when Apple announced the iPhone X's Super Retina display, a big step forward for the smartphone.
The new display's resolution is 2436-by-1125-pixel resolution at 458 ppi — a huge improvement. That means that the contrast ratio goes up from 1400:1 to an insane 1,000,000:1. The way this is possible is that the technology used in the display is different. Until now Apple has been using 4.7-inch widescreen LCD panels on it's flagship phones (the Plus models have been bigger). But with the iPhone X, Apple has shifted to an OLED display panel. As Apple put it:
The first OLED screen that rises to the standards of iPhone, with accurate, stunning colors, true blacks, high brightness, and a 1,000,000 to 1 contrast ratio.
OLED stands for organic light-emitting diode. That's actually a big step ahead of LCD, or liquid crystal display, technologically. LCD works by shining a constant light from behind, then pixels close over it to make color or black. With OLED there's no blacklight. Each pixel has its own light source, so it only turns on when it's needed — much more efficient and hence saving power.
But it has been a tricky technology for Apple to start using. If you notice in the official description, this is the "first" one that is good enough to put in the iPhone. That's because in the past there have been downsides. Phil Schiller, senior vice president of worldwide marketing at Apple, explained why during the Keynote presentation on the iPhone X Tuesday.
He repeated it's the first OLED "great enough" to be in an iPhone, and then he explained that the traditional benefits of OLED were matched by some drawbacks. The displays are thin because there's no backlight, have great contrast, and high resolution.
But they're also traditionally less bright, don't have accurate colors, and definitely don't meet the true-to-real-life colors that Apple has perfected in past models. But this OLED is different. "The Super Retina display overcomes all these deficiencies and lives up to all we've come to expect from an iPhone display" Schiller explains. "The level of quality and responsive and efficiency is really quite a breakthrough in mobile displays."
Also, notably, this screen is just plain larger than the old iPhone 6, 7, and 8 screens. It's 5.8 inches measured diagonally, as opposed to 4.7. Of course the divot for the speaker and front-facing camera take away some of the total available screen space.
Schiller says that the point of the new screen is to create a new, more fluid experience with the edge-to-edge display. But you'll have to be the judge of whether you like that. One obvious trade off is that there's no more home button. Instead, you swipe up from the bottom to return to the home screen (control panel was moved to a swipe from the top right where battery info lives).
Because there's no home button, there's no Touch ID. Apple was reportedly trying to find a technology that would let it have the fingerprint reader behind the screen, but it wasn't technologically feasible in time for this release. That means the phone will work exclusively with Face ID, a technology that scans your face, makes a 3D picture, and then uses that to scan your actual face and unlock the phone. There were some hiccups showing the technology in action Tuesday.
By the ship date, it hopefully will work perfect. Then you can have your OLED cake and unlock it too.