Texas Bill Blocking Abortion Coverage Could Force Women To Buy "Rape Insurance"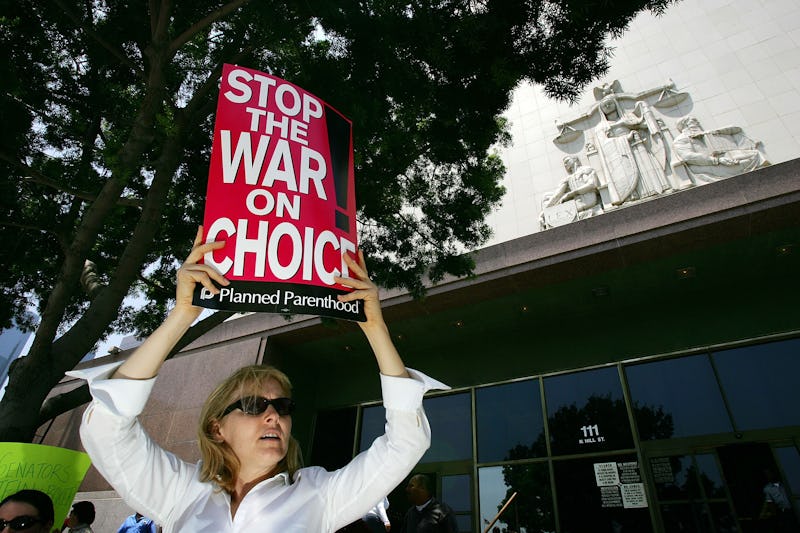 David McNew/Getty Images News/Getty Images
There are a number of controversial bills being proposed across the country that would severely limit women's reproductive rights. But a new Texas anti-abortion bill, called a "rape insurance" bill by some critics, came one step closer to becoming law on Wednesday after it passed the state's House of Representatives. House Bill 214 would force women in Texas to pay a separate health insurance premium to cover non-emergency abortions — even in the case of rape, incest, or severe fetal abnormalities.
Women don't plan to be raped. Parents don't plan for their children to be victims of incest.
Texas Democrats tried, but ultimately failed to include benevolent provisions to the bill. Those provisions included allowing insurance companies to offer savings on premiums for the abortion coverage plan, and putting those savings towards testing rape kits.
Democratic Rep. Chris Turner argued that the current version of the bill would force women to pay more to protect themselves from the potential consequences of something as horrendous as sexual assault, which is completely beyond their control.
Women don't plan to be raped. Parents don't plan for their children to be victims of incest. Asking a woman or a parent to foresee something like that and buy supplemental insurance to cover that horrific possibility is not only ridiculous, it is cruel.
Ultimately, the bill passed the House with a vote of 92 to 46.
Republicans and pro-life advocates argue that the bill is necessary in order to ensure that people who are morally or religiously opposed to abortion would not have to subsidize the procedure.
"We fully expect this to get to the governor's desk, and we're delighted," Joe Pojman, executive director of Texas Alliance for Life, told The Dallas Morning News. "An abortion is an abortion, and people who don't support it shouldn't have to pay for it."
This isn't the first time the Texas legislature has attempted to severely limit women's access to safe and affordable abortions. In 2013, the state passed a law that required all Texas facilities that performed abortions to meet strict hospital-like standards, something many small clinics simply couldn't afford. By the time the U.S. Supreme Court struck down the law for placing an "an undue burden on abortion access," only 19 clinics remained in the entire state, according to The Texas Tribune. More than 40 were open before the bill passed.
While the state ultimately lost that battle, it persists in attempting to pass legislation that would leave thousands of vulnerable women unable to receive the reproductive care they need, even if they have been the victims of abuse or rape. House Bill 214 will now head to the Senate for approval, and if it passes, it could have devastating consequences for women across the state.