The Real Life Story Behind ITV's 'The Bletchley Circle' Is Actually Feminist AF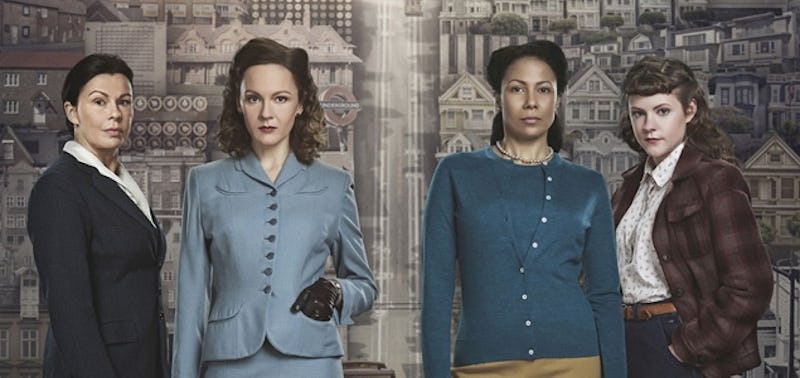 ITV
It may come as a surprise to some that ITV drama The Bletchley Circle is being reprised for a spin-off series, a mere four years after it last aired. But, it's totally true. Much like all great spin-offs, The Bletchley Circle: San Francisco will pinch two of the show's original characters Millie (Rachel Stirling) and Jean (Julie Graham) and thrust them out of London and into an entirely new world, with a bunch of different characters to work alongside. But, what is The Bletchley Circle: San Francisco about exactly? Is it based on a true story?
Well, as aforementioned, The Bletchley Circle: San Francisco is a spin-off of the original ITV series, which told the story of four former female colleagues of wartime code-breaking centre, Bletchley Park, as they joined forces to track down a serial killer. While parts of the show are obviously fictionalised, the existence of the centre and the 9,000 heroic female codebreakers that worked there during World War II to help save lives by debunking Nazi messages is a total reality. In fact, the real Bletchley Park is still open to visitors today.
Opening up about the crucial roles women played at the centre to help Britain win the war, historian and author Michael Smith told the Daily Mail: "Women played a variety of roles from lowly clerks to operating machines and breaking into ciphers and codes — the highest level of work you could do at Bletchley Park."
However, despite the women working just as hard as the men, they were were paid significantly less than their male co-workers and so, once the war ended, many left their posts to become housewives, according to Smith. Of the 9,000 women employed at the centre, just 600 went on to continue working after the war, joining organisations like the secret service. But their story was a topic pretty unexplored in television until The Bletchley Circle came along.
Opening up about The Bletchley Circle: San Francisco, recurring cast member Stirling said in a press pack sent to Bustle UK. that it is "historically important" to keep the memory of these women alive. "It just is so important that we know about it, and if it takes a show like this to spread the word, then all the better," she explained.
Too right, we need to spread the word. So, 'what else is there to know about The Bletchley Circle: San Francisco?' I hear you ask. Well, there are host of new characters, for one.
Indeed, alongside The Bletchey Circle alums Stirling and Graham, The Bletchley Circle: San Francisco will welcome a bunch of new faces, including Crystal Balint as American musician and math genius, Iris Bearden, and Chanelle Peloso as young engineering prodigy, Hailey Yarner.
"I hope that people enjoy the show because it's real stories," Balint explained in a ITV press pack sent to Bustle UK. "We're representing women who really existed, who really fought these battles, who really did these things, and then were never talked about again. They lived their lives and they went on."
She added: "We now know there were thousands of women involved in code-breaking in a place called Arlington Hall (Virginia)...But these women have kind of just faded into history and there's little information about them."
In the new season, series OGs Jean and Millie travel to San Francisco as they begin work on an murder investigation. There, they meet Iris and Hailey in a jazz club, and manage to convince the pair to join forces with them to track down the killer behind a number of murders that have shaken the Fillmore District.
A slight time jump should also be expected when the new series starts, as The Bletchley Circle: San Francisco will be set four years after the original The Bletchley Circle, which was based in 1952.
But no more spoilers from me. You can find out more about their roles when the series premieres next week.
The Bletchley Circle: San Francisco starts Wednesday, July 25 at 9pm on ITV