The Senate Overturned The One Rule That Let You Hold Big Companies Accountable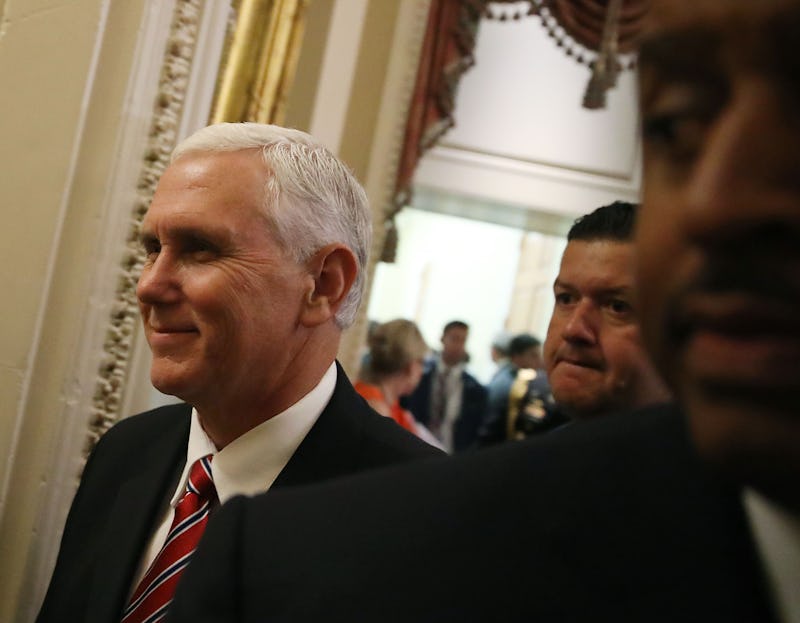 Mark Wilson/Getty Images News/Getty Images
Late Tuesday evening, the U.S. Senate voted to overturn a consumer arbitration rule that barred companies from forcing people into arbitration to settle disputes. This arbitration rule, which the Consumer Financial Protection Bureau developed, was designed to protect consumers — and its overturn means consumers have less agency when it comes to holding companies accountable for their actions.
"Last night's vote means that financial companies will continue to have a free pass from accountability as long as they use forced arbitration clauses to keep their customers out of the courthouse," Joe Valenti, the director of Consumer Finance at the Center for American Progress, tells Bustle. "If arbitration were clearly the better option for customers, as Republican Senators argued last night, why do companies force their customers to agree to it when buying a product?"
The Senate voted 51-50 to overturn the rule, with Vice President Mike Pence coming to the Senate Chamber to cast the tie-breaking vote. No Democrats or Independents voted to overturn the rule — and two Republicans, John Kennedy of Louisiana and Lindsey Graham of South Carolina, also voted against repealing the rule. The Senate vote follows a similar repeal vote by the House in July, which means that the repeal legislation will now head to President Trump's desk who, according to the Los Angeles Times, is expected to sign it.
The consumer arbitration rule was created in July by the the Consumer Financial Protection Bureau (CFPB), an agency created during the Obama administration to protect consumers from abuse or exploitation by companies. The rule allows consumers to avoid being forced into arbitration if they have a dispute with a company.
According to The Hill, arbitration typically entails settling a dispute through a third-party mediator and mandates that a consumer not be able to sue a company. Under the now-congressionally-overturned consumer arbitration rule, consumers would have been able to participate in class action lawsuits against a company, allowing them access to the public justice system to hold these companies accountable. As the CFPB said when it created the rule, it was designed to preventing companies from "sidestep [ing] the court system" by "forcing consumers to give up or go it alone."
Many Democratic legislators heralded the rule as particularly necessary in the wake of recent egregious company actions against consumers, like Wells Fargo & Co.'s creation of millions of unauthorized accounts and Equifax's massive credit breach.
The Director of the CFPB, Richard Cordray condemned the overturning of the rule following the Senate vote — and warned of the potential negative impacts on consumers:
Wall Street won and ordinary people lost ... This vote means the courtroom doors will remain closed for groups of people seeking justice and relief when they are wronged by a company. It preserves a two-tiered justice system where banks can have their day in court but deny their customers the same right ... I urge President Trump to stand with consumers and veto this resolution.
According to the Las Angeles Times, Sherrod Brown, a Democratic Senator from Ohio, also spoke about the importance of keeping the rule in place so that consumers are protected from predatory behavior:
Our job is to look out for the people whom we serve, not to look out for Wells Fargo, not to look out for Equifax, not to look out for Wall Street banks, not to look out for corporations who scam consumers.
However, those who supported overturning the rule say that it did not prioritize the interests of consumers but rather those of trial lawyers who would be able to organize more class actions suits if the rule had stayed in place. Critics also accused the rule of being harmful to small banks and credit unions, for which class action suits would be much more detrimental.
Indeed, the White House released a statement following the Senate vote that reflected these sentiments, saying,
By repealing this rule, Congress is standing up for everyday consumers and community banks and credit unions, instead of the trial lawyers, who would have benefited the most from the CFPB's uninformed and ineffective policy.
Overall, the Congressional repeal of the CFPB arbitration rule certainly gives consumers less agency when it comes to settling disputes companies — though Republicans and Democrats seemingly have different stances regarding the merits of increased consumer agency.