Many Women Are Already On Board With A Strike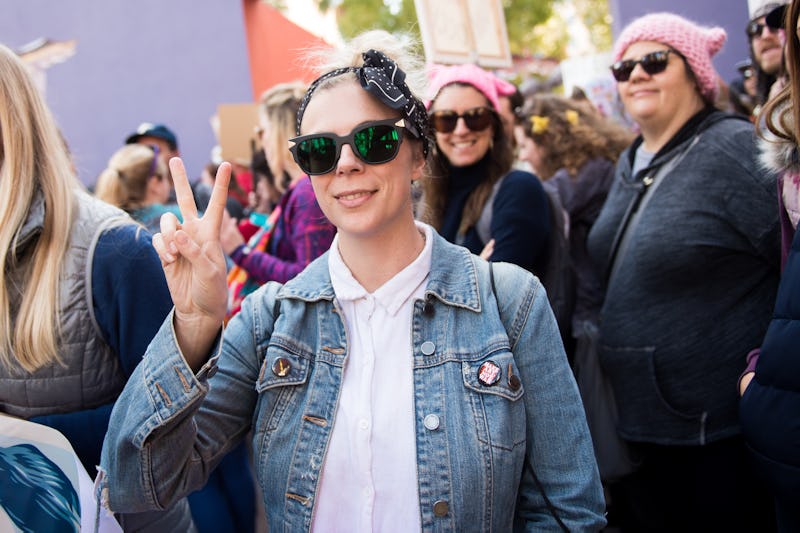 Emma McIntyre/Getty Images Entertainment/Getty Images
Few things provoke the latent detective tendencies of the masses more than a cryptic Instagram post. So when the organizers behind the wildly successful Women's March on Washington made a post about an upcoming event called "A Day Without A Woman" without providing further details, followers were immediately caught in the web of mystery.
On the day after Donald Trump's inauguration, reports estimated that over 2.6 million people attended Women's Marches across the country in protest of Trump's well-documented history of misogyny and what it means for women.
In order to maintain the momentum of the march itself, the organizers have used the Women's March website as a launchpad for further action, even starting a 10 Actions / 100 Days checklist for newly fired-up activists looking to incorporate political engagement into their daily lives. Considering the following and momentum behind the Women's March as an organizing force, it's no surprise how fast their Monday morning Instagram post about the future event "A Day Without Women" made the rounds online.
But wait, you may be wondering, what exactly is A Day Without Women? Technically, no details, including date have been announced. But it's fairly easy to glean that this TBD day of massive action will be a general strike of sorts. It remains to be seen whether the focus will be on staying home from work, or rather, if the focus will be on the act of not leaving home or spending money.
Either way, if the number of participants even approaches the numbers involved in the women's march itself, it'll certainly send a ripple effect through the economy.
Unsurprisingly, this strike already has a number of outspoken attendees ready to stay home in solidarity (or should I say non-attendees?).
The sheer amount of high-profile musicians pledging to strike through Twitter alone is making me wish it was another march so I could see them perform. Can we at least get a Tegan and Sarah ballad streaming through Skype while we abstain from working or shopping?
The feminist author Jessica Valenti claimed her allegiance to the strike while also predicting the articles that will re-center and praise supportive men. For those who didn't see it, following the Women's March, the New York Times ran a story about how as women went to D.C. to protest, men had to take care of their children. The Washington Post also ran an article titled "At the Women's March, men mattered too." Which in itself is both true and unproblematic, as men are needed and welcomed as allies. However, Valenti's predictive joke still feels on point.
In the meantime, while we wait for more details to unfold, most importantly the date of A Day Without A Woman, a national general strike will be held on Feb. 17, known as the #F17 strike.
So now, if you're feeling on board, you can participate in the #F17 strike while waiting on the details for A Day Without A Woman. Honestly, in many ways, doing nothing sounds like the most pleasant form of protest at this moment.