Revenge Porn Isn't Illegal In Some States. This New Bill Would Make It A Crime Everywhere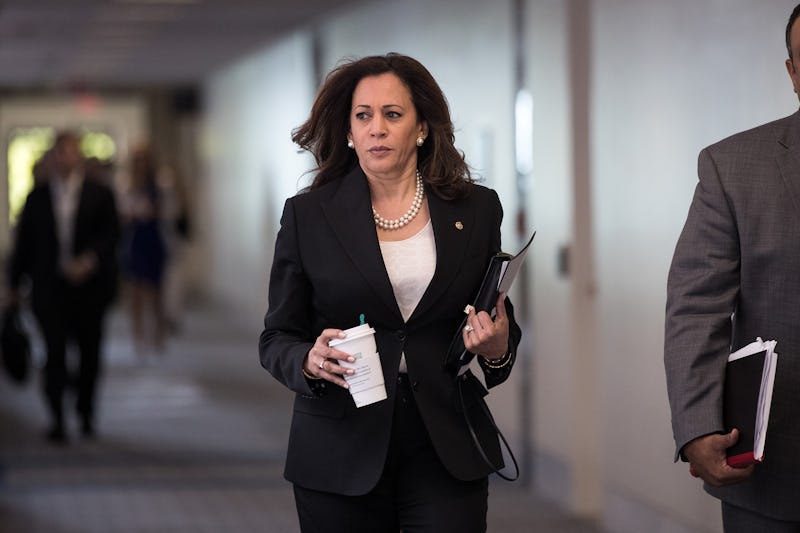 Drew Angerer/Getty Images News/Getty Images
A deluge of recent headlines accusing dozens of high-profile men of sexual harassment and assault can make it hard to believe the United States is progressing on those issues, but a new bill is one reason to argue the country is doing just that. Congress' proposed bipartisan ENOUGH Act would criminalize revenge porn at the federal level, accompanied by harsher sentencing guidelines than many current state laws.
"There's no federal law on the books that protects victims who have had their private images exploited online," Sen. Kamala Harris, a sponsor of the bill, tells Bustle. "It is long past time for the federal government to take action to give law enforcement the tools they need to crack down on these crimes. Perpetrators of exploitation who seek to humiliate and shame their victims must be held accountable."
According to the Cyber Civil Rights Initiative, 38 states and the District of Columbia have passed laws to deal with nonconsensual posting of nude or sexual material. But those laws vary widely across state lines, and 12 states have no laws specific to revenge porn, instead prosecuting such cases under various privacy laws.
Sponsored by Harris, Richard Burr, and Amy Klobuchar in the Senate, and Rep. Jackie Speier along with several other Democrats and Republicans in the House, the ENOUGH Act (Ending Nonconsensual Online User Graphic Harassment) would give victims of revenge porn the same legal recourse nationwide. Those found guilty of posting private photos or video without consent would face an as-of-yet unannounced fine and up to five years in prison. It would also streamline the adjudication process, as the geographically unbounded nature of the Internet can make determining state jurisdiction a real problem.
The bill also seeks to address some of the hangups that plagued similar legislation introduced in the House in 2016. Speier spearheaded the Intimate Privacy Protection Act last year, but critics worried it could encroach on journalists' ability to publish photos or videos that were of public interest.
But there's an explicit provision for journalists in the ENOUGH Act. Cathy Reisenwitz argued in Talking Points Memo that over-broad laws against nonconsensual posting of sexual pictures could have kept the truth about a political figure like, oh, say, Anthony Weiner, from being made public. The ENOUGH Act makes a provision for just such cases, arguing the person who posts images can only be punished if "no reasonable person would consider the shared image to touch on a matter of public concern." In a fact sheet provided to Bustle by Sen. Harris' office, the senator makes clear this bill will "narrowly establish criminal liability."
How to address the problem of nonconsensual sexual photos being posted online has been a struggle for many legislators. The issue seems initially straightforward — punish those who use such images to demean, intimidate, or otherwise harass victims of revenge porn. But many First Amendment defenders, including the ACLU, have called into question efforts to regulate "speech" online.
One of the most common critiques of laws aimed at curtailing revenge porn is leveled at a measure's scope. The ACLU took aim in 2016 at a Rhode Island law that defined revenge porn in a way the civil rights organization found could involve "neither revenge nor porn."
Like other laws barring revenge porn and "sextortion" — the act of blackmailing someone by threatening to post nude or sexually explicit photos of them — Rhode Island's law made it a crime to post such pictures without the explicit consent of the individual featured. However, the proposed legislation did not specify that a clear intent to harm had to be present, which the ACLU argued could turn "hundreds, if not thousands, of young people into criminals." Gov. Gina Raimondo eventually vetoed the bill, citing its potential to criminalize "important acts of political speech."
On the contrary, the ENOUGH Act makes explicit exceptions for images that would fall within the public interest. According to the bill's sponsors, legal scholars have vetted the language and "concluded that it is consistent with the First Amendment."
Should that be enough to placate skeptics, the ENOUGH Act could likely gain the votes needed to become law, an undeniable boon for victims of revenge porn and sextortion nationwide.