Here's Why The Iran Nuclear Deal Matters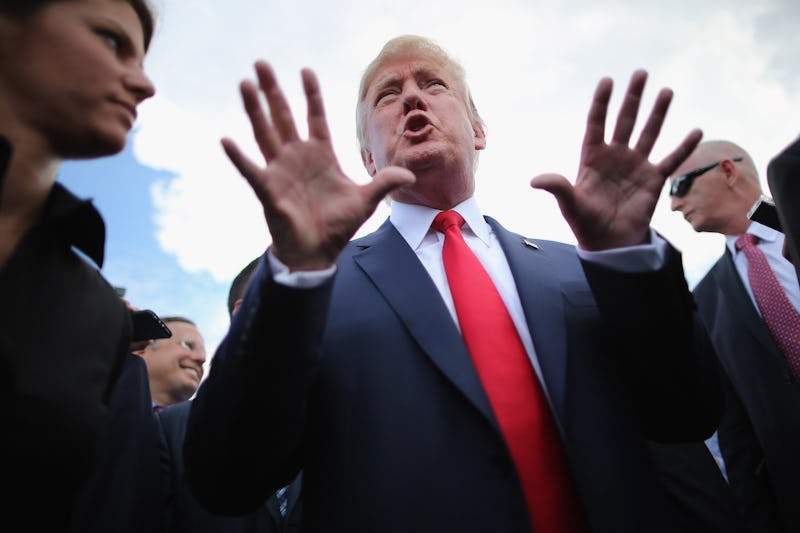 Chip Somodevilla/Getty Images News/Getty Images
On Oct. 15, the United States can "recertify" the Iran Nuclear Deal, but it doesn't look like President Donald Trump plans to do that. Under the 2015 deal, Iran agreed to limit its nuclear program in return for the United States easing economic sanctions. Ending the deal could mean sanctions for Iran, and it could encourage Iran to develop nuclear weapons.
The original agreement didn't only involve the United States and Iran. The United Nations Security Council's permanent members — known as the P5+1 — also took part in the international deal. Ultimately, Iran agreed to cut down on advancing its nuclear capabilities in exchange for easing international sanctions on big products such as oil. The International Atomic Energy Agency was assigned with monitoring Iran's nuclear facilities to ensure that the nation abides by the plan.
Trump has said that he believes the deal is not good for the United States. He has publicly stated (and tweeted) that the U.N. inspectors were not sufficiently able to monitor Iran. In fact, the president has railed against the accord as the "worst deal ever" and an "embarrassment to the United States."
He also said that the agreement does not restrict missile testing, and that it returned money to Iran that has cost the American government leverage, according to Vox. If he decertifies the deal, which he must do by Oct. 15, it will kick the issue over to Congress, which will trigger a 60-day congressional review process.
Needless to say, Iran's president and Trump are not on the same page. During a speech at Tehran University, Iranian President Hassan Rouhani insisted that the nuclear negotiations "are not reversible," as Trump claims they are. "No one can turn that back, not Mr. Trump or anyone else," Rouhani said, according to Reuters.
Some U.S. allies reportedly have been worried that the president's decertification could create more stress on a nuclear crisis, especially considering North Korea's nuclear and ballistic missile development, according to Reuters. And if the United States withdraws, there is concern that Iran will walk away from the deal with other countries.
Not everyone thinks that the deal is a bad one. Ilan Goldenberg, a Middle East expert with the Center for a New American Security warned Vox that a decertification could cause a "major rift in the trans-Atlantic alliance." Goldenberg, who is also a former senior Pentagon official, added during his interview with Vox that certain nations will be tempted to take sides. "Some countries and some companies will walk away from Iran because of fear of losing the US market; others will call the US's bluff and challenge us," Goldenberg said. "What you'll end up with is a leaky, messy sanctions regime."
In fact, even Trump's own defense secretary, James Mattis, had advised the president to uphold the deal. During a Senate hearing in October, Mattis said:
The point I would make is that if we can confirm that Iran is living by the agreement, if we can determine that this is in our best interest, then clearly we should stay with it ... I believe at this point in time, absent indications to the contrary, it is something that the president should consider staying with.
Trump also has said that Iran has not lived up to the "spirit" of the deal. "The Iranian regime supports terrorism and exports violence, bloodshed, and chaos across the Middle East," he claimed. "That is why we must put an end to Iran's continued aggression and nuclear ambitions. They have not lived up to the spirit of their agreement." According to officials, Trump will make a decision "soon" and is expected to meet the Oct. 15 deadline.
Editor's Note: This story was updated on Oct. 23 to meet Bustle's editorial standards.