Here's What The March For Black Women Is Demanding From The Government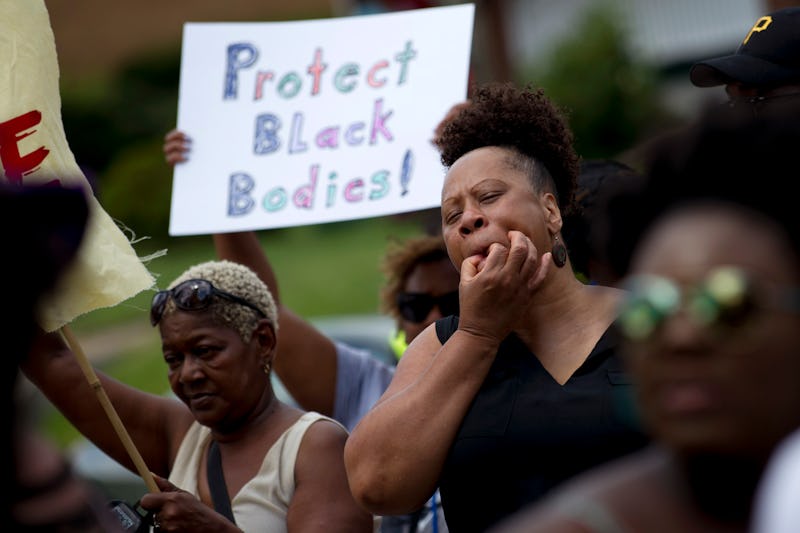 Jeff Swensen/Getty Images News/Getty Images
At the center of the March for Racial Justice, a civil rights demonstration that will take place in Washington, D.C. on Saturday, Sept. 30, is the March For Black Women. In an age of increased political activism, countless marches, protests, other various demonstrations have swept across the United States. This Saturday's marches are particularly unique in that two marches are happening at the same time. With all the action going on in one place, it's important to understand what the March For Black Women actually is.
First of all, it's slated to take place on an important historical date. Sept. 30 marks the anniversary of a three-day racial confrontation that took place in Arkansas in 1919. The confrontation began after a shooting happened at a Progressive Farmers and Household Union meeting near Elaine, Arkansas. Over 200 black Americans were estimated to have been killed as a result of the violence. The organizers of the March For Racial Justice explained on their website that on this date they "mourn their lives [of the deceased] and honor their resistance."
According to the March For Black Women's website, participants will gather at Seward Square in Washington, D.C. at 8 a.m. EST on Saturday. The program will start at 10 a.m. EST. Participants will then march down North Carolina Ave. S.E. until the it intersects with the March for Racial Justice. The two marches will then combine and continue to the National Mall.
"The physical, financial, and social enrichment of the nation-state at the expense of Black bodies and at the expense of Black lives is too old a strategy, and Black women will not allow for it," the organizers wrote in a press release.
They further explained:
It is us, and in particular trans Black women and our girls, and our elders and those of us on a low income, who bear the brunt of a multitude of racialized and sexualized abuses which are not challenged with outrage by the masses, do not make the screens of our social media pages nor our televisions.
The organizers also presented a list of demands for the federal government. Among their orders is a call for a formal apology "for centuries of abuse," particularly for sexual abuse. The group also specifically highlighted "the brutalization of trans women."
Their second demand calls for "immediate and sustainable measures" that would eliminate a broad swath of violence toward black women, including incarcerations. Thirdly, organizers want increased access to health care, and for the threat of its elimination to be eliminated.
The last two demands call for what the organizers refer to as "economic justice for black, low income women," and for all "threats of deportation of immigrant women" to cease.
In a press release, march organizers described the March for Black Women as an opportunity for "mass mobilization for our security and safety, our human rights and our freedoms."
They also noted that the March for Black Women is scheduled to take place just weeks before the 20th anniversary of the Million Woman March, which first took place in Philadelphia in 1997.
The front page of the March for Black Women's website reads:
Our March is not only a mass mobilization centered on Black women, but a reminder to every single one of us that so long as Black women are killed by the cops; so long as Black women are taken or go missing; so long as we are raped by friends or by strangers or by nationally renown predators -- there can be NO JUSTICE.
If you want to participate but can't make it to D.C. this weekend, a series of sister marches will also be taking place across the country. The organizers have also promoted a series of bookend events both before and after the march itself.